Please Don't Chase The Referees With a Machete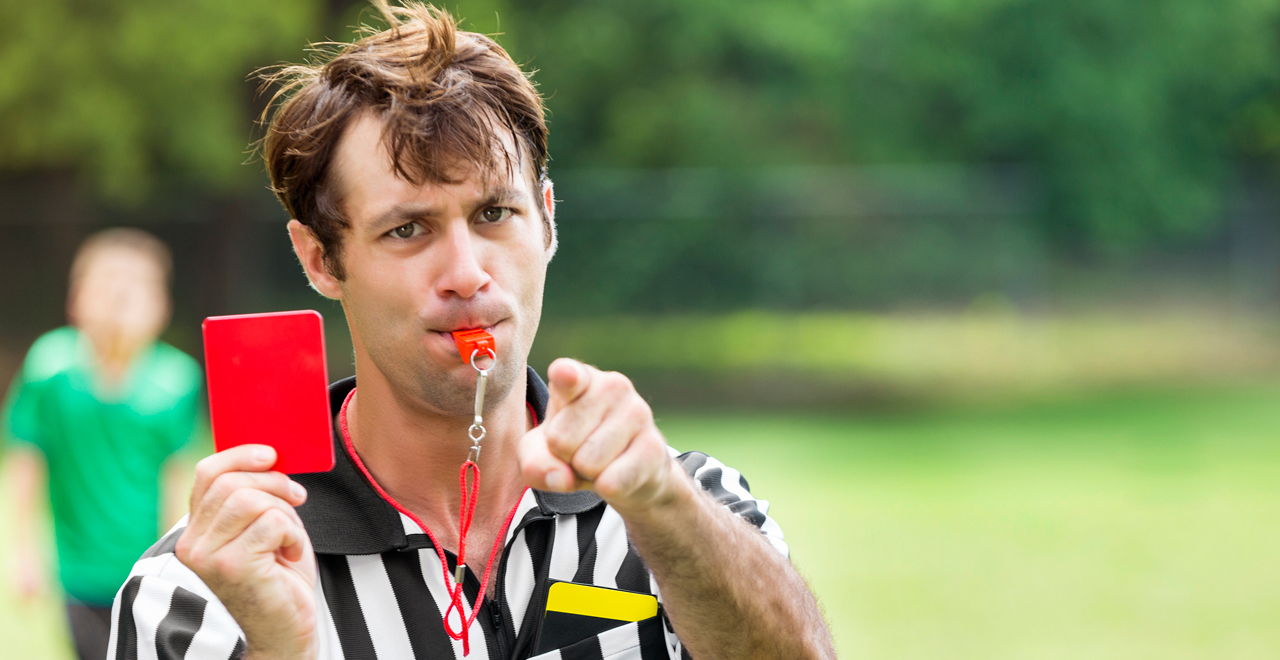 Officiating can be circumspect in youth sports. Yes, they aren't getting the most well trained, skilled officials for 12-year-olds playing select soccer. Sure, the ump calling balls and strikes in a softball game between eighth-graders may miss one here or there. But the important thing to remember when you're watching your kid play sports is how bad yelling at the refs makes you look.
It's not a good situation all around. It's embarrassing for the kids, the refs obviously hate you, the coaches may be glad you aren't yelling at them or your kid for the moment, but still don't care for it, and other parents assume you are either emotionally unhinged or are actively gambling on the outcome.
This isn't easy for me to say, either, because I have completely been that guy. Not in my own kid's games, but when my younger brothers were playing high school hockey, I spent good entire periods screaming at officials. That's not a proud moment, booing the refs at a high school sporting event.
Your kid may run into a game where the ref affects the outcome or misses a big call, but that's life. Don't be that guy turning Brian Kelly shades of red, screaming about a missed traveling call.
And for God's sake, don't chase the ref down with a machete, like two men in Michigan did recently. Your first thought when you read a headline like "Soccer game ends with man attacking ref with a machete", your first thought is usually "man, Florida is crazy!" So, congrats Michigan, for entering Florida territory.
I'm not sure how much stock you can put into the man's claims that the referees made bad calls, because he's still the guy who BROUGHT A MACHETE TO A SOCCER GAME! That's not the action of a stable person, it's not like he was bringing it to slice oranges.
Not all Michigan officials are bad! A soldier returning from deployment surprised his 8-year-old son by posing as the umpire at his baseball game. That would be awkward if you were one of those psycho parents yelling at an ump, and then he was revealed to be a returning soldier.
The Warriors have won the NBA Championship again. No, it hasn't happened yet, but we all know how it's going to end. My interest was piqued when Durant got hurt, but then Steph Curry started doing more Steph Curry things and that was that.
I've really enjoyed watching the Bucks-Raptors series, but it's sort of a moot point knowing the winner earns the right to get swept in the finals. And yes, I'm going in very hard on the Warriors in the hopes that this can reverse-jinx them enough to make the finals watchable.
The other series is way more watchable, as Giannis has done some big things, Kawhi Leonard has had a great series, and Raptors superfan Drake is out there giving back rubs.
Get you a hype man like Drake. #WeTheNorth | #NBAPlayoffs pic.twitter.com/8X7pVo0Wvg

— NBA on TNT (@NBAonTNT) May 22, 2019
Sports gambling aficionado James Holzhauer continues his incredible run through Jeopardy, but that doesn't' stop Alex Trebek from getting annoyed when Holzhauer gets cute with his wagers.
"2 Dimes Please – that's $2,000"
Trebek has a tone of "STOP IT, I'm not an idiot! #JeopardyJames "#Jeopardy pic.twitter.com/31krt8Q0F9

— A.C. Junior (@OfficialMisterC) May 22, 2019
I'm fully on the St. Louis Blues bandwagon, as they take on the Bruins in the Stanley Cup Finals. It's the first Finals berth in nearly 50 years for the Blues, and even tornadoes weren't enough to stop the fans from watching game six.
my dad texted me that the power is out at home bc of a tornado so my parents went to a mexican restaurant to watch the blues game tonight. amazing

— Colleen Young (@_CRYoung) May 22, 2019
That is dedication. And besides, the last thing the sports world needs is another Boston championship.
Finally, Detroit Catholic sports leagues are going to stop playing games on Sundays, starting this fall. Of all the things the Catholic Church has taken a stance on, this is far from the most controversial. When I read it at first, I was ready to up and move to Detroit (which is something no one has said in 20 years). It sounds great on paper, a Sunday free, but the reality is they will just start scheduling three games on Saturdays or games at weird times during the week (what, you can't get your kid to the 4:45 pm soccer game on a Tuesday?). If I'm going to be sitting through something boring on a Sunday morning, I'd take soccer over church.