Powerlifter With Cerebral Palsy Impresses Arnold With Deadlift [WATCH]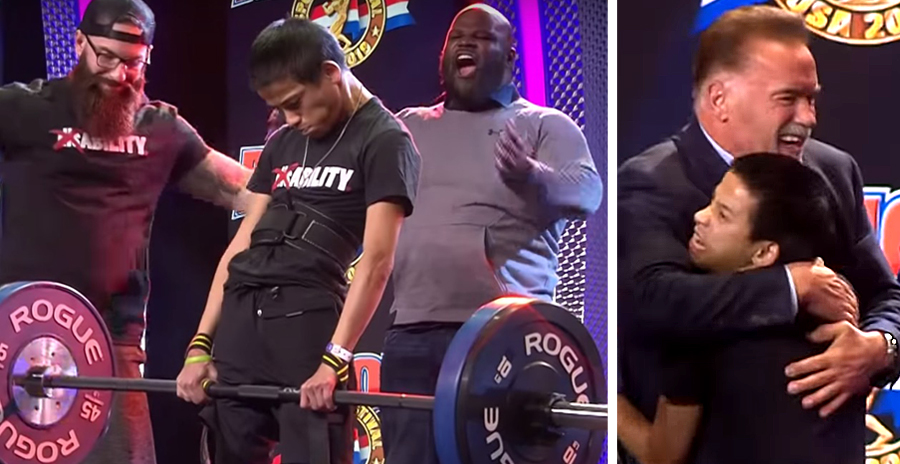 Miles Taylor, a 24-year-old powerlifter, is inspiring athletes worldwide with his incredible deadlifts, lifting roughly double his body weight in the gym and at competitions
While that's a worthy feat in and of itself for someone that weighs only 99 lbs., Miles also has cerebral palsy, a movement disorder that affects muscle tone and movement, making the achievement even more astounding.
In February, he posted a video to Instagram of a massive 200 lb. deadlift and instantly went viral, garnering over 778k views to date.
The video got plenty of interest and shoutouts on Twitter as well.
Houston Texans defensive end J.J. Watt even quote tweeted the video calling it both "badass" and "an inspiration."
Now this is badass!!
What an inspiration.

(Also, my man coming in from the back room dropping the garbage bag and everyone running in to see it, what a cool scene) https://t.co/Isn3uccSEE

— JJ Watt (@JJWatt) February 8, 2019
Powerlifting isn't just a simple hobby to Miles, either. He recently participated in the 2019 Arnold Classic where he crushed a 185 lb. deadlift in front of a crowd.
(The video is only made better by Arnold's colorful commentary)
Miles, also an accomplished photographer, started his workout journey after friend and local trainer, Nic Myers, asked him to take photos of a strongman competition. Ever since Nic has been training Miles personally and has been blown away by his amazing accomplishments.
"Two-times bodyweight is an intermediate lift," Myers says, pointing out why the now viral clip of Taylor's lift is so impressive. "It's really awesome for someone to do within their first year … He's only getting stronger."
According to Baltimore's WMAR-2 News, Taylor set a U.S. record for his weight class last year when he deadlifted 156 lbs. and it looks like he's well on his way to setting some more.