Santa Takes a Knee to Thank a WW2 Hero Who is also a Father of 10
It's December, and around this time of year, Santa Claus is the big MVP. Everybody lines up to meet the big man and whisper their dreams into his ear and then go home and wait for him to magically make them come true.
But Santa has heroes of his own, and while he was working the Concord Mall in Delaware this holiday season, old St. Nick took a break from his Christmas duties to show some respect to one of them.
Gina Stecher Wilbur was out doing some holiday shopping with her son when they decided to take a breather and sit on a bench next to the mall's Santa's Workshop area, where Mr. Claus waits on his throne (of lies?) for children to step up and sit on his lap. But wile Gina was taking her break, she saw Santa take a break of his own, and not merely to grab a bite or use the restroom. No, Santa got up from his seat and walked over to a man he saw sitting by the wall.
The man was Bob Smiley, a 93-year-old father of ten (ten!) who was wearing a WWII veteran hat. Santa had noticed, and he'd gone over to Bob to pay him respects.
From Gina's Facebook post:
"Santa steps away from his Chair… he walks over to a veteran sitting on the wall… as Santa approaches, the veteran stands and Santa takes a knee. I hear Santa telling the gentleman, in a soft voice, of others he knew who served. He shakes his hand with genuine gratefulness thanking him for his service and returns to the children."
Gina snapped a photo of the moment, and it was quickly noticed by the internet, gathering 13,000 likes and nearly 8,000 shares. "Good Day Philadelphia" even caught wind of the story and brought Santa and Smiley on their show to discuss their encounter.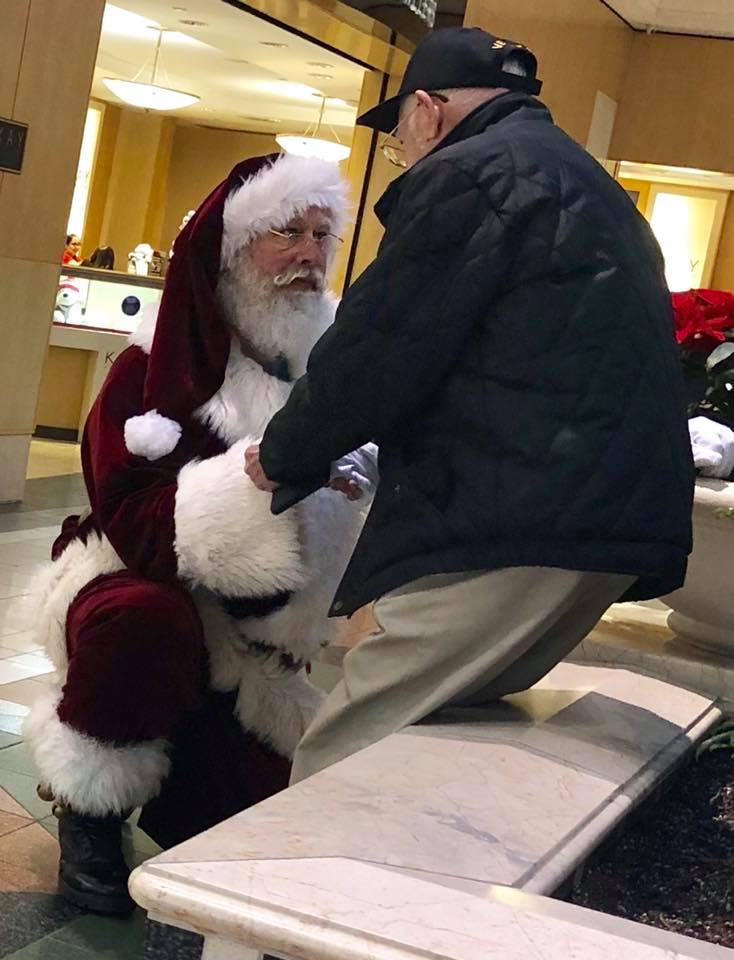 "We owe a debt of gratitude to men like this, that have made such a life-changing decision to give up themselves, be willing to lay down their life even, for other people," Santa told FOX 29's Jennaphr Frederick.
Gina agrees, closing her Facebook post by commenting, "Best moment of my day."