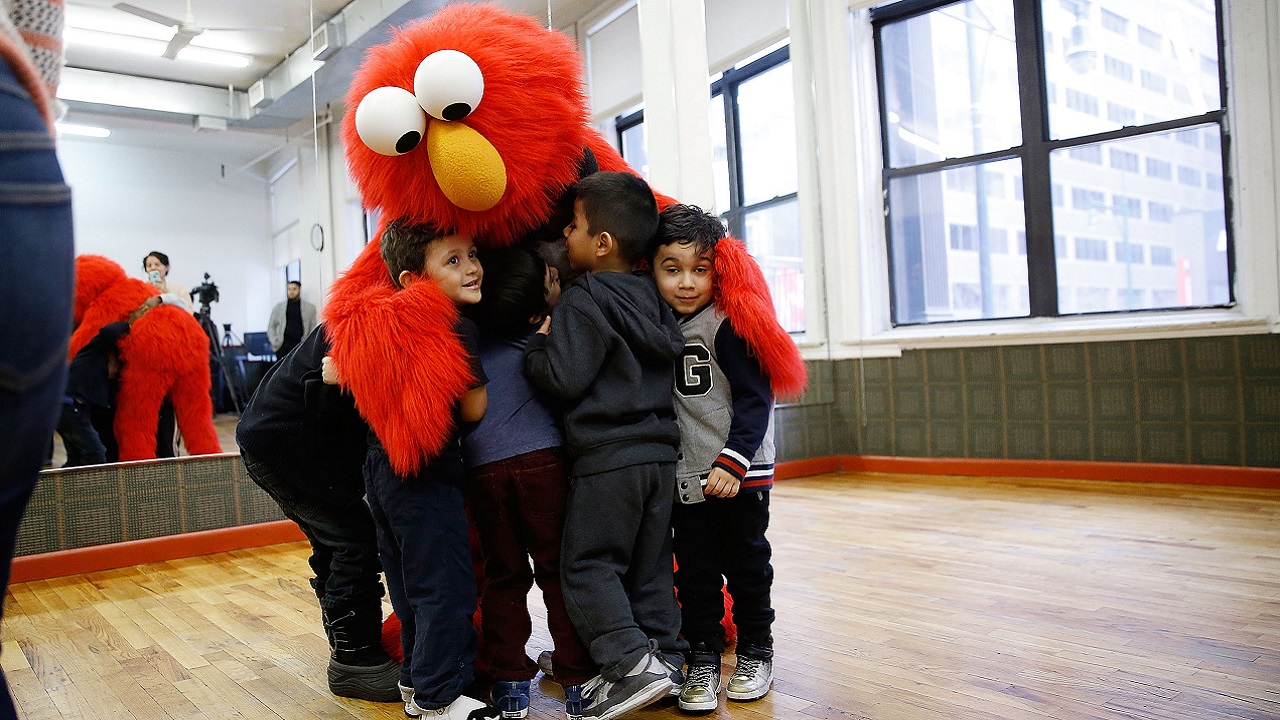 Credit: Getty Images/John Lamparski
There's science behind the squeaky voice
When I was a little kid, Elmo wasn't even a thing (I'm old.) Back in my day, it was all about Big Bird and Oscar the Grouch and Bert & Ernie and Grover. By the time Elmo came around, I had moved on to He-Man and the A-Team (I told you, I'm old!)
Chances are, if you were a little kid in the 90s or have a little kid now, your house was all about the furry red muppet. Because almost as soon as he burst onto the scene in the mid-80s, he's had toddler groupies. They worship the squeaky-voiced furball. It's almost scary.
Turns out it's actually science.
CafeMom asked some experts to weigh in on exactly what it is that makes Elmo so appealing to little kids, and they had some interesting answers. Apparently it's not just a coincidence and/or a ploy by Big Excedrin to drive parents mad with migraines.
First up? The color.
Did you know the reason so many kids love the color red is because it's the first color they can actually make out? No? Well it is, and guess who's red? That's right: Elmo! He's the first Sesame Street character they can actually see, so of course they like him! It may also explain the prevalence of toddler Satanists but that's another story.
Next up is Elmo's behavior. He acts like a little kid, and even better, he acts like a good little kid. "Elmo is typically bright in personality, and always kind," says Shanna Donhauser, a child and family therapist at The Happy Nest. "Children are usually drawn to these characters because they reflect the positive feelings they know personally and the characteristics (like kindness) they appreciate." (Um, children are drawn to good behavior? Since when?)
Remember that, the next time Elmo and his friends Mr. Noodle and Mr. Noodle's brother Mr. Noodle irritate you. Elmo is a good little muppet and he's modeling positive traits for your kid. Even if his voice drives you mad.
Speaking of that voice, it sounds like a little kid's voice too, right? That's another reason they gravitate toward the little monster. He sounds like them! Which is also probably why you get that aforementioned headache.
It seems there's more to Elmo than meets the eye, which is actually kind of terrifying. If the people over at Sesame Street wanted to, they could stock their show with tons of Elmo-type beasts and use them to indoctrinate and mobilize an army of toddlers to crush us all!
But hey, at least your kid's having fun.