Segway Is Rolling out a Self-Balancing Stroller for Adults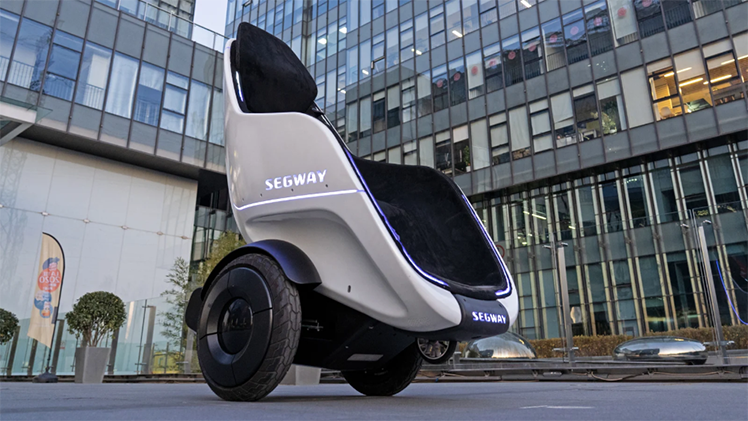 Look, it's bound to happen. You're out walking with your stroller with your little nugget wrapped up in blankets and sound asleep in their four-wheeled, parent-powered vehicle, and you're overwhelmed with the weirdest feeling: Envy.
You work hard. You put food on the table. You keep a small human alive with little to no return. Why can't YOU have your own comfortable stroller?
Well, the folks over at Segway-Ninebot have heard your weird jealous pleas and are ready to provide you with the rolling comfort vehicle you deserve with zero exertion. It's called the 'S-Pod personal transporter.' All you'll have to worry about is figuring out how to swaddle yourself before hopping in.
Just like a standard Segway, this bad boy self-balances on two wheels (with a third wheel added to make boarding a bit more stable) and features a navigation panel and manually operated control knob which causes the vehicle itself to shift its center of gravity back and forth.
Unlike a typical stroller, the S-Pod can reach speeds of 25 miles per hour and has an anticipated range of almost 44 miles, though, that's highly dependent on terrain, conditions, rider weight, and speed.
I know some of you are probably warming up your typing fingers to comment that 'it's just a fancy wheelchair,' but Segway is in no way positioning the S-Pod as a wheelchair replacement. The device is completely dependent on power in order to move and self-manage, and the last thing you'd want is to suddenly be stranded in the middle of nowhere with a big hunk of useless, wobbly equipment.
Unfortunately, the S-Pod is still just a concept at Segway-Ninebot so it won't be up for sale anytime soon, but if you were at CES this year, you might have spotted it rolling around on the show floor.
Sure, the S-Pod looks remarkably like the main means of transportation for a supervillain or like the hover chairs for the obese human civilization in Wall-E, but compared to walking, are either of those really so bad?