Should College Reveals Get a Passing Grade or Drop-Out of Existence?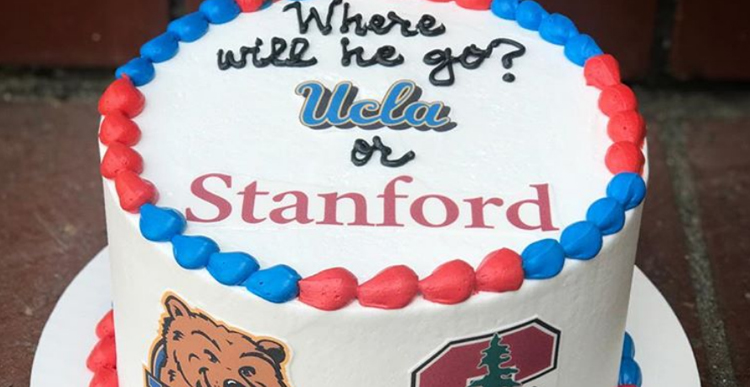 In recent years, thanks largely to social media, reveals have become a bit of a thing. You'd think I were talking about gender reveals.
In case you don't have Facebook, gender reveals are elaborately staged events in which expectant parents slice into lasagna, go skydiving, or start a wildfire to discover whether they're having a boy or a girl, and then potentially have that discovery go viral because of the inventive way they managed to reveal it. (I'm not a big fan, FYI.)
But why should parents and babies have all the fun? Teenagers deserve a reveal too! So they've come up with one which centers around college acceptance letters.
Getting accepted to college and then choosing where you'll be spending the next four years of your life is a monumental moment for high school seniors. It makes sense that, in keeping with the youthful exuberance of teenagers, as well as their inherent acceptance and instinctual usage of social media, today's kids would want to make something of a spectacle out of their decision. And so we have the recent trend of college reveals, in which high schoolers pull some stunt on Instagram or Facebook or TikTok to let everyone know that they've decided to attend Great State or Big State or THE Central State University or whatever.
In some cases, they even throw parties based around the decision.
Not everyone is thrilled by the trend.
"I just find it extremely obnoxious when people list every school they were accepted to," Heather Doyle, a Florida mother with two college students and a high school senior, told TODAY.com. "Who cares? Yay, you!"
Marybeth Bock wrote an editorial for Grown and Flown, an online community for parents of teens and college students, in which she posited that such garish displays based around a kids' many options are insensitive to those without the same opportunities.
"But it's also easy to acknowledge that this trend is yet another opportunity for people to be a tad insensitive. First of all, the indulgence of a college reveal party that is posted online is another in-your-face example of the disparity between the Haves and the Have Nots."
What do you think? Too much? Or have they earned the right to have fun with their decision?