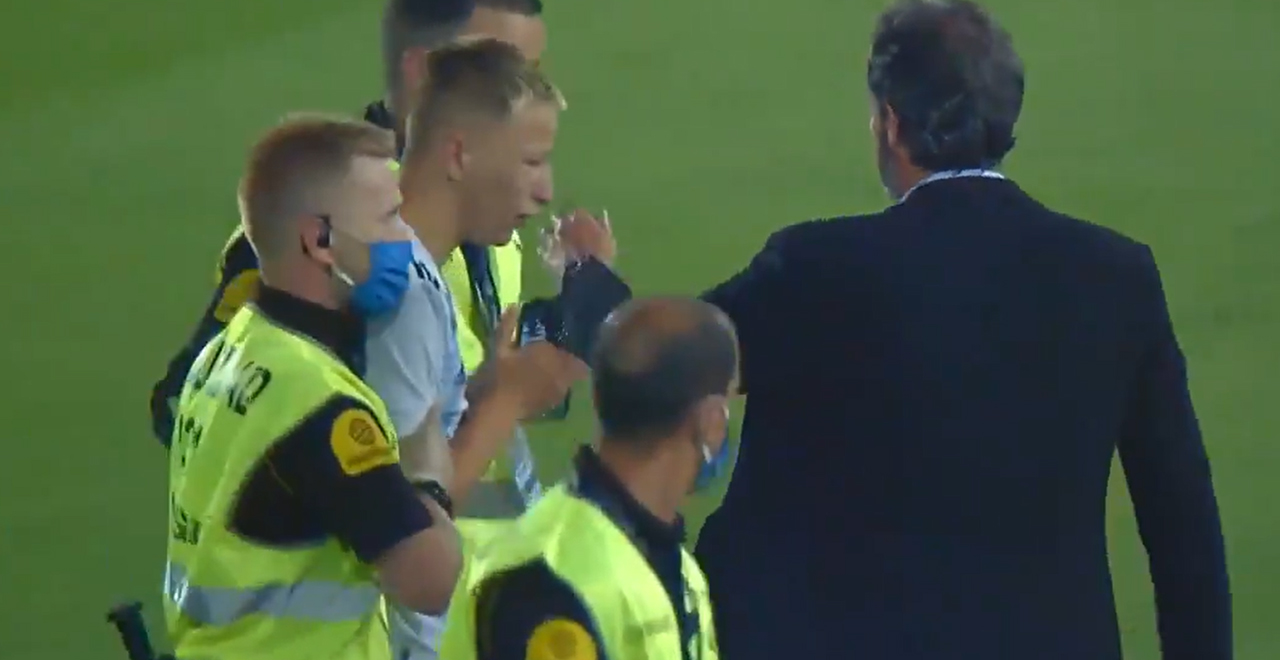 Credit: Twitter/beINSPORTSUSA
Sports, like anything else these days, are trying to figure out how to come back safely in the age of COVID. Everyone is trying something a little different. The NFL is planning to pipe in crowd noise and use virtual fans so their TV broadcasts don't feel too different. The NBA is playing all their games at Disney World and keeping everyone quarantined in the same bubble. The NHL is doing a ginormous Stanley Cup Playoffs, and MLS is doing a fun World Cup-esque style tournament. Major League Baseball, well, the owners just hate their fans so we probably won't see any baseball.
Overseas, they are even farther ahead in sporting endeavors. New Zealand, a nation that has crushed the virus (no new cases in several weeks) even has fans back in the stands. Everywhere else, fans are a strict no-go. This is why it's awesome that a soccer game between Barcelona and Mallorca got interrupted by a fan storming the field. That's right, in a supposedly empty stadium game, security had to chase someone off the field and apprehend them. Just like the old days.
How did a fan get on the pitch when there is no fans allowed in the stadium!?!?!? 🤔😂 pic.twitter.com/XJwNphshtV

— beIN SPORTS USA (@beINSPORTSUSA) June 13, 2020
It's hard to watch that clip without a wave of normalcy washing over you, as crazy fans running onto the field are about as basic as sports get. It's not just a soccer phenomenon, but for almost all sports (you'll see idiots running around NFL fields and baseball outfields, but you won't see them slipping and sliding around the rink at NHL games).
From the fan perspective, it's quite a dilemma. You've snuck into an empty stadium to watch a La Liga game and one of the best players in the world, Lionel Messi. You could have this experience to yourself and remember it forever. Or you could make a run at glory, hit the field, and get arrested. This fan opted for the latter, becoming the first post-COVID crazed fan, landing him in the history books somewhere.
The rest of the game was far more predictable, with Barcelona cruising to a 4-0 win.
For nostalgia purposes, here are some of the greatest fans on-field displays.