12-Yr-Old Proudly Shows Dad His Social Awareness Machine Invention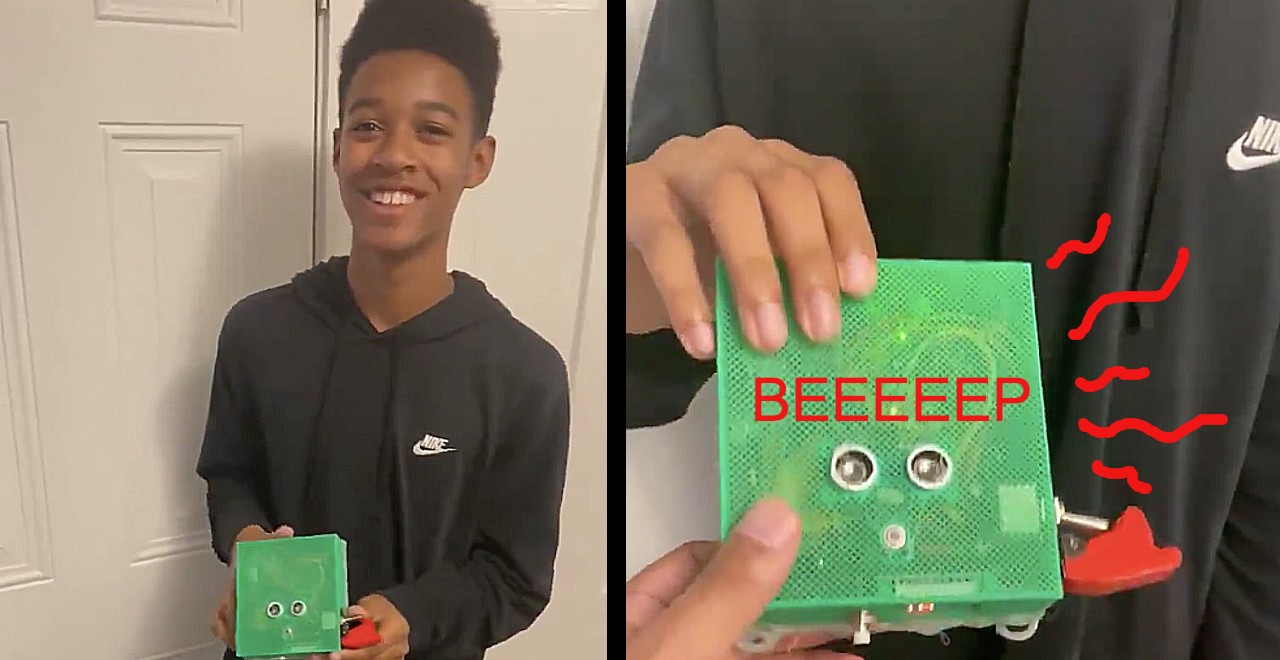 For the past several months, we've been told to practice social distancing to protect ourselves and those around us from COVID-19. A seemingly simple task, right? Stay six feet apart to prevent the spread of droplets from one person to another. If you've ever tried to eyeball the length of a shelf or cabinet though, you've probably realized that we aren't great at it. Add to that already difficult task the fact that people are often moving targets, and we really have to use our noodles to adhere to social distancing guidelines.
12-Year-old Keashon Harris from Pennsylvania noticed this problem in his own everyday life, so he decided to solve it. Keashon's invention is simple – the device which he calls a Social Awareness Machine (or S.A.M.) measures a distance of six feet in front of the person holding it. If someone comes within that six feet, the machine lets out a high-pitched beep.
"It beeps and screams at you", Keashon says laughing, in a video that has accumulated over 200,000 Twitter likes in less than a week. The video shows Keashon presenting the S.A.M. to his dad – although he's modest, he's clearly very proud of what he built. "This is basically a machine that you made to monitor people are staying at least six feet away from each other, right?" Keashon's dad echoes, showing both interest and a hint of awe at his son's creation, the type of parental affirmation that kids can't get enough of (even if they don't show it).
(Proud Dad Moment) my son invented this device called "S.A.M" Social Awareness Machine that beeps to let people kno that they're within 6 feet to promote social distancing pic.twitter.com/WerALw4KwZ

— kylegotjokes (@kylegotjokes2) July 24, 2020
The video itself was shared by Keashon's dad with the caption "Proud dad moment", but the 12-year-old's dad is far from his only cheerleader. This honor student is being hailed as a genius, with his seemingly simple invention helping to solve a prevalent problem. Comments like, "your son has an AMAZING mind! he's going places," and "I can't wait to see where this young man is headed in the future. This is incredible," overflow in response to the video. A proud dad moment, absolutely – but also a renewed confidence that the world is in good hands with the next generation.