Son Brews Specialty Beer to Help His Dad and Others Battle Cancer [VIDEO]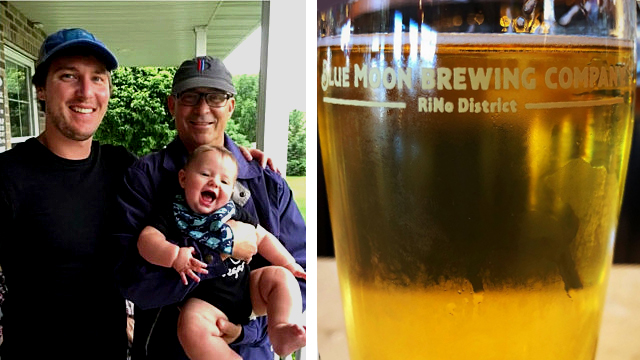 Drinking beer is great. Drinking beer for a good cause is even better.
And that's exactly what Ben Knutson, a brewer at Blue Moon Brewery, is encouraging people to do in Denver this month.
One year ago this month, Ben's dad was diagnosed with a rare form of cancer. A testicular tumor had spread to his stomach and was only discovered after his father began experiencing chronic back pain.
"It happened kind of out of nowhere," Ben told Denver 7 News.
Fortunately, Ben's dad just got through his fourth round of chemo and his prognosis is good; though, many men don't have such a happy ending to their cancer stories.
This ongoing, exhausting battle is what inspired Ben to brew a special beer, not only to honor his father but to raise money for the American Cancer Society.
"I kind of came up with the idea that I wanted to brew a beer with him," Ben said.
He decided on a German Helles style beer and christened it with a special name.
"We called it 'Cancer can go to Helles,'" he said. "We raised about $2,000."
On top of brewing a delicious cancer-fighting beer, Ben is promoting American Cancer Society's NovemBeard Campaign, raising funds in hopes of bringing us one step closer to a cancer-free world.
"I've had two uncles with prostate cancer. My wife's mother and grandmother are both survivors of breast cancer," Ben said.
So if drinking a beer and growing a beard seems like a couple things you can manage, why not do it for a great cause like kicking cancer in the teeth?
Cancer Can Go To Helles, indeed.