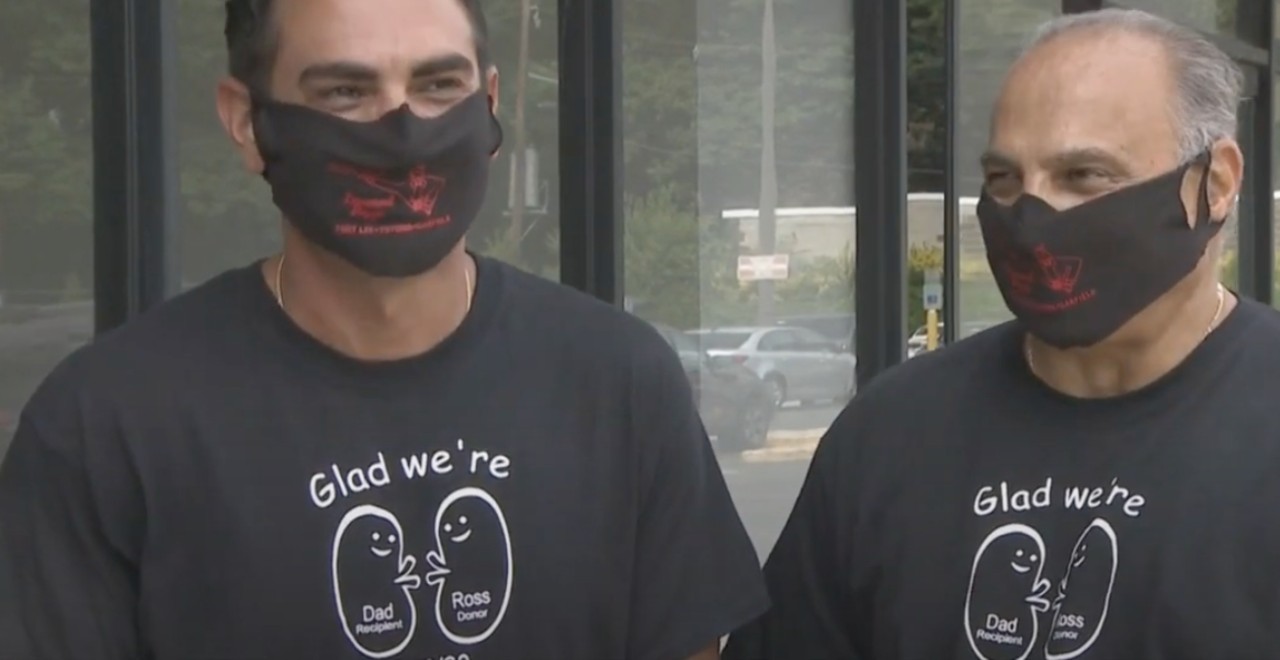 Credit: YouTube/CBS New York
Every year on Father's Day, we find ourselves frantically scouring the "best-sellers" section on Amazon, searching for some kind of gift that will show our dads just how much we appreciate them. They spent years putting us first, making sure that we were fed, safe, happy – does a Keurig say "thanks for giving me life"? Or is it the stainless steel spatula that really screams, "I appreciate you sacrificing a large chunk of your life for me"? Ross Missiris from New Jersey gave his dad a gift that showed him, beyond a shadow of a doubt, that he would do anything for him (though I don't recommend this specific gift for every Father's Day) – In the middle of a pandemic, Ross gave his 64-year-old dad Jimmy one of his kidneys.
Jimmy Missiris faced some difficult challenges (as we all did) when the COVID-19 pandemic hit. Not only was he working tirelessly to keep his pizzeria open during a time when people were told to stay home, but he also struggled with some pretty serious health problems. Jimmy Missiris needed a new kidney which, even in non-pandemic times, would be an incredibly difficult process.
Fortunately, Jimmy's son turned out to be a perfect match. Even though Jimmy worried about putting him through the donation process (whether they're 5 or 35, dads are going to protect their kids), Ross insisted on being a donor.
"I reassured them that I never thought twice about it, I wasn't scared about it. They would do this for me, I would do it for anyone in the family," Ross told CBS2.
The family's plan hit a snag when the coronavirus forced hospitals to delay surgeries. As any strong family does, they stuck together and supported each other, looking forward to the day that Jimmy could get a new lease on life. The surgery ended up being postponed for over a month, but thankfully, the procedure was successful. Although he is eager to return to work, Jimmy is spending a few months resting and recovering (which is especially important now, transplant patients often take immunosuppressants to reduce the risk of their bodies rejecting the new organ). Soon though, thanks to Ross, Jimmy will be able to return to his beloved restaurant stronger and healthier than ever.
"I owe him," Jimmy laughed, "He tells me, too, that I owe him."