Special Ed Teacher Thanks 13 New Twitter Followers, Gains 50,000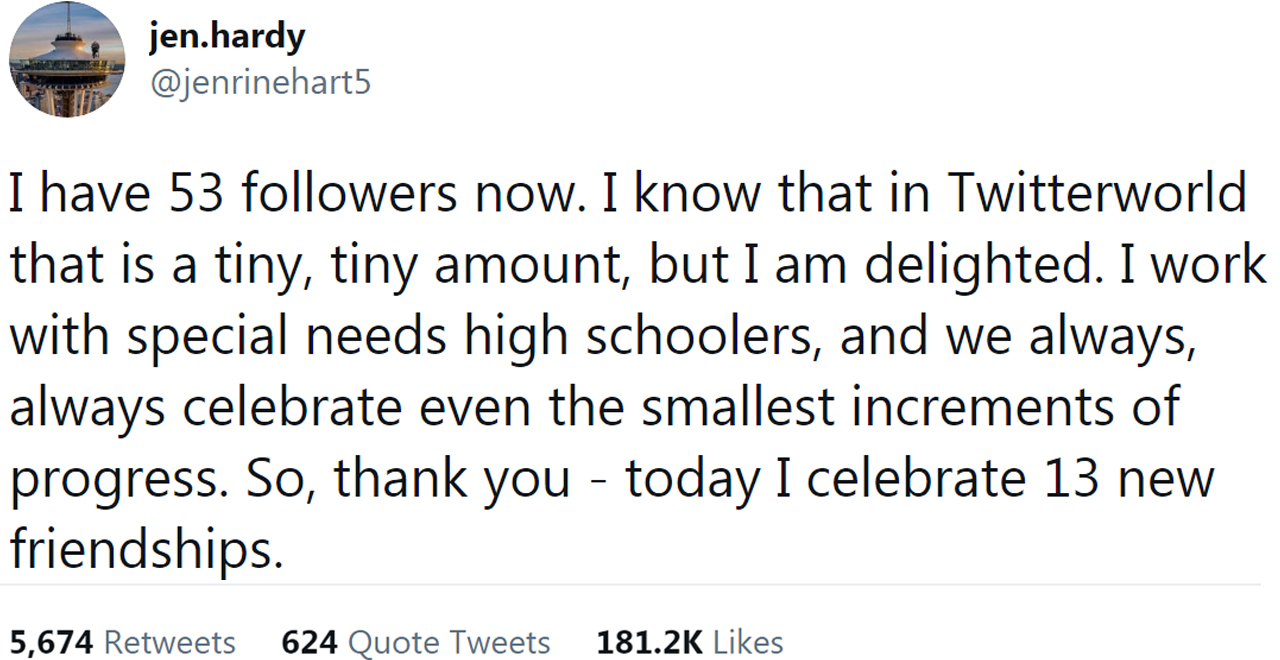 Twitter gets a bad rap. To be fair, most of social media gets a bad rap, what with the misinformation and the anonymous hostility and the obnoxious posturing. But there are good parts to it too.
Over the weekend, one of those good parts was on full display.
On Friday, a Twitter user named @jenrinehart5 (Jen.Hardy), with a mere 13 followers, tweeted her gratitude for those followers. She explained that she's a high school special education teacher, and one of the lessons she teaches her students is that we should be grateful for everything we have, and for all the progress we make, even if those things are small.
I have 53 followers now. I know that in Twitterworld that is a tiny, tiny amount, but I am delighted. I work with special needs high schoolers, and we always, always celebrate even the smallest increments of progress. So, thank you – today I celebrate 13 new friendships.

— jen.hardy (@jenrinehart5) February 19, 2021
Someone saw her tweet and retweeted its wholesome message. And someone else saw that retweet and retweeted it themselves. And so on and so forth. Who knows what those retweeters intended, or if they had any idea of what might happen. Jen.Hardy sure didn't.
What happened is that her tweet blew up.
She followed up her initial tweet with another one, expressing her astonishment at how much her account had grown.
Well, I scarcely know what to say. In the space of 24 hours I've gone from 40 to 21K followers. I am gobsmacked, bumfuzzled and amazed in equal measure. I thank you for your support, and will make a start at following back. My mind hasn't been blown like this since the early 70s.

— jen.hardy (@jenrinehart5) February 20, 2021
That was on Saturday, at 21k. Now, on Monday, she's more than doubled that.
Her tweet was retweeted 6200 times, garnering over 180,000 likes. More importantly, her follower count exploded and as of this writing, she had grown from 13 followers (that's 13: thirteen), all the way up to 50,000. Fifty thousand. In three days.
For all the talk of Twitter and social media being cesspools, there are plenty of instances when positivity rules the day, and this is a perfect example. An unassuming woman posted a simple tweet about gratitude, and Twitter responded to it in droves, spreading her message far and wide.
I bet she's grateful for that.