Crush Dad Style This Summer by 'Dressing' in Hidden Valley Ranch Wear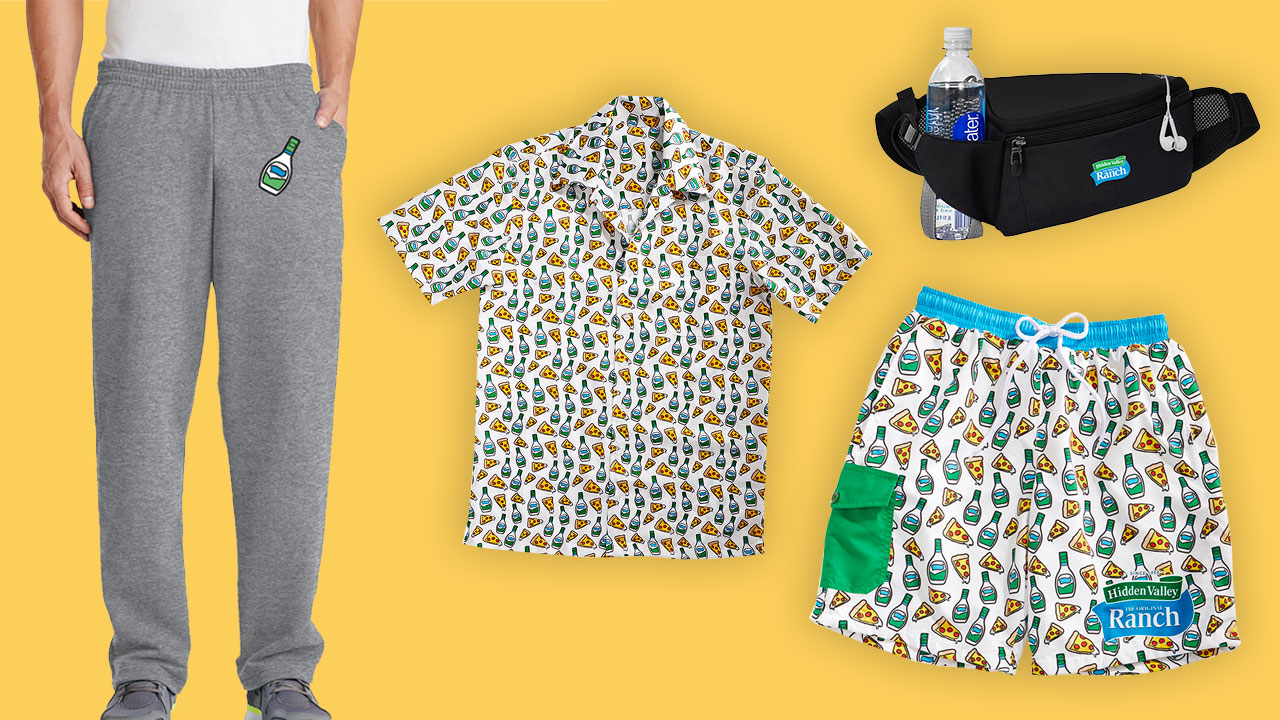 It's almost summertime and the vast majority of dads are ready to once again not give a shit about what they wear to the neighborhood bbq. But for the truly discerning gentleman who wants to show off both his keen fashion sense as well as his love of America's favorite salad dressing, the folks at Hidden Valley Ranch have everything you'll need to be the talk of the town.
The original ranch dressing company has b-ranched out into the swag game, now selling everything from t-shirts to socks to… well… a lot of stuff actually.
Lettuce tell you about just a few items available in their web store and a few possible situations where they may come in handy.
Move over, Tommy Bahama, and make room for this tangy combination.
Imagine never again having to explain that you enjoy pizza or ranch dressing as this shirt has both everywhere! The only thing this bad boy is short on is sleeves.
What good is the shirt without a matching pair of swim trunks? These elastic waisted shorts come complete with Hidden Valley's logo imprinted on the front, just in case the other dads thought you used store-brand ranch dressing. Can you imagine?
Maybe you're a busy dad on-the-go and already have an impeccable wardrobe comprised of free t-shirts you've accumulated over the years. HVR's branded fanny pack may be the perfect accessory to keep all your everyday essentials like car keys, your wallet or a bottle of creamy, but now body temperature, ranch dressing. Complete with zippered enclosures and even an earbud port, this son of a bitch basically has "DAD" written all over it. It's sure to have all your friends whispering "does this guy work for Hidden Valley or what is the deal here?"
More the chill type? These grey sweats will keep you comfortable while discreetly letting everyone in your life know that you have a serious ranch dressing problem.
Your family is gathered and is hosting an intervention. Your love of ranch dressing is tearing apart your relationships at this point and it's bordering on full-blown ridiculous. You're feeling overwhelmed. Luckily you remembered your Hidden Valley Ranch flask.
Everyone is upset and starting to yell, but you're still just thinking about ranch. You decide right then and there you won't be stopped. You click "Add To Cart" on a six and a half foot inflatable bottle of ranch dressing that will show your neighbors and any passerby that you don't play games. Add in the HVR pool float and matching towel to complete your summer look.
All joking aside, chances are if you saw someone randomly wearing a Hidden Valley shirt you'd think it was cool, so check out their entire store for all the stuff you never knew you wanted.