Steph Curry Responds to Young Fan Who Wants His Shoes in Girls' Sizes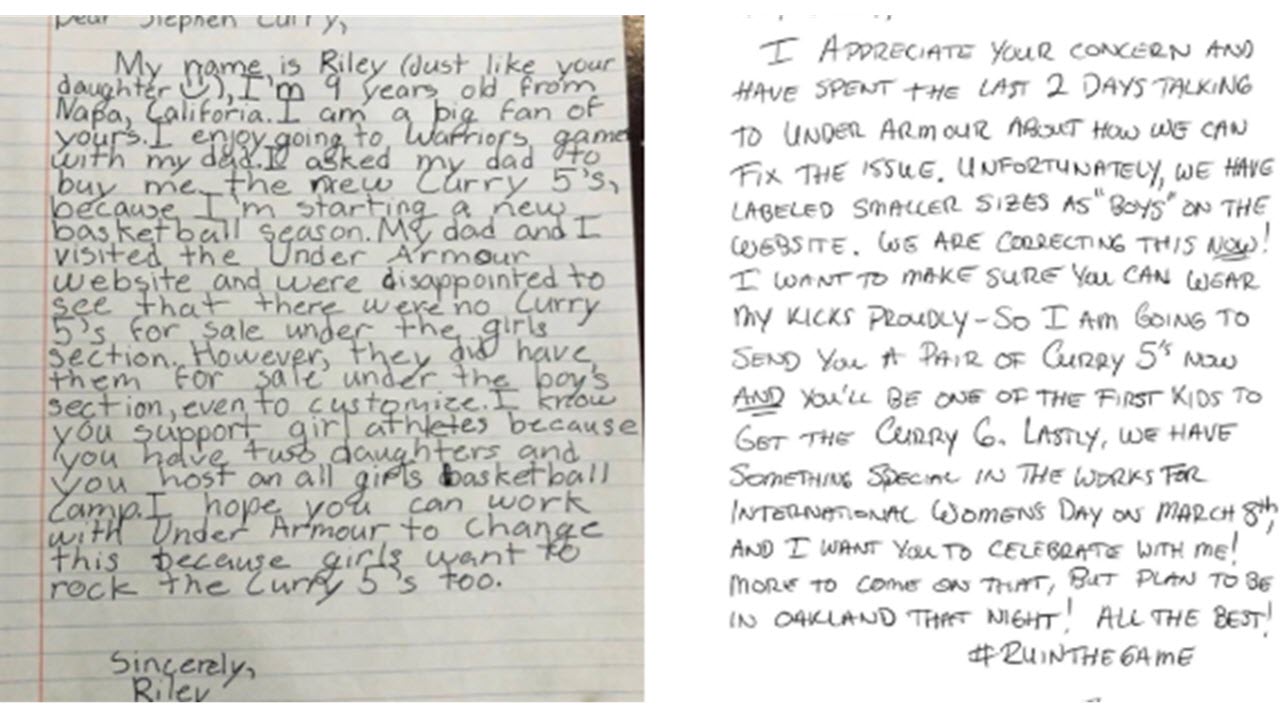 Since Steph Curry entered the NBA, he has fundamentally altered the way basketball is played.
His other-worldly shooting touch, two MVP awards (including the first-ever unanimous vote), and three championships in four seasons has elevated Curry to the status of the sport's all-time greats. He's also become one of the most beloved players in the league, especially among children. Curry's low-key demeanor, playful manner, and clear love of the game – not to mention his relatively-normal (i.e. not 7-feet) build allows many kids without imposing physical attributes to dream of a future in the league. Among those many young fans are little girls, two of whom Curry is raising.
When you become one of the biggest sports stars in the world, you suddenly start attracting all sorts of attention from fans and haters alike. Often, celebrity brings with it the expectation that you serve as a role model to young children. Many athletes and celebrities bristle at this responsibility, but some not only embrace it, they excel at it.
That is exactly what happened when a little girl, Riley – who shares the same name as one of Curry's daughters (you may remember her adorably stealing the spotlight at some post-game press conferences during the playoffs a few seasons back) – wrote a letter to Curry asking him why his Under Armour sneakers weren't available in little girl sizes. ESPN sports business reporter Darren Rovell shared the girls' letter, and Curry's above-and-beyond response, on Twitter.
Girl named Riley Morrison asks @StephenCurry30 why his sneakers don't come in girls sizes. Steph responds. pic.twitter.com/C7SPIiMUlu

— Darren Rovell (@darrenrovell) November 29, 2018
In the letter, Riley notes that the website offers the Curry 5 in boys sizes, there weren't any for girls. She knows that Steph cares about gender equality, especially since he has two daughters of his own, so she asks why that's the case. Curry responded in a hand-written letter of his own, apologizing for the oversight, explaining that he's working with Under Armour to correct it, and then promises the 9-year-old Riley a pair of Curry 5s, first dibs on the upcoming Curry 6s, and invites her to a special Golden State Warriors' game on International Women's Day on March 8th.
As usual, Curry hit nothing but the bottom of the net.
Suffice it to say that Riley is satisfied with Steph's response, and so is the internet, who has liked the tweet 15,000 times and given it 4000 retweets. Seems Steph isn't only leading the record books in the NBA, he's crushing social media too.