Super Bowl Ads, Loser T-Shirts, Brady and Prop Bets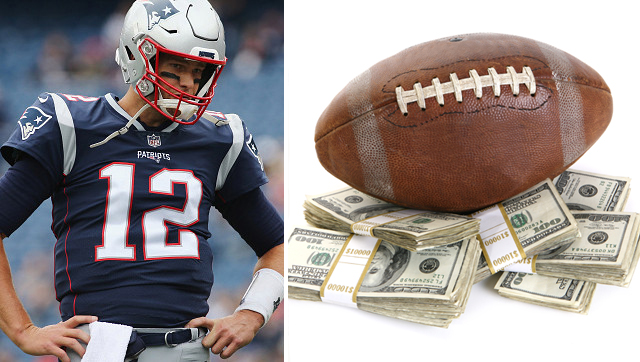 This Sunday, millions of people around the country will take the rare action of getting together to enjoy an American past time that is on a decidedly downward trajectory: commercials. In the era of cord cutting, streaming and mobile devices attached to our palms to distract us when confronted with more than seven seconds of boredom, commercials have never been less relevant. My kids are so used to getting every show on-demand that commercials are going to be my generation's version of "walking to school in the snow uphill both ways."
When I was a kid, I used to complain that I wanted to "watch cartoons." Now, my 5-year-old daughter whines that she wants to watch season four, episode six of"Spirit" on Netflix.
The Super Bowl will briefly make commercials relevant again, as some parties will probably have more people interested in the commercials than the game (especially true amongst Rams "fans"). Even this tradition is dying, though, as most of the next-day discussion will center on how they weren't as funny as they used to be (frogs and dogs selling beer are the height of the medium, and this cannot be debated). Brands aren't helping the decline of the Super Bowl commercial as they try to capitalize on #buzz by releasing their Super Bowl commercials weeks before the game and seemed locked in a contest to out-woke each other. A few years ago, I had a fever dream where McDonald's made a commercial about letting people pay for meals with random acts of kindness, which I suppose we should've all seen as the point-of-no-return.
Football isn't far behind the television commercial when it comes to optimism about the future, but none of that matters on Sunday when the entire country will be riveted by both.
Speaking of the big game, if you weren't actively rooting for New England 18 years ago or born into a Patriots family, you are legally obligated to root for the Rams. Sure, even the people in their city don't really care for the Rams, but rooting for Tom Brady And the Interchangeable White Guys isn't much different from telling people your favorite basketball team is the Harlem Globetrotters.
Keep an eye on Tom Brady, says The Ringer! Tom Brady vs. Aaron Donald is the "Must-See" matchup of the Super Bowl, according to The Ringer. I … I don't even know how we could not see that. One is literally the most famous person currently playing the sport, and the other starts every play inches away from him, so you'd be hard-pressed to miss that one (while the headline is terrible, there is some great game analysis in the story).
The t-shirts of the losing team being sent to some impoverished third-world country is a tradition we can probably end. I know their heart is in the right place, but I don't think a ton of good comes out of dressing a 7-year-old in an XXXL championship t-shirt meant for an offensive lineman. In 2010, an earthquake-ravaged Haiti, killing more than 100,000 and affecting millions. Weeks later, Haiti was sent the t-shirts for the Super Bowl losing Indianapolis Colts, as if they hadn't suffered enough.
Instead, the NFL should auction that limited inventory and donate the money raised to those countries. There would be no better way to troll your Atlanta-based friends than by wearing a Falcons Super Bowl LI Champions shirt around them.
Let's not pretend that gambling isn't a major reason football is popular, and dive right into the most fun prop bets. The over/under for the number of plays that Tony Romo correctly predicts is 7.5. That seems high, but you've gotta take it, just because it will make listening to the announcers interesting and give you a legitimate reason to shush the annoying person at your party when he begins a soliloquy about the evil of straws.
For the coin toss, bet heads. Betting on a coin toss is a real thrill. Did I just wander into degenerate territory here? Well, while we're here…for the national anthem, go with the under 1 minute, 47 seconds, and I also like the announcers to talk about Rams head coach Sean McVay's age more than once (although it won't be much more, since they are likely aware of this prop bet and don't want to go overboard with it).
Andrew Whitworth deserves a Super Bowl ring. As a Bengals fan, I've followed Whitworth's career for a long time, and he's always been a terrific human. Beloved by teammates, does a ton of work for the community, one of the best offensive linemen in football for years. All of that means nothing when it comes to winning the Super Bowl, of course, but it'd still be cool to see! Part of me also believes Whitworth should get it because most of the Patriots already have one, an equally nonsensical point. I don't know why I'm treating Super Bowl rings like they are Legos I'm trying to get my kids to share.
Speaking of Brady, there's little he can do in this game to change his legacy. He'll be remembered as one of the game's all-time greats regardless of the outcome Sunday. One thing he CAN do in this game that could change his legacy: kneel during the national anthem. It's such a polarized act, and so many people would be utterly
confused about how to process it, taking the knee might be the thing that finally melts down the entire hot-take ecosystem.
Not only that, but the refs would throw a flag for roughing the passer as soon as his knee hit the ground (as is customary when Brady hits the turf), taking NFL officiating to the logically ridiculous place it needs to be to get meaningful change for the future.
And then Brady can go down in history as the most influential person in football both on and off the field.
Mark Chalifoux is a writer and stand-up comedian. His recent comedy album, Think Fast, opened at No. 2 on iTunes and is heard regularly on SiriusXM. His writing has appeared on ESPN.com, CBS Digital, The Baltimore Sun and the Cincinnati Enquirer.