Rumor: Super Bowl Streaker Bets On Self, Nets Almost $400k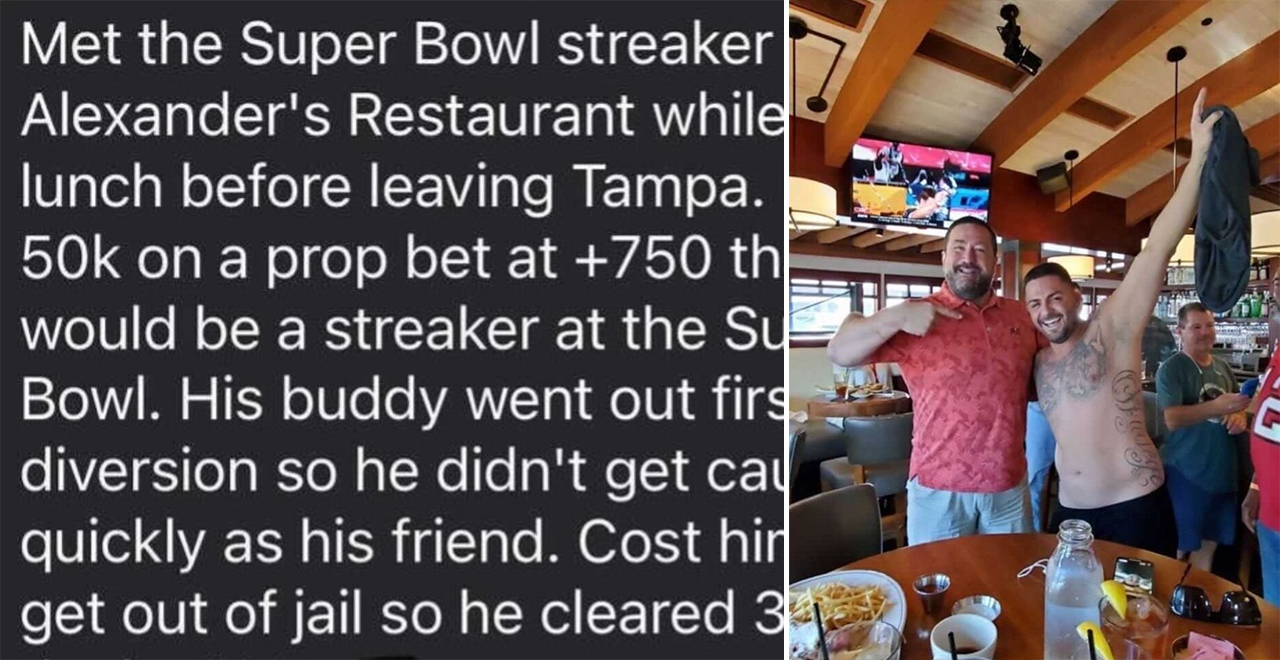 Regardless of whether you're a Tampa Bay fan or a Tom Brady fan or a huge The Weeknd fan, the Super Bowl was pretty boring. It was a blowout, it was over early, and the fourth quarter was a total snooze. The one genuinely exciting thing that happened wasn't even broadcast!
Not long before the game ended, as the Chiefs were struggling, still, to mount a drive, someone jumped from the stands and started sprinting around the field, avoiding security and trying to reach the endzone.
The streaker, who took off his shirt and dropped his pants, to reveal a pink bikini bottom, was eventually tackled and taken off to spend the night in jail. He slid down at the one, without even reaching paydirt, or getting his 15 minutes of fame on TV.
STREAKER!!! pic.twitter.com/hebnOrHOCU

— b naes (@ucf_problems) February 8, 2021
But if social media is to be believed, he got a much bigger payoff.
According to one man's IG, he met the streaker, Yuri Adrande, at a restaurant the next morning, where he said he'd placed a prop bet that there would be a streaker at the game, and he himself made it happen. Therefore, the $1000 he paid to get out of jail was nothing compared to the nearly $400k he netted off the winning bet.
What do you think bettors, is this true or false, 🤭 pic.twitter.com/cPfrR9I0n3

— Pickswise (@Pickswise) February 9, 2021
Many are skeptical, especially since there are indications – like the writing on the streaker's mankini bottoms – that Vitaly Zdorovetskiy planned the stunt to promote his website.
If it's true, that's a hell of a way to collect a small fortune. If it's not true, at least we'll always have Kevin Harlan's call of the moment:
Kevin Harlan's call of the #SuperBowl streaker on the field is incredible pic.twitter.com/NklrjZFE6I

— NOTSportsCenter (@NOTSportsCenter) February 8, 2021