Scott Van Pelt Pays Tribute to Students Whose Seasons Were Cut Short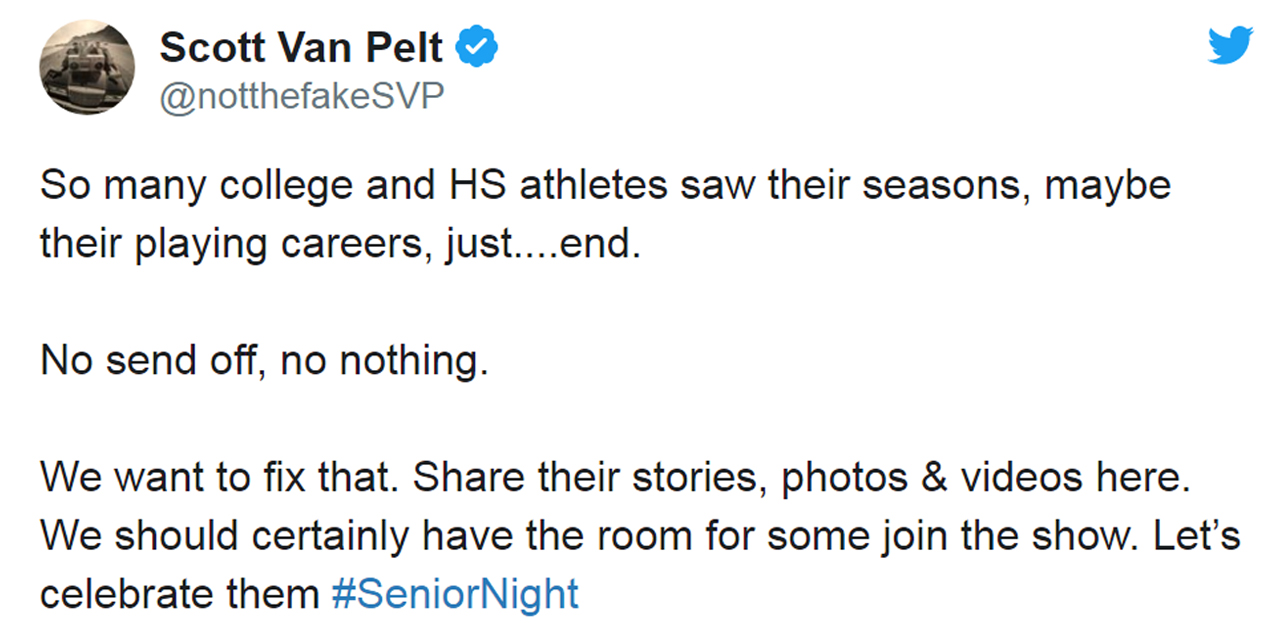 The abrupt cancellation of the winter championship season and the entire spring sports slate was especially impactful for all the players in college and high school who just saw their long sports careers end in a flash. For seniors who were playing their last year of the game, or their last year representing their school, the cancellation of their last games was unfair.
But, there's a lot of unfair going on, as it's part of the sacrifice we must all make in the interest of public health. Plenty of coaches are lamenting how it played out, none are arguing that it wasn't the right idea. Any adult can rationally see how it's absolutely, 100 percent the correct move, and still be disappointed at the effect it has on the players they've come to know as family.
ESPN Sportscenter anchor Scott Van Pelt feels their pain. There are much bigger concerns now nationally, but SVP did want to make some small gesture to recognize these athletes whose finish was out of their control.
So many college and HS athletes saw their seasons, maybe their playing careers, just….end.

No send off, no nothing.

We want to fix that. Share their stories, photos & videos here. We should certainly have the room for some join the show. Let's celebrate them #SeniorNight

— Scott Van Pelt (@notthefakeSVP) March 13, 2020
Van Pelt put out the #SeniorNight call, and teams and coaches started sending in pictures and stories of their kids.
This is Sullivan South from Kingsport Tennessee. We made the basketball state tournament for the first time in the 40 year school history. The school is set to close next year. The state is canceling the tournament. These kids and this school will never get to enjoy going pic.twitter.com/2RqkZPs8KT

— Michael McMeans (@MichaelPMcMeans) March 13, 2020
Udoka Azubuike. Came to the United States from Nigeria at 14 with hopes of pursuing an education.

Now, he's graduating as one of the best big men in #KUbball history. Big 12 POTY. Up for countless awards. NCAA record holder in FG %. Academic All-Big 12.

One word: Proud pic.twitter.com/FB1d9qHb3k

— Kansas Basketball (@KUHoops) March 14, 2020
Hinsdale South, Darien IL. Sectional semi game moved from Wed to Thurs due to virus, crowd size limited. Then game Thurs and IHSA tourney canceled 30 min before tip. SR Billy Durkin sitting at center court after cancelation. 30-3, best team in school history. pic.twitter.com/LLxJ09Uxoq

— Joe Mazzei (@CoachMazzei) March 13, 2020
This is @paigebueckers1 and the @HopkinsRoyals 💙

Paige is the No. 1 ranked girls HS player in the country and their team was one game away from winning the state championship.

They made history in MN, with back-to-back undefeated seasons. They had 7 seniors 🙏🏼 #SeniorNight pic.twitter.com/j0YYPDmgBI

— Bri Lewerke (@brilewerke) March 13, 2020
Our 26-4 team found out our conference tournament was canceled after scouting our semifinal foe. Grace Vander Weide, Alana Gilmer, Molly Smith, & twins Hannah & Rebekah Hand lost their chance to cut nets. Bekah was also 6 points shy of 2,000 & three 3ptrs from the Marist record🦊 pic.twitter.com/slj1vY9squ

— Marist WBB (@MaristWBB) March 13, 2020
ESPN's social media team was working on the best way to feature some of the stories on Sportscenter (especially since there's little else to cover now). The NCAA will likely grant another season of eligibility for spring sports athletes, that's little consolation for winter sports seniors and high school athletes.