Teacher Brings Clippers on Graduation Day to Give Students Free Haircuts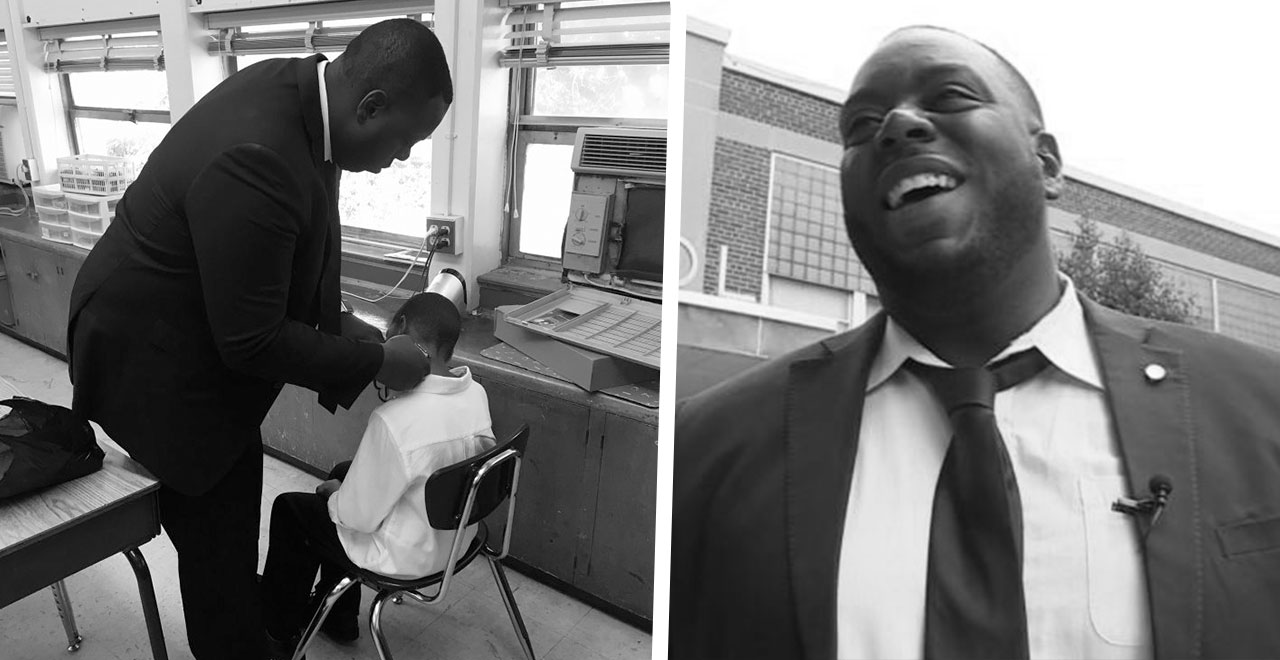 Being a teacher often comes with extra responsibilities not listed in the job description. Besides educating our youngest minds, many teachers are also the only other adults our kids interact with on a daily basis. That often means looking out for not just their mental wellbeing, but their emotional and physical health as well.
So on June 12th, as his 5th-grade class prepared for their "Moving on" ceremony, Robert Dunham did as many teachers do each day: went above and beyond. The first year elementary educator woke up with a feeling his kids may need a little extra TLC on such a momentous occasion.
"I just had this gut feeling that some of my boys weren't going to be able to get a haircut, so I instinctively picked up the clippers," Dunham told Yahoo. "My wife says to me 'where you going with those clippers?' and I said 'something tells me some of my students are going to need a trim.'" Dunham is no stranger to barbershops. His father who had raised the family in Brooklyn owned a chain of barbershops where Dunham picked up the trade.
As his students began arriving at school that day, Dunham knew his initial instincts were correct. He took out the clippers and began trimming, one kid after another. Word spread quickly around Carver Elementary School in Richmond, Virginia, and soon other teachers caught wind of Dunham's random act of awesomeness.
"The next thing I know, one of my colleagues came to my room and said, 'Can I send you one more?' and I said, "Just keep sending them!" recounts Dunham. "One of my colleagues from 4th grade just started taking pictures and then she posted them, and it took off from there."
Not looking for notoriety or a pat on the back, Dunham says he was only doing what he thought was right and trying to lead by example while giving his kids the best day he could. "It was their Moving on Ceremony and I wanted it to be special."
The news comes just a year after a state investigation uncovered a cheating ring at the elementary school, led by then school principal, Kiwana Yates. "Often we get a bad rap because of things that happened in the past," Dunham told news station WTVR. "We tell people, this is in the new Carver."
Dunham says he always tries to lead by example, leaving his students and all of us with a simple message: "Remember to always get caught doing the right thing, remain humble, and it's not always about how you start, but it's how you finish."