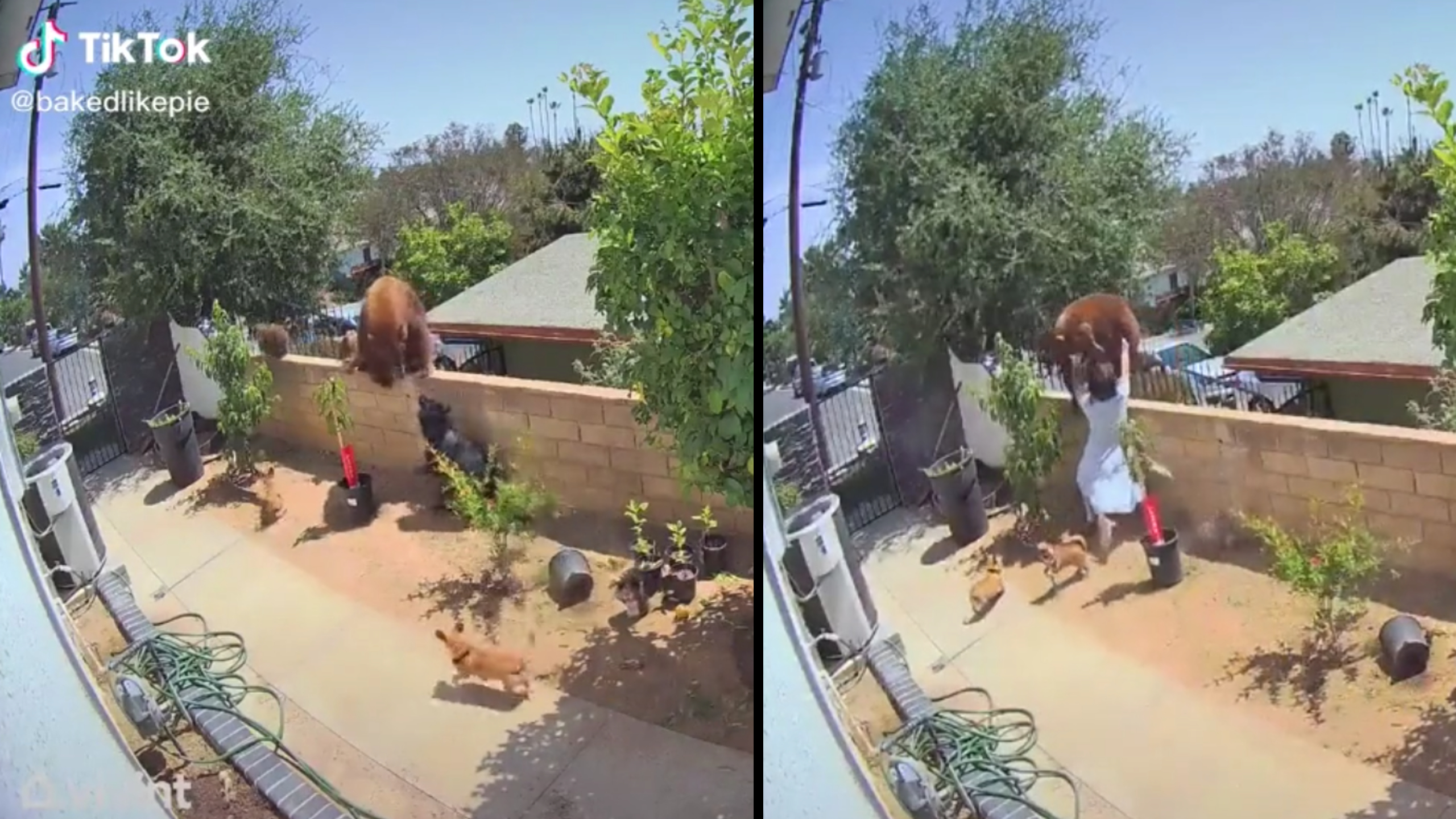 Credit: Tik Tok/Bakedlikepie
How far would you go to save your pets? 70% of dog owners say they would put their life on the line for their four-legged friends. But what if a bear was involved? A new viral video shows a teen in California defending her pets from a BEAR that climbed up their backyard wall. And what did she do? Close her door to protect herself? Try and save her pets and run away? Scream at the aggravated bear to get it to run away? Nope.
She ran and SHOVED IT OFF THE WALL.
It is a truly wild video.
Pet owner of the year right there. That's some serious Hulk shit. She saw her animals in trouble and did not hesitate. She didn't google "What to do when a bear is about to kill your dog?" She just instinctively ran out there out and mama bear'd the bear.
The person sharing the video on Tik Tok, which went understandably viral with tens of millions of views, wrote:
"My cousin Hailey yeeted a bear off her fence today and saved her dogs. How was your Memorial Day?! (WTF?!)"
Hailey is now queen of the bears, I didn't make the rules that's just how it goes. Also, if I know anything about media, Hailey and that bear will probably be making a reunion appearance together to heal and make amends on ABC Family.
Either that or "Hailey and the Bear" will become a hit new animal show on Discovery+, hosted by the lady and the bear she once pushed.
In a follow-up video, the 17-year-old Hailey explained she thought it was another dog her dogs were barking at. "I go over to the bear, I look it in the eyes and the first thing I think to do is push it. Push a bear, push an apex predator. To be honest, I don't think I pushed her that hard. I just pushed her enough to make her lose her balance, so she dropped my dog and I ran out of there. I grabbed my other dog, I sprained my finger and scraped my knee, but we're all OK," she said.