Teens Wake up at 4am to Shovel Neighbor's Driveway Before Her Dialysis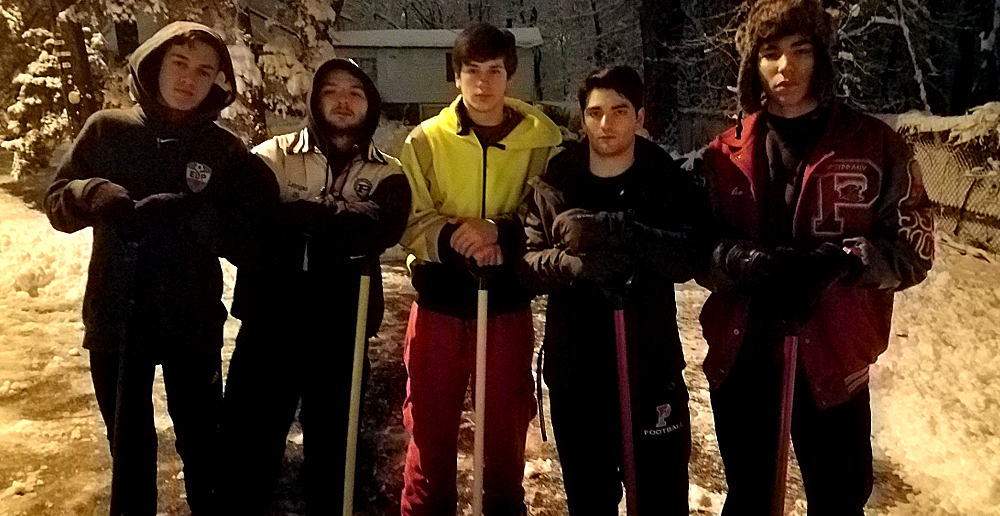 Most high school students take advantage of snow days by grabbing a few extra Z's in the morning, but a special crew of teenagers from Parsippany High School in New Jersey recently went viral for doing something genuinely altruistic on their day off.
Brian Lanigan works as an EMT and knows his elderly next door neighbor because she routinely receives dialysis and requires ambulance transportation.
The previous week, Brian had shoveled her long driveway in order to make way for the ambulance, but with the forecast predicting eight more inches overnight, he knew she would need assistance once again.
Brian had to work early the next morning and wouldn't be available, so he and his brother, Patrick, began recruiting friends with shovels to do something selfless.
The next morning at 4:30 A.M., four sleepy friends showed up ready to work. Within thirty minutes, the driveway was completely clear and ready for the ambulance's arrival.
Brian and Patrick's dad snapped a photo of the "snow angels" and posted it to Twitter, praising the boys for their willing hearts and overall awesomeness.
Snow Angels disguised as PHS Srs, Justin, Pat, Chris, Tyler & Amon got up super early 4:30 (really never slept) to shovel a driveway for a neighbor who needed to get to dialysis #Goodboys #MooMoo #hopingforasnowday pic.twitter.com/ZMMWbrBRlR

— Peter Lanigan (@TweeterLanigan) March 4, 2019
The post has received over 800 likes, with dozens of folks leaving heartfelt comments emphasizing that this is the way true men should act.
Well done, fellas! The first round of hot cocoa is on us.