Texas Principal Congratulates All 240 Graduating Seniors in Person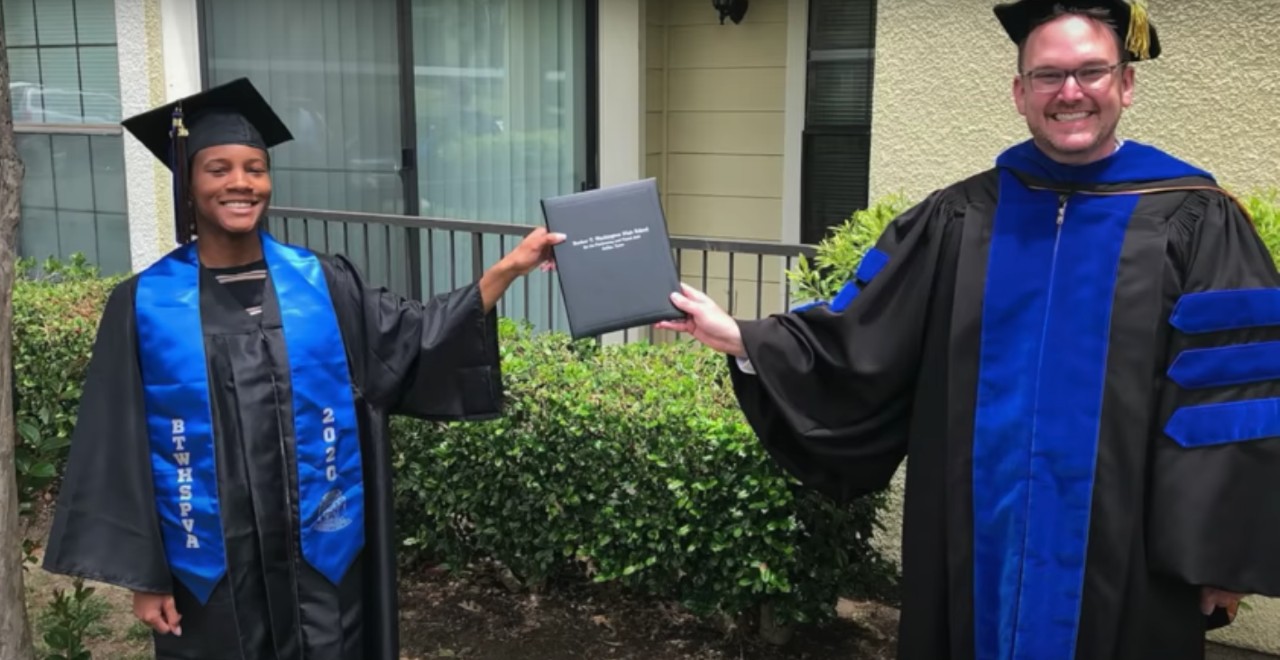 Being a principal is no cakewalk. You've seen Ferris Bueller's Day Off right? Every school basically has 1500 Ferris Bueller disciples running around their halls. So yeah, being a principal can be a crap job at times.
Fortunately, there are so many who go above and beyond the call of duty to show their students that no matter what, they have someone on their team. There was this assistant principal, who without a second thought, laid down on the pavement next to a student with autism who was having a tough time. And who could forget this committed principal who dressed from head to toe as Elf on the Shelf, before spending the day hiding around his school. The newest addition to this ever-growing list of A+ principals is Dr. Scott Rudes, from Dallas, Texas.
Rudes, principal of Booker T. Washington High School for the Performing and Visual Arts, is a father of a senior himself. He saw firsthand how devastating the effects of the coronavirus have been on this year's graduating class. They didn't get to build cherished memories of prom, graduation, or their final days alongside their best friends. They missed out on so much, and Rudes wouldn't stand for it anymore.
According to Fox News's KDFW, Rudes said in a message to his seniors, "Whatever presents in life, find the opportunity with that and run with it." And that's exactly what he did.
Rather than mourning the fact that his students couldn't walk across the stage to accept their diplomas, he saw an opportunity. Why not give each senior their own little graduation? It seems insane, how can a single person deliver hundreds of diplomas, one by one? I guess the only real answer is "uh, you just do it".
It brightened our day when our daughter's principal, Dr. Scott Rudes from Booker T Washington HSPVA showed up at our house to deliver her diploma cover this week. Thanks for such a kind and personal touch. #classof2020 😍😢@BTWHSPVA pic.twitter.com/Yna8UlioEa

— Bryan Carter (@mrbryanlcarter) May 15, 2020
It took 10 days, and Rudes covered a total distance of 1,500 miles to visit all 240 of his seniors. He laughed with them, danced with them, and gave them something they never thought they'd get – a memory of their very own high school graduation.
Some lessons can be taught in the classroom. Math, history, you can learn about those from a book. Some lessons though, like selflessness and generosity, are often best learned outside of the classroom. Preferably from one excellent principal.