The Best 101 Dad Jokes That Will Make Your Kids Laugh out Loud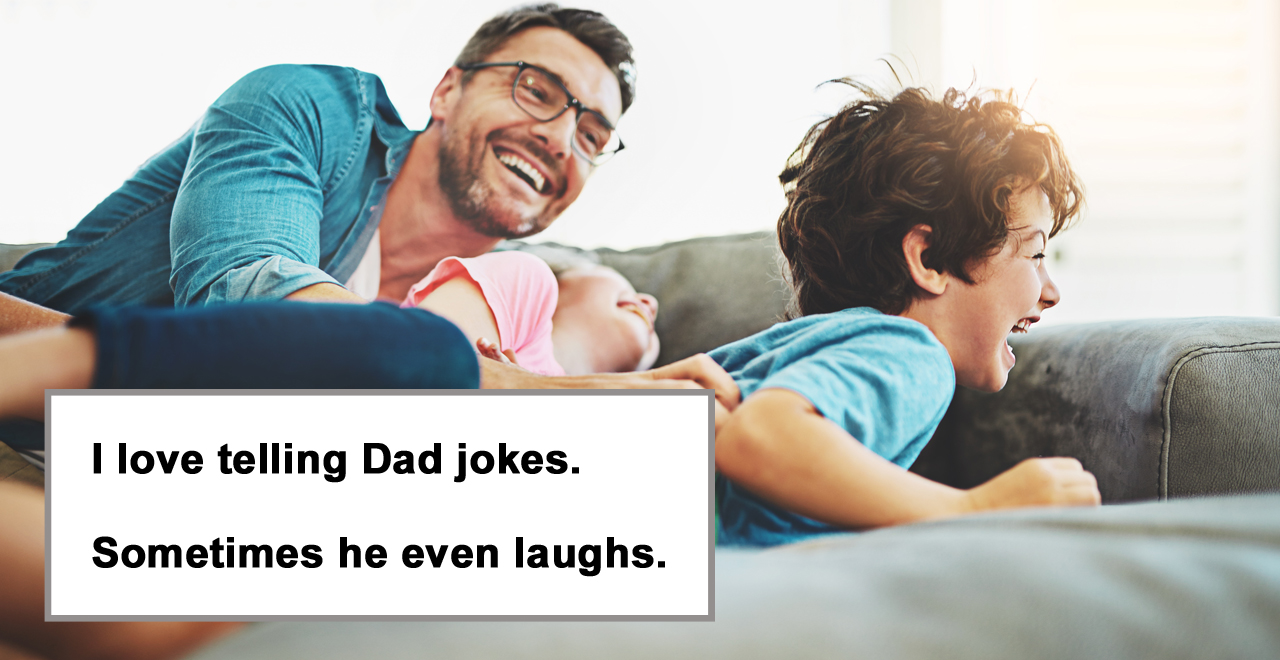 Whether you're a new dad or a long-time veteran, there's nothing like making your kid laugh! Or roll their eyes and tell you you're embarrassing them. Both equally satisfying. But if you're running low on material, have we got the list for you: 101 of the best dad jokes out there! Tell your kids, tell your wife, tell that neighbor you don't really like but always seems to mow the lawn the same time as you do so you have to say something.
1. I love telling Dad jokes.
Sometimes he even laughs.
2. What do you call a boomerang that won't come back?
A stick.
3. Why do you never see elephants hiding in trees?
Because they're so good at it.
4. What does a zombie vegetarian eat?
"GRRRAAAIINS!"
5. What do Alexander the Great and Winnie the Pooh have in common?
Their middle name.
6. A cop just knocked on my door and told me that my dogs were chasing people on bikes.
I told him my dogs don't even own bikes.
7. What's the resemblance between a red apple and a green apple?
They're both red. Except for the green one.
8. How do you deal with a fear of speed bumps?
You slowly get over it.
9. Why did the traffic light turn red?
You would too if you had to change in the middle of the street.
10. My dad died when we couldn't remember his blood type.
He kept insisting we "be positive," but it's hard without him.
11. How many apples grow on a tree?
All of them.
12. How did ancient Grecians get memorialized?
They had to urn it.
13. Have you heard about the new corduroy pillowcases?
They're making headlines.
14. Did you know the first French fries weren't actually cooked in France?
They were cooked in Greece.
15. What do you call bears with no ears?
B
16. Does anyone need an ark?
I Noah guy.
17. 5/4 of people admit that they're bad with fractions.
18. When does a tailor need to go on vacation?
When they seem stressed.
19. What is heavy forward but not backward?
A ton.
20. Why can't you tell dad jokes until you have kids?
It's a faux pas.
21. Want to hear a joke about construction?
I'm still working on it.
22. I'm very pleased with my new fridge magnet.
So far I've got twelve fridges.
23. To whoever stole my copy of Microsoft Office, I will find you.
You have my Word.
24. I'm reading a book about anti-gravity.
It's impossible to put down.
25. Two goldfish are in a tank.
One says to the other, "Do you know how to drive this thing?"
26. Two soldiers are in a tank.
One says to the other, "Blubblublubblubblub."
27. Why was the burglar so sensitive?
He takes things personally.
28. I wouldn't buy anything with velcro.
It's a total rip-off.
29. I invented a new word today:
Plagiarism.
30. After dinner, my wife asked if I could clear the table.
I needed a running start, but I made it.
31. Why don't cannibals eat clowns?
They taste funny.
32. Why is Orion's belt the worst constellation?
It's a waist of space.
33. This morning, Siri said, "Don't call me Shirley."
I accidentally left my phone in Airplane! mode.
34. Why is it so hard to tell a joke about retired people?
None of them work.
35. I bought some shoes from a drug dealer.
I don't know what he laced them with, but I was tripping all day.
36. My son put his shoes on the wrong feet.
I don't even know where he got someone else's feet.
37. The cashier asked if I wanted my milk put in a bag.
I told him to just leave it in the carton.
38. What was the most ground-breaking invention?
A shovel.
39. I can't believe I got fired from the calendar factory.
All I did was take a day off.
40. Why does putting a car in reverse make you nostalgic?
It takes you back.
41. I just found out I'm colorblind.
The diagnosis came completely out of the purple.
42. What do you call a fish with no eye?
Fsh.
43. A salesman tried to sell me a burial plot.
But that's the last thing I need.
44. To get over claustrophobia, you really need to think outside the box.
45. Why aren't koalas actual bears?
They don't meet the koalafications.
46. Why do flamingoes life one leg up?
If they lifted both they'd fall.
47. What do you call a three-footed aardvark?
A yardvark.
48. I couldn't quite remember how to throw a boomerang.
Eventually, it came back to me.
49. Why do graveyards have gates?
Because people are dying to get in.
50. Today my son asked me for a book Mark.
Can't believe he's 11 and still doesn't know I'm named Dave.
51. Why did the man decide to sell his vacuum?
It was just collecting dust.
52. My wife is really mad at the fact that I have no sense of direction.
So I packed up my stuff and right.
53. What concert costs just 45 cents?
50 Cent featuring Nickelback.
54. Three conspiracy theorists walk into a bar.
That can't just be a coincidence.
55. If you ever want to talk about why our air conditioning bill is so high, my door is always open.
56. What if there were no hypothetical questions?
57. Why do Swedish warships have barcodes on them?
So when they dock they can Scandinavian.
58. What has four wheels and flies?
A garbage truck.
59. I tried watching The Neverending Story.
Couldn't finish it.
60. What do you get when you cross a joke with a rhetorical question?
61. What did the man say to the wall?
One more crack like that and I'll plaster you.
62. Don't worry if your parachute won't open.
You'll have the rest of your life to fix it.
63. What has one horn and gives milk?
A milk truck.
64. Why shouldn't you try writing with a broken pencil?
It's pointless.
65. Why should you buy socks with holes in them?
It's the only way to get your feet in.
66. What's a foot long and slippery?
A slipper.
67. Why do scuba divers fall backwards into the water?
If they fell forward they'd still be in the boat.
68. What's the difference in how you cure bird flu and swine flu?
If you have bird flu you need tweetment, if you have swine flu you just need oink-ment.
69. Did you hear the joke about the roof?
Never mind, it's over your head.
70. What do you call a dinosaur with an extensive vocabulary?
A thesaurus.
71. This morning my alarm went off early.
I thought its sell-by date was tomorrow.
72. Why should you stay away from trees?
They can be a little shady.
73. Why is "R" only a pirate's second favorite letter?
Because their first love is the C.
74. Why do fish live in salt water?
Because pepper makes them sneeze.
75. How do you remember which direction the sun rises in?
Eventually, it'll dawn on you.
76. Why are mountains so good at telling jokes?
Because they're hill areas.
77. What do you call a bear with no teeth?
A gummy bear.
78. What's red and smells like blue paint?
Red paint.
79. Why did the cowboy get a wiener dog?
He wanted to get a long little doggie.
80. What did the buffalo say when his kid left for college?
Bison.
81. When does a dad joke cost $1000?
When it's a granddad joke.
82. Why can't you trust stairs?
They're always up to something.
83. What did the dumbwaiter say to the elevator?
I think I'm coming down with something.
84. What do you call a fly without wings?
A walk.
85. What's the tallest building in the world?
The library, it has the most stories.
86. What's the best time of day?
6:30, hands down.
87. How are a hippo and Zippo similar?
One is very heavy, the other's only a little lighter.
88. What's the 25th letter of the alphabet?
I don't know, y?
89. What's Harry Potter's favorite way to get down a hill?
Walking. JK, Rolling.
90. How do you handle a fear of elevators?
You take steps to avoid them.
91. How can you tell the difference between an alligator and a crocodile?
By whether you see it later or in awhile.
92. When geese fly in V-formation, why is one side longer?
There are more geese on that side.
93. I have an EpiPen. My friend gave it to me when he was dying, it seemed very important to him that I have it.
94. How did the hipster burn his mouth?
He ate the pizza before it was cool.
95. How can you tell by someone's home if they're a highway robber?
All the signs will be there.
96. Can you drop an egg on a concrete floor without cracking it?
Yes, concrete floors are very hard to break.
97. How do you lift an elephant with one hand?
You can't, elephant only have feet.
98. What looks like half an apple?
The other half.
99. How do you make an egg roll?
Just give it a little push.
100. How can you make money while freshening your breath?
Investmints.
101. What is the best thing about living in Switzerland?
Well, the flag is a big plus.
Remember, making your kids cringe is equally as satisfying so be sure to check out The Worst 101 Dad Jokes.