The Captain Marvel Movie Website Will Transport You Back to the 90s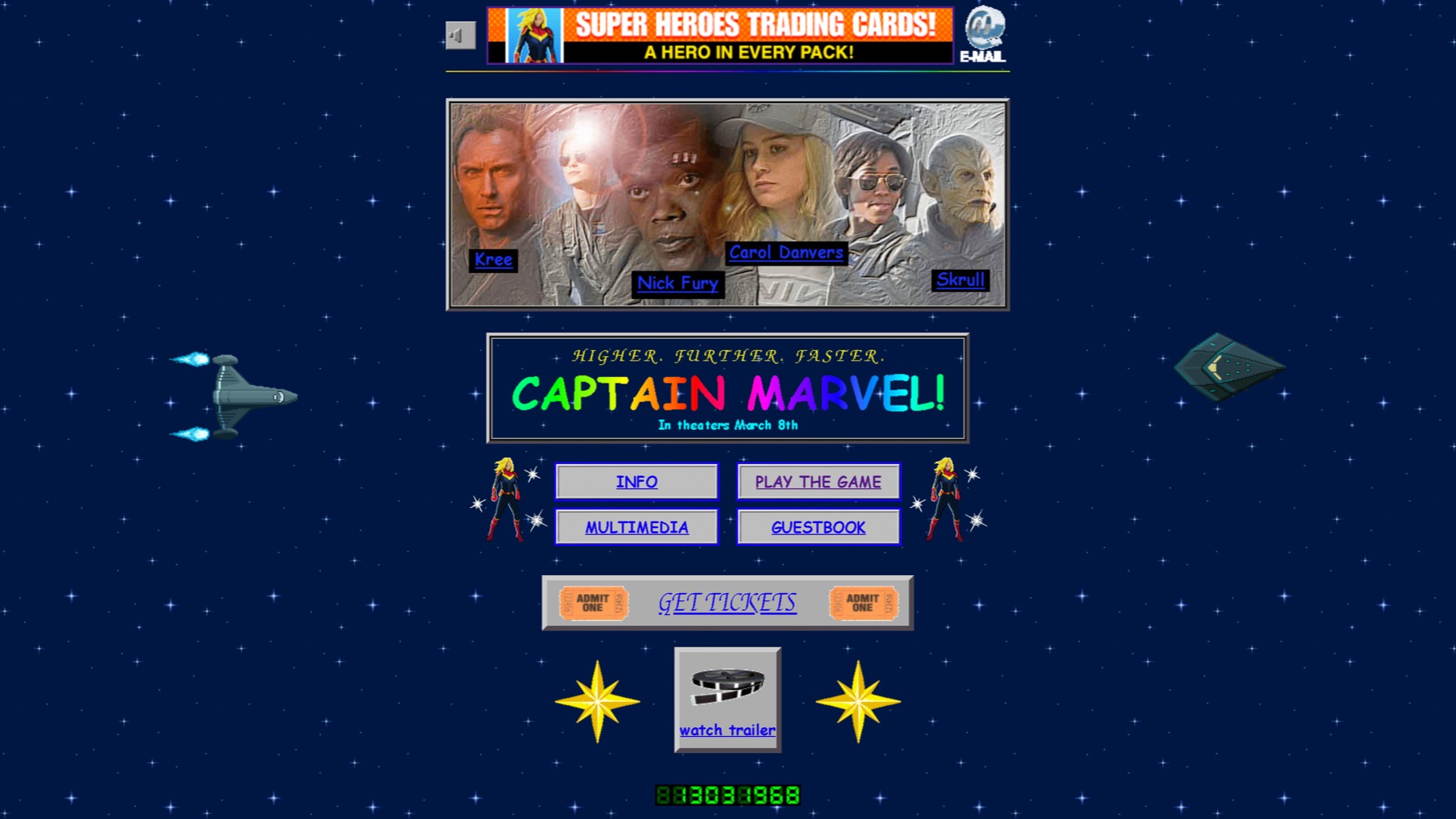 If you didn't already know that the upcoming Captain Marvel film takes place in the late 90s, you only need to take one glance at the official website.
Prepare your retinas for a full blast of unapologetic dial-up era nostalgia. The site is littered with animated web art of your favorite Marvel characters, a site counter, HTML frames, and even a guestbook.
Everything on the internet in the 90s was new. Nobody knew what proper site design looked like so users just crammed their sites with everything and the creators perfectly nail that aesthetic.
It still contains all of the trappings of a typical movie website—recent trailers, stills from the film, and a basic overview of the characters—but presents them with a 90s coating so thick, it's practically wearing JNCO jeans.
"It is very specific, and it is going to appeal to a very particular segment," says Marlene Towns, a professor of marketing at Georgetown University's McDonough School of Business. "But it also crosses generations still. For younger users it's novel, and it's kind of quaint, like, isn't that cute, look at how the old people used to do it."
The site's incredible resemblance to a middle schooler's live journal from 1997 is making plenty of other people excited, sentimental, and angsty all over again, too.
You can practically hear the dial-up tone #CaptainMarvelhttps://t.co/iBj9tA21bk

— Creative Bloq (@CreativeBloq) February 11, 2019
Captain Marvel's website looks sooooo 90s ???? pic.twitter.com/5FlEORDbQf

— JEAN (@j_e_a_n_07) February 14, 2019
the captain marvel website gives me war flashbacks in the best of ways

— ???????????? ???????? ???????? (@_aryann) February 20, 2019
THE CAPTAIN MARVEL OFFICIAL WEBSITE REFERENCED THE DANCING BABY, THE FATHER OF ALL INTERNET MEMEShttps://t.co/CcB3xymmFe pic.twitter.com/w7mrZfU6sC

— Frost Carter (FrostyMac) (@DailyBugle10) February 8, 2019
With over 100k engagements on Facebook in only a handful of days, the website is well on its way to outperforming all of the former movie sites it's imitating.
Is that due to the exponential growth of the internet and immense interconnectivity of social media? Or is it the overuse of colorful Comic Sans? Honestly, it's impossible to tell.
The flick drops on March 8 – so get up to speed with the most recent trailers and clips here: