The Worst Sport for Parents, Zion's Block and Rivers Defends Dad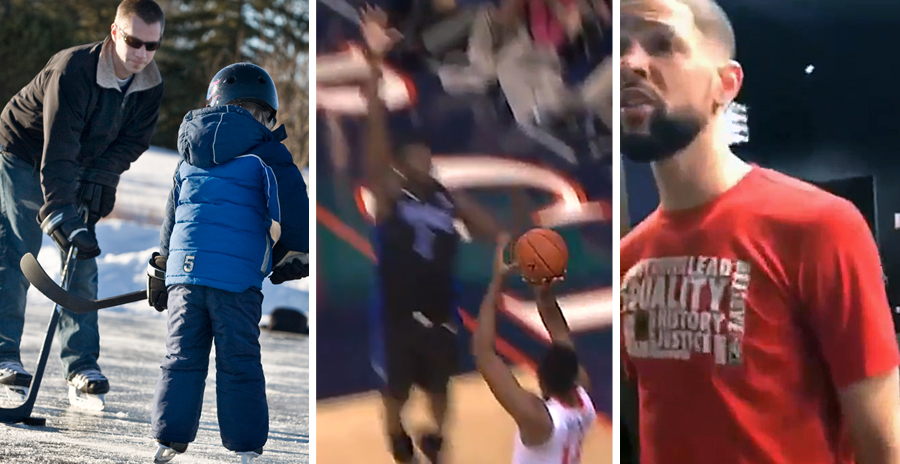 My daughters are still in the kids sports limbo of scoreless soccer, so I haven't made the jump into the world of being a sports dad just yet. But as we're getting closer, it makes me wonder, what is the worst sport for your kid to play?
After several compulsory tours in the soccer world, I transitioned to basketball in middle school, playing on a team where everyone had to play at least a little bit of the game. I didn't even know that was required until the morning after a game, our coach called me to apologize for not playing me the night before. That call was a bummer to get because I actually had played in the game the night before. Apparently, I made such an impression that my coach spent his night wracked with guilt, before placing an early-morning phone call to apologize to a 9-year-old. Either that or my coach was engaged in some next-level trolling that I completely missed.
The next year I started playing ice hockey and made a travel team by junior high. Only recently have I realized how much that must've sucked for my parents. I went from playing games at normal times in reasonably heated gyms to 7 a.m. practices in unfathomably cold strip-mall sportsplexes. Throw in the fun extras of hours of travel, hotel stays, and exponentially more expensive equipment, and that's a pretty rough trade-off for a parent.
*obligatory disclaimer about how I'll support my kids in whatever sport/activities they want to pursue goes here*
But for real, what are the worst sports experiences that I can hopefully avoid? I was performing at a comedy club in Atlanta last year and there were several teams from a youth dance competition staying in my hotel. At breakfast, one of the families was wearing team-branded t-shirts, except for the dad, who was wearing a custom "I don't dance, I finance!" shirt. He seemed profoundly unhappy, despite a better than normal breakfast offering from the Holiday Inn Express.
It's hard not to be on the Zion Williamson hype train. It's so much cooler to hate what everyone loves, but no one can remain nonplussed after watching that block. I was at a sports bar before going to a college basketball game last week and caught the last five minutes of the Duke-Virginia game. Almost immediately, a nearly 300-pound man flew through the air to block what was previously a comically wide-open 3-point-attempt. Those incredible athletic moments transcend all rational Duke-hatred (I understand it, even if I don't fully practice it) and remind you why sports are fun.
ZI????N BL????CK!

(???? @TysonBrand) pic.twitter.com/wG7Y7h2LJ1

— ESPN (@espn) February 10, 2019
College athletes shouldn't have to sit out when they transfer. Recruiting is a ruthless business and coaches can say whatever they want to get a kid on campus, then bolt as soon as a better job opens up. College football coaches are freaking out because of the transfer portal and the concern about "free agency", but the players deserve it.
Austen Rivers quickly shut up a fan after he insulted his dad. It's a minor thing, but as a stand-up comedian, it is very gratifying to see someone trying hard to be obnoxious get put in his place. The team probably isn't thrilled to have him engage at all, but it is funny to see how fast the guy shuts up.
He took back his comments to Austin Rivers real quick

(via _justinbolton/Instagram) pic.twitter.com/fuHh3SL4EZ

— Bleacher Report (@BleacherReport) February 10, 2019
The comic of the week is Chad Daniels. If you aren't familiar with him, his recent album, Footprints on the Moon, is outstanding. His late night sets are among the best in comedy and if you are completely unfamiliar with him, you can start below. He is one of the best.