These Finger Guards Could be Handy for Indulgent Snackers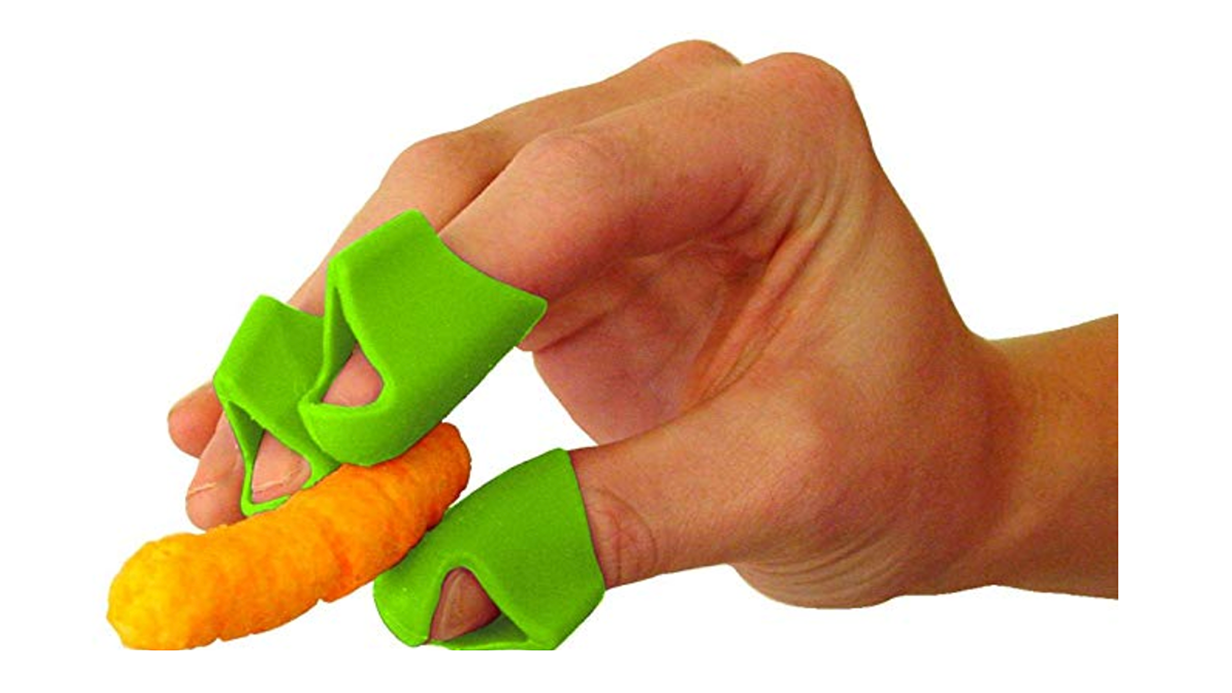 Technology is advancing faster than we can predict and we really need to start considering the reasons behind certain creations. I mean, we've all seen Jurassic Park.
For instance, look at these "Chip Fingers." Designed specifically for snacking, they protect the eater's fingers from getting covered in unwanted grease, residue, or cheese dust.
The product's full description on Amazon reads:
For Chips, Popcorn, Pizza, Party food, Finger food, Appetizers and anything else that makes your fingers Cheesy, Greasy or Sticky. Designed to go on and off with ease, our unique shape fits comfortably on any size fingertip. Food-Grade Silicone is easy to clean, Dishwasher safe, and can be placed in boiling water to Disinfect. Use as a Finger Food Utensil or for Kitchen Prep. For ages 12 and up.
Look, I get it. Messy fingers can lead to stained clothes, messy furniture, and overused napkins, but I'm also having a hard time imagining myself whipping out my neon green, silicone finger guards in the middle of a party.
"No, Sharon. I'm sure your puppy chow is perfectly fine to touch with human skin. I simply detest the feeling of powdered sugar coating my cuticles." Yeah, no.
Also, how dare anyone steal away the joy of licking my own damn fingers after a long period of snacking—that's like snack dessert. I can only assume a snacking session would feel unfinished without being able to indulge on the light, delicious coating that remains.
If you are somehow still convinced that "Chip Fingers" would be a smart addition to your (or your child's) life, you can pick out your own set on Amazon for only $8.99. They come in four different colors, too, so you can buy enough for your overly clean family and mix and match.
Meanwhile, I'll just be over here, continuing to type on my orange-tinged, slightly cheesy keyboard.
Just a heads up, if you buy stuff using the provided links, The Dad may collect a small commission.