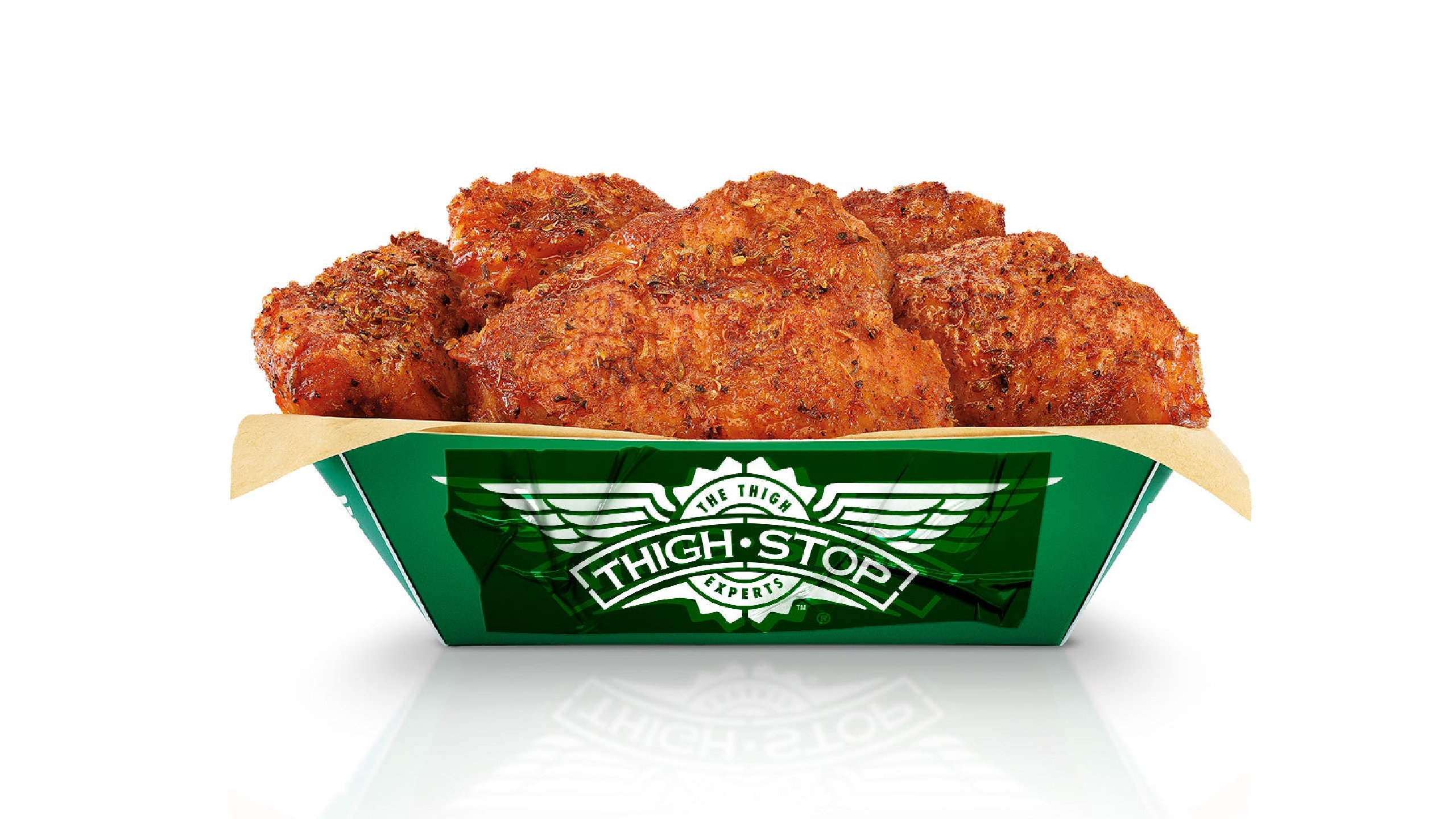 Credit: Thightstop.com
One of the lasting effects of Covid-19 is its effects on the supply chain. In this case, a national chicken wing shortage. The demand surge for chicken wings is so dire that some chains are branching out and taking new tactics. Chief among them is Wingstop, who are exploring the chicken thigh route with the recently unveiled delivery brand, "Thighstop."
Thightstop will serve crispy chicken thighs, with or without sauce. They even sell boneless chicken thighs. So you might be asking, chicken thighs? Chicken whys? The answer is the soaring cost of chicken wings.
View this post on Instagram
One year ago, the wholesale price for a pound of chicken wings was less than a dollar. Now, it's more than $3 for the same amount. Because of the surging price, chicken wing restaurants are trying something different. Thighstop allows customers to get their chic fix at about half of what wings cost right now.
View this post on Instagram
A Wingstop spokesman said they are moving to thighs so they can purchase and use more parts of the chicken, instead of just the breast (for tenders and boneless wings) and wings. This will help with supply issues.
The tick is getting people interested in buying chicken thighs. Most of the demand in the chicken world is for white meat (nuggets, wings, etc.) because that's traditionally cheapest, so that's what restaurants have embraced. And now that's what the customers are used to. Wingstop (errr, Thightstop) has the challenge of re-introducing most Americans to the dark (meat) side.
they grow up so fast 🥲 https://t.co/xSebipwMBj

— Wingstop 🍗 (@wingstop) June 23, 2021
And the wing shortage is even leading to some beef (the social media kind). Hooters fired shots at Wingstop, who hit back hard. It was a curious move for Hooters, given that no one has ever gone there for the food.
ratio https://t.co/a3GRTkZhFt

— Wingstop 🍗 (@wingstop) June 21, 2021
As Thighstop rolls out the Great Chicken Thigh Experiment, keep an eye on wings to see how the skyrocketing prices affect availability at your favorite sports bar.