Jeopardy Champ Recalls Alex Trebek's Infamous "No Pants" Prank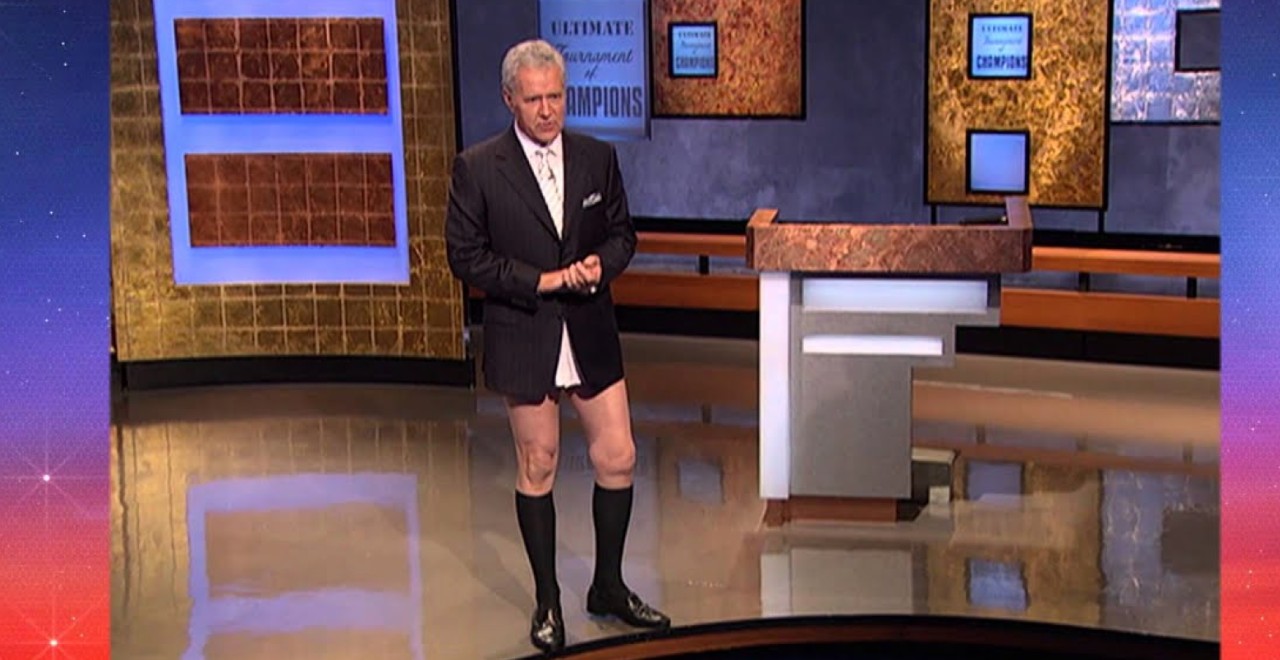 Trebek tragically passed away from pancreatic cancer in the fall, but not before giving us a lifetime of wisdom and entertainment. It's fair to say he goes down as one of the most beloved TV hosts ever, something we're remembering more after his final episodes of Jeopardy aired in early January.
What made Alex Trebek a legend was his ability to find levity in the moment, and to be serious when the situation called for it, while also being able to deliver a delightfully subtle burn or execute a flawless prank. This was really apparent in the final tribute to Alex that Jeopardy just released. Well, now we have even more details about one of his most legendary pranks. A former Jeopardy champ this week is recalling Trebek's infamous no-pants prank during a tournament of champions.
Brad Rutter was a finalist in the 2005 Jeopardy Tournament of Champions, going against a rising young whippersnapper by the name of Ken Jennings. Rutter told a radio station recently about how nervous they all were, and how they joked with each other that they should just do the show without pants since they were only visible from the chest up behind their podiums.
The players, unaware of how television works, did not realize their mics were picking up the private conversation. So they did not expect what happened next; when legendary Jeopardy announcer Johnny Gilbert introduced Trebek, he came out to the set dressed sharply in his shirt, tie jacket, socks and shoes and zero pants.
The contestants doubled over in laughter as Trebek explained what was happening, and then went to grab some pants and start the show.
Truly a legendary moment in show history, and another reason why Trebek will always be the GOAT.