Tweet Roundup: The 15 Funniest Tweets About Mowing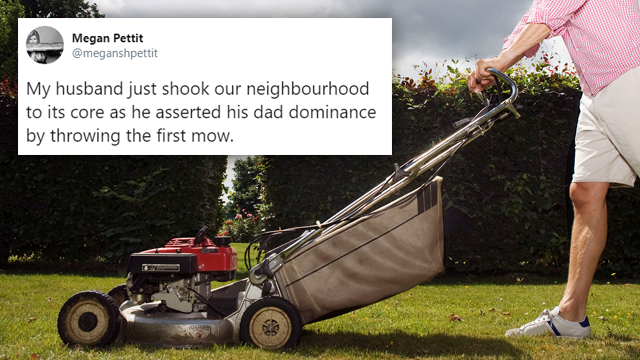 The snow has melted. The grass has returned. Time to show it who's boss. Pop off that shirt and green up those New Balances, because we've got the 15 funniest tweets to pull-start your mowing season.
Mowing. Need we say more?
why does anyone bother with sex when you can mow the lawn and then stand with your hands on your hips admiring the lawn

— mr grace mugabe (@mattvbrady) November 15, 2017
Every dad loves it.
total dad move: my dad is delaying father's day dinner to mow the lawn and won't let anyone help

— ???? ryan lambert ???? (@twolinepass) June 17, 2018
It's a way to demonstrate power within the community.
My husband just shook our neighbourhood to its core as he asserted his dad dominance by throwing the first mow.

— Megan Pettit (@meganshpettit) April 23, 2017
And within the family dynamic.
My dad just group texted us kids a picture of his lawn and asked if anyone had grass that looked as good as his knowing damn well it doesn't.

— S A R A B U C K L E Y (@nottheworstmom) June 4, 2018
Seriously, dads just experience it differently.
my dad's the only person in my family who says "do what makes you happy" then ghost rides his lawnmower

— kc green (@kcgreenn) June 11, 2012
So if you're not a dad, stay in your lane.
Hey kid, you're not really mowing the lawn. That's just a stupid toy lawnmower. It blows bubbles, you idiot. You're not helping AT ALL.

— craig (@EWWWYUCKY) June 6, 2012
At least until we figure something out.
Million dollar idea: Electric Barbie cars with mower blades so your 6-year-old can mow the lawn for you.

— Kent Graham (@KentWGraham) October 28, 2015
Really, we appreciate your enthusiasm.
I didn't realize there was a wrong way to mow a lawn until I asked my son to do it.

— Rodney Lacroix (@moooooog35) May 18, 2018
Owning a lawn mower is big responsibility.
Waitress: u didn't finish your salad. Would you like me to wrap it up?
Me: yes. I'll take it home for my lawn mower he's probably starving

— kim monte (@KimmyMonte) April 15, 2017
Maintaining your lawn is an even bigger one.
I don't mow the lawn. I impose a series of lines, coordinates and right angles on the surface of a unknown world, like a 16th century cartographer. Here there be dragonflies.

— Al Dente (@six_2_and_even) June 3, 2018
You're gonna get some nasty stares.
No matter what day of the week, or what time of day, if you are mowing your lawn know this: somebody hates you for it.

— ess bee fritz (@RandomAntics) September 29, 2011
Not everyone will be a fan of the craft.
Buy a lawn mower and be alone forever. pic.twitter.com/7gqoFm4HXP

— meatshirt (@prettysadmostly) July 27, 2014
But respect has to be earned.
I just saw a dad in cargo shorts on a riding mower shoot some finger pistols at another dad on a riding mower what a fucking power move

— Sorry, no free takis! (@Jawwwwwsh) May 16, 2018
Earn it while you can.
this time of year every time you mow the lawn you wonder if it might be your last

— deg (@degg) October 22, 2018
And finally, a pun.
Dad: Your grandpa used to cut the grass before he died, but now he's-

Son: Dad please don't…

Dad: Lawn gone.

— Zachary James (@Pro_Jones_) September 24, 2015