Tweet Roundup: The 15 Funniest Tweets From Dads in August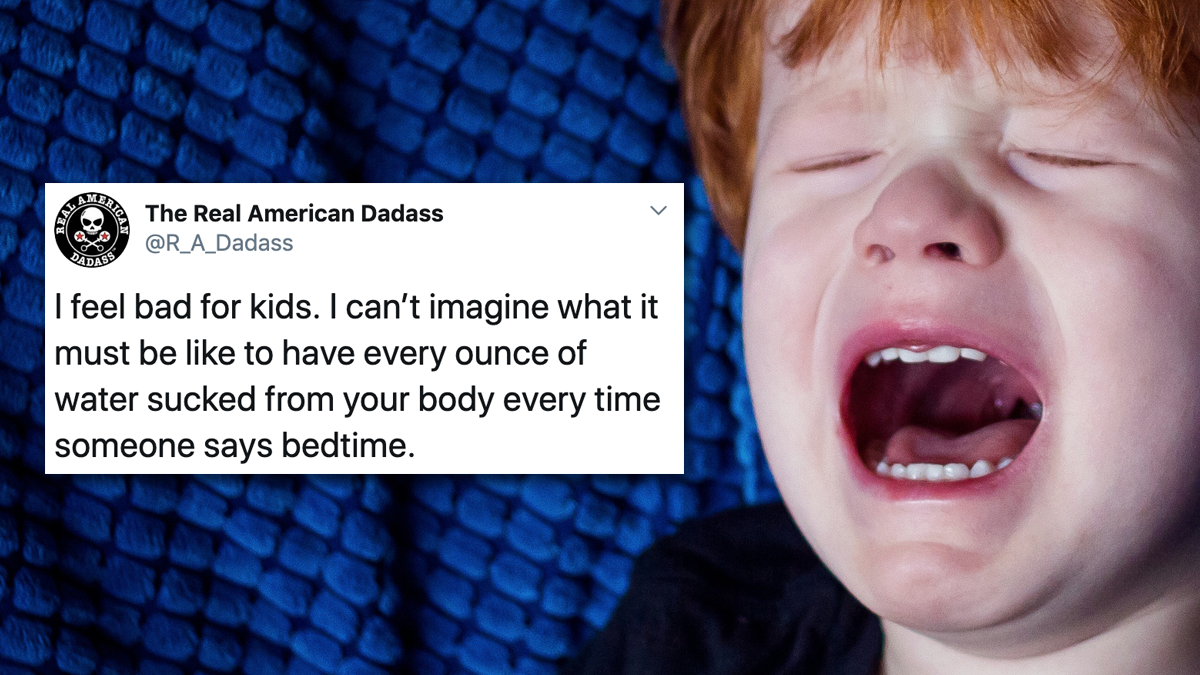 You did it! You beat the heat and made it through another August without crumbling under the weight of back-to-school fatigue. Reward yourself with these hilarious tweets from other dads this month.
Eloquent.
Parenting; a haiku:

Tired tired tired tired tired
Tired tired tired tired tired tired tired
Tired tired tired tired tired

— Jack's Dad (@DaddingAround) August 28, 2019
Peacefulness hack.
Benadryl. It's what's for dessert.

-My parenting slogan.

— A Bearer Of Dad News (@HomeWithPeanut) August 28, 2019
Always get a note.
*hands wife a note from the grocery store manager telling her that I looked everywhere but couldn't find the ice cream she wanted*

— Josh (@iwearaonesie) August 21, 2019
Aaand ONE, two, three, floor…
My workout video would just be a 20 minute montage of me in various restaurants bending over to pick up crayons my kid dropped.

— mark (@TheCatWhisprer) August 22, 2019
Not once.
Whoever named them "amusement parks" never took their kids to one.

— Dad and Buried (@DadandBuried) August 27, 2019
Truly tragic.
I feel bad for kids. I can't imagine what it must be like to have every ounce of water sucked from your body every time someone says bedtime.

— The Real American Dadass (@R_A_Dadass) August 26, 2019
If it's not thirst, it's something else.
5 minutes after bedtime:

6yo: DADDY! DADDY!! DAAAAAAAAADDDDDDDY!! DADDDY!!!

Me: *runs up stairs* What? What's wrong??

6yo: I think my toe nail is too long.

— ThreeTimeDaddy (@threetimedaddy) August 22, 2019
Touché.
Daughter: Daddy, can I have breakfast?

Me: *puts up hand* Talk to the hand.

Daughter: *into my hand like she's ordering at a drive thru* I'd like some pancakes.

— Prime Nate (@GorillaNipples1) August 24, 2019
They just know.
Me: *making out with GF on couch* Your parents are out. Why don't we take it up a notch?

Her Dad: *crashes in thru window* Touch that thermostat and you're dead

— Brynnester (@brynnester) August 28, 2019
This sums it all up.
kids: [saying stuff]

me: fascinating

— *sigh*clops (@DadZZZasleep) August 29, 2019
Have multiple for maximum tardiness.
If you're tired of being the first person to any party you should consider having kids

— Vinod Chhaproo (@Chhapiness) August 29, 2019
Van owners know.
After 7 years, I am finally getting rid of my minivan today.

Gonna feel weird not driving something with 87 cup holders.

— Rodney Lacroix (@moooooog35) August 16, 2019
*shudders*
My 3rd grader wants to be something really scary for Halloween so we are going to dress her up as this note from her music teacher that recorders will be coming home this week.

— Simon Holland (@simoncholland) August 6, 2019
Bone-chilling.
My 3 year old asked how long he had to wait until he could stop listening to me. I told him he had to listen to me for the rest of his life. He looked me dead in the eyes and said, "I'll listen to you for the rest of YOUR life." Toddlers are cold-blooded, man.

— Henpecked Hal (@HenpeckedHal) August 19, 2019
Bonus uncle tweet.
In the best yet things-my-nephews-have-done, the 7 year old ordered a burger today, and was asked if he wanted it medium. "Could you please make it very large?" he asked. Told that the choice was between medium or well done, he asked if the chef could do the best he could. Yes.

— Andy Kesson (@andykesson) August 16, 2019