Tweet Roundup: The 21 Funniest Dad Tweets Of April 2019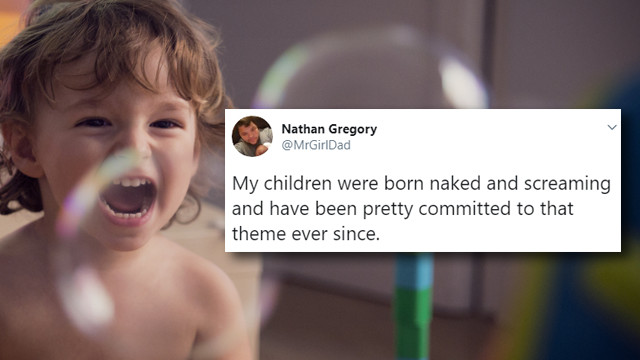 April is officially in the books. But don't worry. You'll be picking up little strands of plastic Easter basket grass well into the autumn season. Here are 22 of this month's funniest tweets by dads and the people who love them.
You won't even see it coming.
"I'm nothing like my father!" I scream as I fly into a rage because a lightbulb is only 60 watts

— Bart (@bartandsoul) April 23, 2019
Devastating.
My dad is at it again pic.twitter.com/Pdc3jpfSZe

— Abam (@AdamBroud) April 11, 2019
Parenting really is a full-time job.
My 8 year old daughter just told me that we need to discuss my performance as of late, and I'm pretty sure that means she's already found my replacement.

— Jonesy the Canadian Caveman ???????? (@Jonesy_donkey) April 23, 2019
Fairly accurate representation.
Husband: "What do you think we will do when the boys stop having naps and are awake all day?"

Me: "Remember that time Britney Spears had her very public breakdown? Yeah, that…"

— Steve (@papa_can_preach) April 26, 2019
Yes. Everything.
Sorry we are late but the toddler peed on… everything. Everything is wet. This is my life now.

Save yourself.

— Anecdotal Birthcontrol (@PedersenAhmed) April 28, 2019
Real dedication to the bit.
My children were born naked and screaming and have been pretty committed to that theme ever since.

— Nathan Gregory (@MrGirlDad) April 28, 2019
They're all 10 now.
You're not fully an adult until you see a 16 year old driving a car and you are certain they are 10.

— Tired Dad of 2 (@Tired_Dad_of_2) April 7, 2019
Well, that's one way to do it.
Me: I got our toddler a fish.

Wife: No you got our toddler the concept of death.

Me:

Wife:

Me: It's orange!

— Daddy's Digest (@daddysdigest) April 4, 2019
Quick, hide under the ring apron.
My wife and I parent like tag team wrestlers but right now neither of us want to be in the ring.

— WTFDAD (@daddydoubts) April 4, 2019
The most fatherly way to go.
He died doing what he hated most – tripping over one of his son's toy trucks and falling down the stairs of an overly-warmed house with too many lights on.

— dADDisms (@Beagz) April 3, 2019
Yep, they'll do that.
I bet there's an old Hawaiian saying that goes "it's not a vacation with two 13 year old girls until there's a clogged overflowing toilet"

— Andy Richter (@AndyRichter) April 3, 2019
Ah, yes. The Parent Tax.
It's my right as a Dad to eat half the kids fries on the way home.

Don't @ me.

— McNeil (@Reflog_18) April 3, 2019
We're all raising little radicals.
Rage Against My kid
the Machine

????

F*ck you, I won't do what you tell me

— Josh Pivots Slowly (@Tryptofantastic) April 26, 2019
Brilliant.
The trick to getting your kids to eat more vegetables is to mix them in with their favorite foods. For example, I like to wedge a few carrot sticks into my daughter's crayon box.

— Henpecked Hal (@HenpeckedHal) April 17, 2019
Bound to happen.
A neat thing about working from home is having your 3-year-old bust in during a conference call and exclaim, "Daddy why are you wearing pajamas and eating chips?"

— mark (@TheCatWhisprer) April 19, 2019
Way more times if the park job is exceptional.
If a dad arrives before a large group of people in any situation, he's legally required to brag about how he beat the crowd a minimum of 17 times.

— SpacedMom (@copymama) April 19, 2019
What's the opposite of paternity leave?
Me: Hey.

Boss: Hey.

Me: Just a reminder that the kids are home for school vacation next week.

Boss: So you'll need to work from home all week?

Me: Actually I was wondering if I could just move in here.

— Rodney Lacroix (@moooooog35) April 16, 2019
Kids: sometimes they just get it.
Daughter: dessert?

Wife: you have to eat more dinner first

Daughter: but that means less room for cookies

Me: *puts down fork* that's an excellent point

— *sigh*clops (@DadZZZasleep) April 18, 2019
A little housework motivation.
Doing dishes:

Horrible drudgery of a job that has no end.

Doing dishes as a parent:

I will gladly scrape, wash and polish each dish until it shines with the light of a million suns if it means a break from managing this TEEMING HIVE of MISCHIEF-FERRETS!!

— Richard Dean (@dad_on_my_feet) April 25, 2019
The dreaded Easter hangover.
My kids ate 1 million grams of sugar yesterday. Shout out to all the teachers today. Godspeed.

— Simon Holland (@simoncholland) April 22, 2019
Legend.
At some point, you will reach a "Driving to pick up your kids from practice barefoot" level of parenting.

— Abe Yospe (@Cheeseboy22) April 25, 2019