Tweet Roundup: The Funniest Tweets About Decorating for Christmas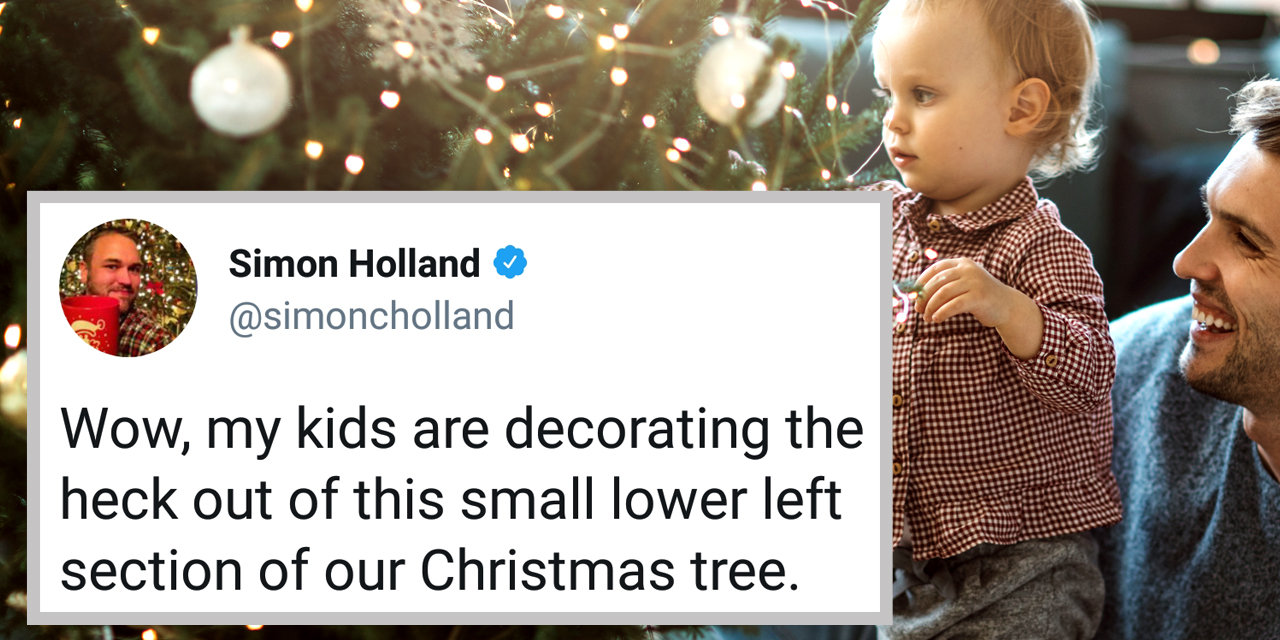 Do you love attic dust? Or maybe gluing ceramic nativity scenes back together? How about the thrill of untangling headphones but hate when that moment afterwards when they work? Decorating for Christmas may be right for you!
Before you start, keep in mind you'll be doing this again next year…
Now is when the half-assed job I did packing away the Christmas decorations last year finally starts paying off!

— Ken Jennings (@KenJennings) November 20, 2013
…so don't be afraid to cut corners…
Christmas decorating tip: if you put tinsel in a snowblower you can decorate your whole house in seconds.

— Brandon (@UNDEADTRESOR) December 22, 2014
…or splurge a little.
Inflatable lawn decorations are a great way to tell the world you hate having money.

— Shira (@shiraselko) December 29, 2011
Remember: the more lights, the better!
I wish No More Tangles shampoo would work on Christmas lights.

— Kent Graham (@KentWGraham) November 27, 2016
The most important decoration will be your tree.
TREE: [sees christmas tree thru window] who dose he think he is. all dressed up. too good to be outside
ANOTHER TREE: be nice, he is dying

— jonny sun (@jonnysun) December 25, 2014
Ornaments come in all varieties to choose from.
My wife bought a bunch of Christmas ornaments covered with glitter. I'm going to try to make the relationship work for the children.

— keith (@tchrquotes) November 30, 2013
But don't get too creative.
Decorating our Christmas tree entirely in Truck Nutz was funny for about 3 minutes, but it cost $760 and now the kids won't get presents.

— One-Horse Open Ray (@SirEviscerate) December 20, 2015
Tree decorating is a great way to bond with the kids…
Wow, my kids are decorating the heck out of this small lower left section of our Christmas tree.

— Simon Holland (@simoncholland) December 1, 2018
…but remember: your roof, your rules.
ME AT 8 YEARS OLD: can i put the star on the christmas tree
MOM: yup
DAD: [thinks this means hes no longer the man of the house] bullshit

— Bob Vulfov (@bobvulfov) May 13, 2015
Once Christmas is over, everything changes.
December 31st: "Look at my beautiful Christmas tree!" January 1st: "Get this disgusting fucking thing out of my house!"

— Damien Fahey (@DamienFahey) December 29, 2014
There will be nothing fun about taking those lights down…
Decorating for Christmas would be so much more fun if I could stop thinking about how un-fun it's gonna be to un-decorate.

— Salty Mermaid (@Jenn_H_Scott) November 30, 2016
…or disposing of that tree…
*takes Christmas tree back to woods*

Go on, get out of here!

*starts to cry*

Go on, you big dummy! Go home!

*slaps tree*

I said go!!!

— Tim Martin (@timmartinwhy) December 29, 2014
…so lend a helping hand when possible.
Finally took down the Christmas decorations from my neighbor's house.

— Eli Terry (@EliTerry) December 22, 2012