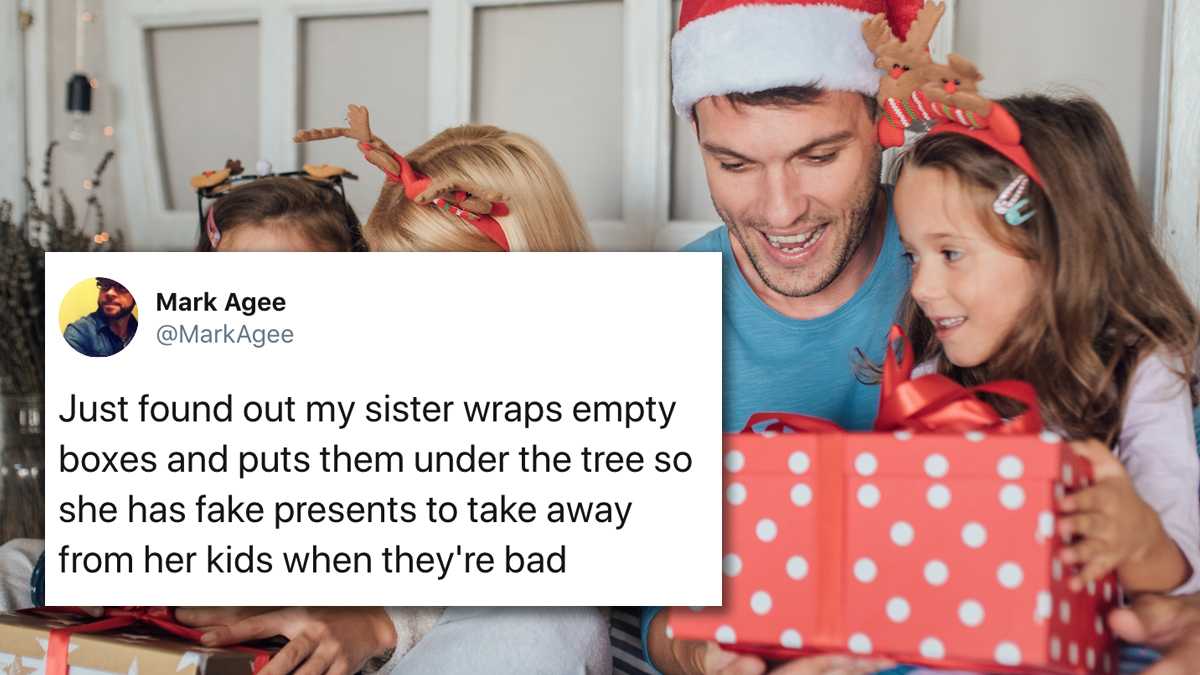 Credit: Getty
Nothing feels better than watching a kid's face light up as they open their gifts on Christmas morning. Okay, maybe one thing. You know when you're cutting wrapping paper and the scissors just sorta glide through it? That. That definitely feels way better. Here are some of the funniest tweets about buying Christmas presents for your children.
First, have your kids make a list of what they want…
Have kids so you can be done with your Christmas shopping & they can hand you their "updated" list which includes nothing you bought.

— ????Sarcastic Mommy???? (@sarcasticmommy4) December 19, 2017
…then ask them what they think your salary is.
Based on my daughter's Christmas list, apparently she thinks I'm an oil tycoon.

— The Dad (@thedad) December 9, 2016
Remember, your kids will need to earn these presents…
Just found out my sister wraps empty boxes and puts them under the tree so she has fake presents to take away from her kids when they're bad

— Mark Agee (@MarkAgee) December 20, 2016
…so good behavior is key.
When the kids are bad this time of year, I tell them I just burned one of their presents. If they're really bad, I say it was the puppy.

— Ken Jennings (@KenJennings) December 14, 2013
They're about to become nosier than ever…
Trusting my kids to pay no attention to the 84 empty Amazon boxes stacked in plain sight in the garage that showed up right before Christmas

— Andy H. (@AndyAsAdjective) December 25, 2013
…so pick a good hiding place for the gifts.
I'm going to hide my daughter's presents on the toy shelves in her room, since that's the last place she'll look.

— Andrew O. (@TheOrvedahl) December 14, 2016
Ultimately, it's all pretty thankless work.
I've spent over 100 dollars on Christmas gifts for a kid that doesn't know the meaning of the words Christmas, gifts, 100, or dollars.

— Dad and Buried (@DadandBuried) December 14, 2015
So you can probably just give them whatever.
LIFE HACK

Wrap all the clothes you gave the kids for Xmas last year that they never wore & give them as a Xmas gift this year.

— EricaTriesToTweet (@EricaWhoToYou) December 17, 2017
Just be sure to keep mindful of your own needs when shopping.
The worst way to remember your kid got a drum set last Christmas is at 5:45 on Saturday morning.

— Simon Holland (@simoncholland) October 15, 2016
If they don't like their gifts…
*spends hundreds of dollars on Christmas presents*

*watches son amuse himself for an hour with an empty water bottle*

— Northern Lights ???? (@PinkCamoTO) December 23, 2016
…just blame the neighbors.
Well I'm sorry your presents suck, kids, but it's not my fault the neighbors didn't have anything fun in their Amazon packages this year.

— Bryan Donaldson (@TheNardvark) December 25, 2016
Finally, an important reminder for the big day.
Don't forget to make your kids change out of their regular pajamas and into their more photogenic Christmas pajamas before opening gifts.

— mark (@TheCatWhisprer) December 25, 2016