The 10 Funniest Tweets About Your Kids' Last Day Of School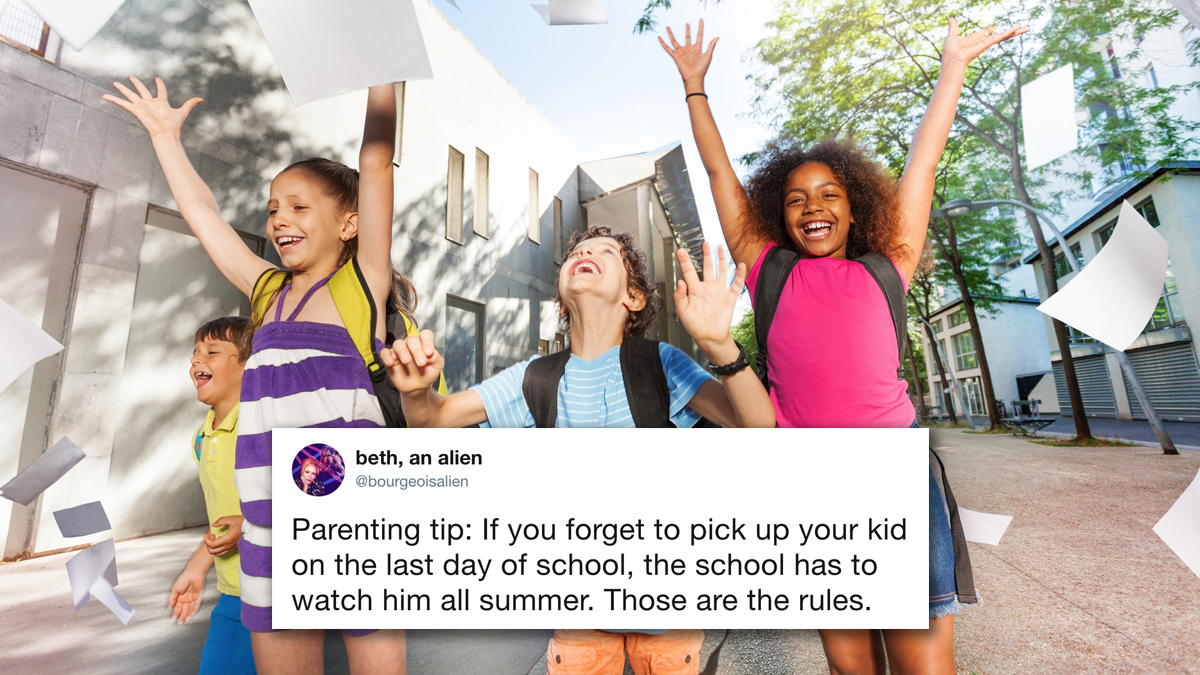 Bedroom doors are about to be barricaded. Furniture is about to get sticky. Kitchen trash cans are about to overflow with the past year of schoolwork. Summer break is upon us. Celebrate the last day of your kids' school year with these 10 hilarious tweets from parents who are now counting down the days until August.
"Another Brick In The Wall" will also produce these results.
I continued my annual tradition of playing "School's Out" by Alice Cooper for my kids on their last day of school & they continued their daily tradition of silently resenting me & my music choices while feigning smiles.

— Andy H. (@AndyAsAdjective) May 23, 2018
Dad Trolling: Level 1000.
When your dad picks you up the last day of school in a romper pic.twitter.com/f2neBx9E1W

— Bottlerocket (@bottlerocket) June 23, 2017
You're never gonna dance again. Well, at least until the first day of school this fall.
The bus driver slowly pulls away on the last day of school as I softly sing "Careless Whisper" complete with sax solo.

— Valerie (@ValeeGrrl) June 23, 2017
Thanks, please send them home with a bag of glitter next year.
Opens my preschooler's backpack on the last day of school and sees the recorder.

Well played, teachers. Well played.

— Danielle Herzog (@martinisandmini) June 21, 2017
Worth a try.
Parenting tip: If you forget to pick up your kid on the last day of school, the school has to watch him all summer. Those are the rules.

— beth, an alien (@bourgeoisalien) June 19, 2017
Schools sure love getting their money's worth on printer ink.
I'm at my most SEAL Team Six when trying to sneak-throw out all the crap my kids brought home on the last day of school.

— Rodney Lacroix (@moooooog35) June 15, 2017
No, seriously.
My 6 year old emptying his backpack in the kitchen on the last day of school like pic.twitter.com/A2Upo1hre4

— Lurkin' Mom (@LurkAtHomeMom) June 1, 2016
Get ready to put some mileage on that iPad charger.
Yesterday was the last day of school. The kids have already completed the 56 activities I had planned to keep them busy the entire summer.

— Kate Hall (@KateWhineHall) May 29, 2015
Adapt. Evolve. Survive.
1st week of school: sandwich cut in a cute shape, sliced fruit, encouraging note.

Last week of school: handful of croutons wrapped in foil.

— Simon Holland (@simoncholland) May 21, 2015
Go ahead. Phone it in. You've deserved it.
It's the last week of school, so I'll be dressing my kid in floor outfits and packing him things like raw blocks of ramen noodles for lunch.

— Mommy Cusses (@mommy_cusses) June 20, 2017