Twitter Becomes Hockey Player's Wingman When He Tweets to Anna Kendrick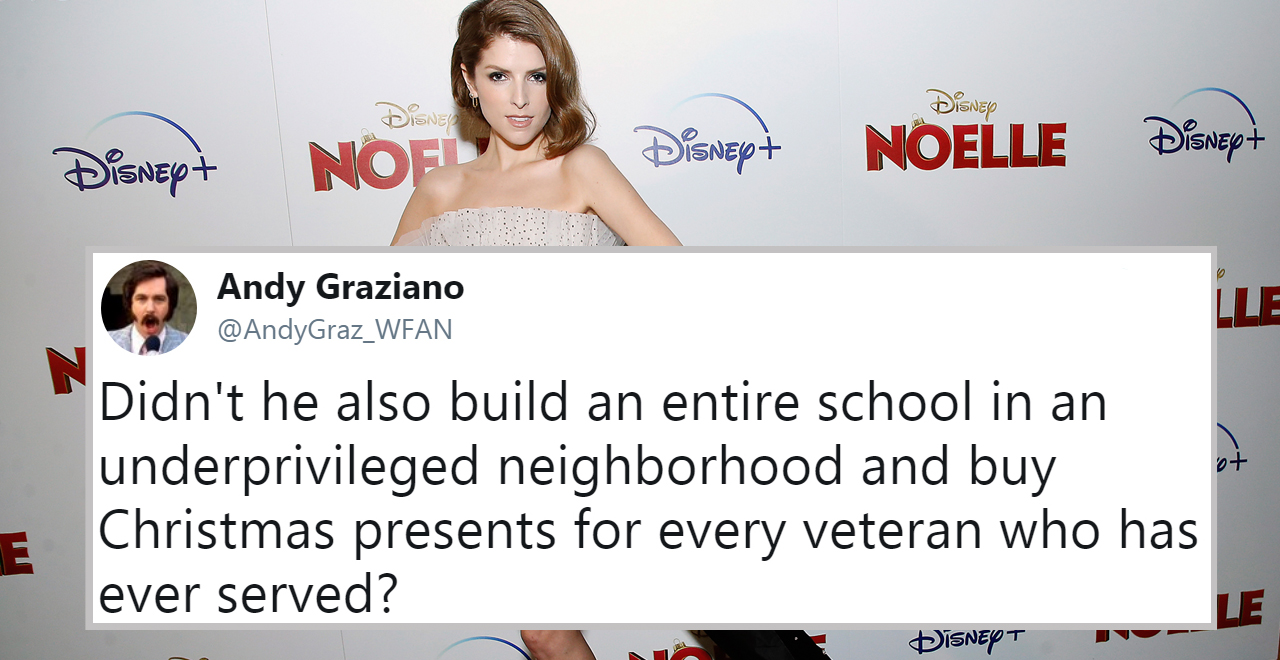 Over the course of December, I watched a lot of Christmas movies. Most of them I'd seen twenty times before, but a few new ones snuck into the mix as well. Like Disney+'s Noelle, an under-the-radar flick that somehow stars Anna Kendrick, Bill Hader, Shirley Maclaine!, and Billy Eichner.
Kendrick stars as Noelle, Santa's daughter, full of Christmas spirit but shut out of the family business because PATRIARCHY! Relax, it doesn't get political. It's cute and fun in an Elf-lite kind of way, and much of the credit goes to the star of the Pitch Perfect series, and one of Twitter's funniest – and most crush-worthy – celebrities.
Don't take my word for it. Disney and my kids aren't the only ones who see Anna's appeal, as evidenced by a hilarious string of events that went down over the holidays when one NHL play decided to shoot his slapshot and get the actress's attention.
— Anthony Beauvillier (@titobeauvi21) December 26, 2019
Anthony Beuvillier of the New York Islanders tweeted out a greeting to Kendrick, outright tagging her Twitter account and clearly thirsting for a response. He got many, but they weren't from her, they were from friends who wanted to make a little Christmas Day romance happen. By any means necessary!
Tales of Beauvillier's heroics began pouring in, each one further bolstering his case with Anna.
About the NHLer's kindness towards animals:
hey man thanks for letting me use your gear during that fundraiser you held for the animal shelter to save puppies. Your cup was way too big but other than that everything worked fine. Thanks again!

— Big Heat (@DanyAllstar15) December 26, 2019
He dogsat for the ENTIRE ANIMAL SHELTER last week. A real one, for sure.

— cd (@CDIsles) December 26, 2019
And children:
Ya man and the kids at the orphanage love when you come by to volunteer!

— Stacy Campbell (@stcampbell27) December 26, 2019
Didn't he also build an entire school in an underprivileged neighborhood and buy Christmas presents for every veteran who has ever served?

— Andy Graziano (@AndyGraz_WFAN) December 26, 2019
And fellow hockey players:
Ya man and the kids at the orphanage love when you come by to volunteer!

— Stacy Campbell (@stcampbell27) December 26, 2019
Incredible surgical skills:
Thanks for performing open heart surgery on me man, I appreciate it

— Chris Genovese 🦞 (@Chris_Geno_51) December 26, 2019
And selflessness:
Hey dude, thanks so much for donating me your kidney. I wasn't sure I was going to overcome my kidney failure but then you came through and literally gave me an organ. You also paid for the entire procedure. I wouldn't be alive if it weren't for you you're such a nice guy ❤️

— Bobby (@Forza_Firmino) December 26, 2019
Eventually, finally, Anna got wind of the tweets and responded.
These replies have been my entertainment for the last two days. Thank you all for regaling me with the true tales of this man's heroism.

— Anna Kendrick (@AnnaKendrick47) December 27, 2019
Not exactly what Anthony was looking for, but at least she noticed him. And stay tuned. Valentine's Day is around the corner!