Unable to Afford Childcare, Providence Mayor Brings Son to Work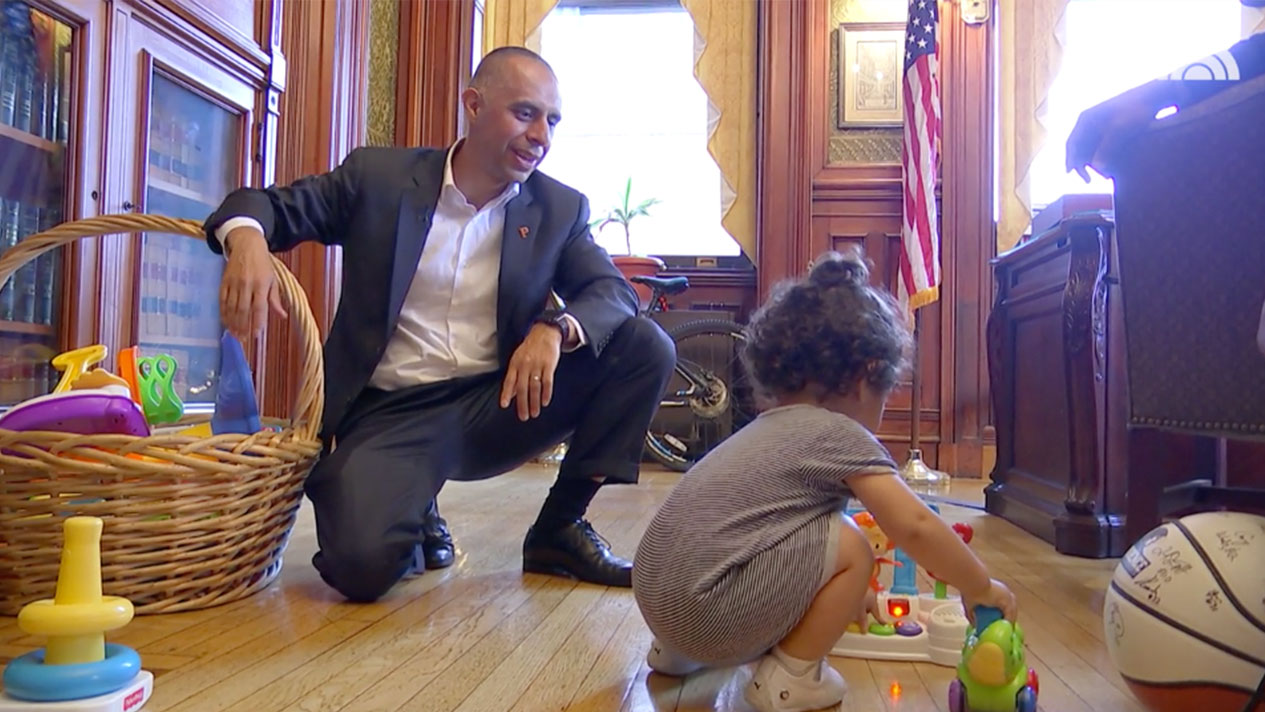 Childcare expenses can be one of the most daunting costs for families across the country. While the plight of a single parent can be apparent, many dual-income Americans struggle with daycare costs regardless of their station. Take for example Providence, Rhode Island Mayor Jorge Elorza.
Although Elorza sits at the helm of a bustling capital city with an estimated population of over 180,000, he, like many of his constituents, seems to fall short financially when it comes to affording full-time childcare. A new father of a 15-month-old, Elorza now brings his son Omar to work with him — not for fun, but out of sheer necessity. In addition to bringing his son, the mayor is bringing some much-needed light to the troubling situation by sharing his story.
"We went to see a day care center, and both Stephanie and I fell in love with the place," Elorza told TODAY for their digital series, Dads Got This!
"Then at the end, they passed us the brochure and it was $395 a week. We looked at each other and were like, 'I guess that ain't gonna happen." It's a conversation many couples can relate to as costs continue to rise on everything from groceries to homes.
The mayor's wife, Stephanie, is enrolled in law school full-time, so with just one paycheck coming in, the estimated $20,000 per year would be far out of reach for the couple. Luckily they, along with many Americans, turned to their parents who lived close by. "We literally drove from the day care center to my parents' house," he said. "And that's been our day care. So my parents take care of the baby during the week. And her parents chip in during the weekend. And her being a law student, she's just as busy as I am, if not more. So we're, like, just juggling and struggling every day like other parents."
But when unexpected meetings arise, or sessions being early in the morning, Elorza and his infant son attend meetings together.  It's temporary, but a solution the dad is grateful to have. "We have a nice little basket of toys, so he knows his little station and he knows how to play," but Elorza is quick to point out the double standard that still exists in the workplace. "There have been comments, that if I was a woman and I was bringing my child in to work, then that would be seen very, very differently."
Elorza agrees. "I think that's true. I think there is still absolutely a double standard. The extension of that isn't, 'Let's criticize Jorge the way women are criticized,' it's 'Let's not criticize women for doing it either.'"
In addition, the mayor has been hard at work crafting legislation and policy to assist families in the community facing the same issues. The city now provides summer camps for just $5/week, and longterm the mayor has hopes of establishing universal pre-k across Providence. He has even encouraged other parents at City Hall and attendees of meetings to follow his lead if they need to do so. "I want (other parents) to feel comfortable bringing their child in as well," he said. "We want to be accommodating to families that do this."
Elorza is only the latest in a number of dads attempting to bring these issues to the forefront of our political and social conversations.
In addition, his son Omar is getting a firsthand look at American politics. "For him to be part of that, even at the beginning of his life, will be gratifying for him in the future." Perhaps a 2054 Presidential run is currently in the making? Time will tell.