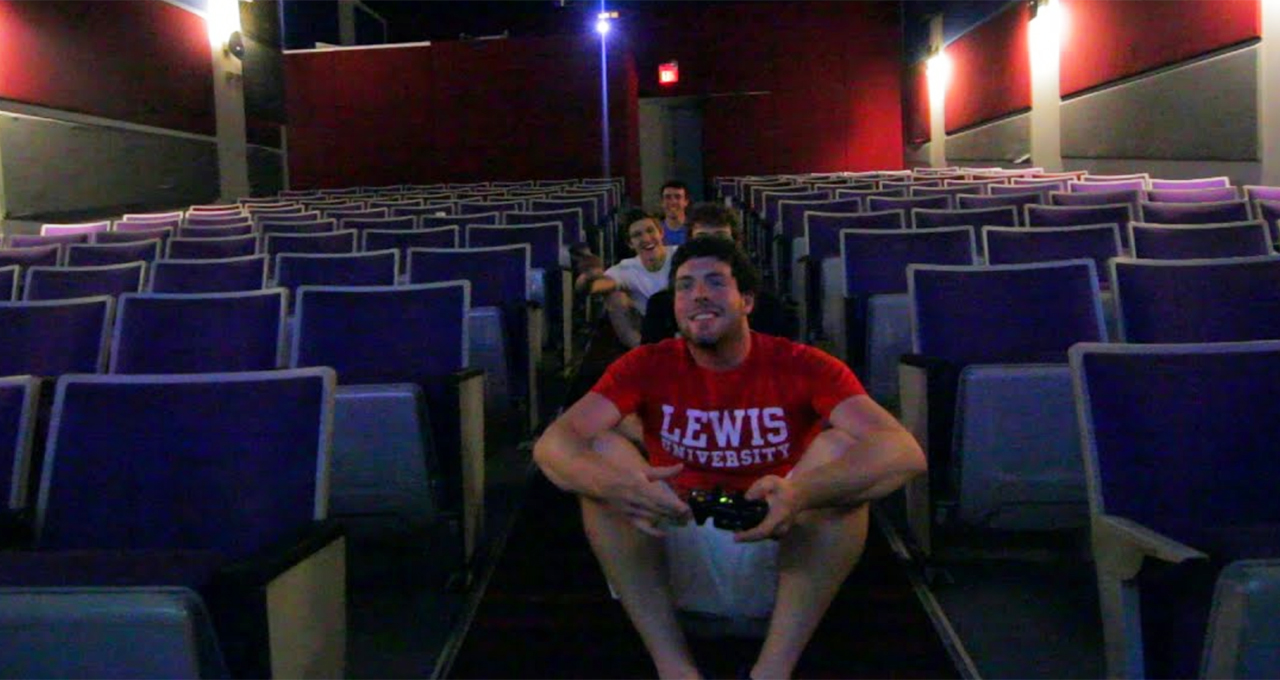 Credit: YouTube/ProjectOneLife
It's hard to think of an industry that's been more devastated by the pandemic than movie theaters. Sure, restaurants and bars have been brutalized, hotels are hurting, cruise lines and theme parks are hemorrhaging cash, but the movie industry has been changed likely forever. With more and more major studios exploring straight-to-streaming options, who knows what the future holds for big movie theater chains?
Gaming is going in the opposite direction. With more people at home, more are spending their downtime playing online with friends and gaming in general. And why wouldn't we? It's not just for kids, even Dads love gaming. And now, the two industries have crossed paths, as one of the newest revenue streams for some theaters has been renting out theaters to gamers who want to play on the BIGGEST.SCREEN.EVER.
Roses are red
Auditoriums are ready
Reserve space today
For you and your steady

Movies:https://t.co/4RJwVgJs0B…

Gaming:https://t.co/4rEqWSmqXm…#cinemasafe #valentinesday2021 #ValentinesDay #malcoselect #movies #datenight #FridayThoughts #xbox #GamingNews #PlayStation pic.twitter.com/Z2BsNzyJwG

— Malco Theatres (@malcotheatres) February 12, 2021
It's a trend that started in South Korea, with theater chain CGV allowing gamers to rent a screen for two hours for around $90. You can bring up to four people, and you have to provide your own console and games, but then it's all yours. It was an employee who came up with the idea.
Korean movie theater chain CGV is renting out screens for gamers to bring in new revenue stream.

Before 6pm: up to 4ppl can hire a screen for 2hrs for ~$90. Price goes up to $135 after.

Users bring consoles, games, controllers.https://t.co/l5ZV2zFRTE

— Sally Shin (@sallyshin) February 11, 2021
"When thinking about how to make use of empty cinema spaces, I noticed that games nowadays boast excellent graphics and well structured stories just like movies," Seung Woo Han told the BBC. "Both have a storytelling aspect to them, so if someone can enjoy watching a film in the cinema, I thought they would also enjoy playing computer games in one."
The trend is catching on in the U.S. too. Not only are movie theaters under capacity restrictions, but the industry isn't releasing too many movies PERIOD right now, with the biggest blockbusters shifting to later in the year or 2022. With the screens empty, chains have started to make entire theaters available for rent for private parties, and one chain in the south is following the South Korea playbook and allowing people to use their theaters to game.
It's $100 for two hours, or $150 for three, and you can bring up to 20 guests at Maclo Theaters. You just need any console that connects with an HDMI port and you can even play online. You get the biggest screen possible, world-class sound, and an unforgettable gaming experience.
While there are some games that would be incredibly epic on the big screen, like a Call of Duty or Rocket League, for me, it would be hard to top playing the last two hours of Red Dead Redemption 2. It's already got an amazing story, and watching Arthur Morgan's triumphant final stand on a big screen would be insanely awesome.
There's a ton of uncertainty swirling around movie theaters, so it's unlikely this offer stays around more than a year or two, so it could be your only chance to game like you've never gamed before.