Viral Video Shows Boy With Down Syndrome Consoling Classmate With Autism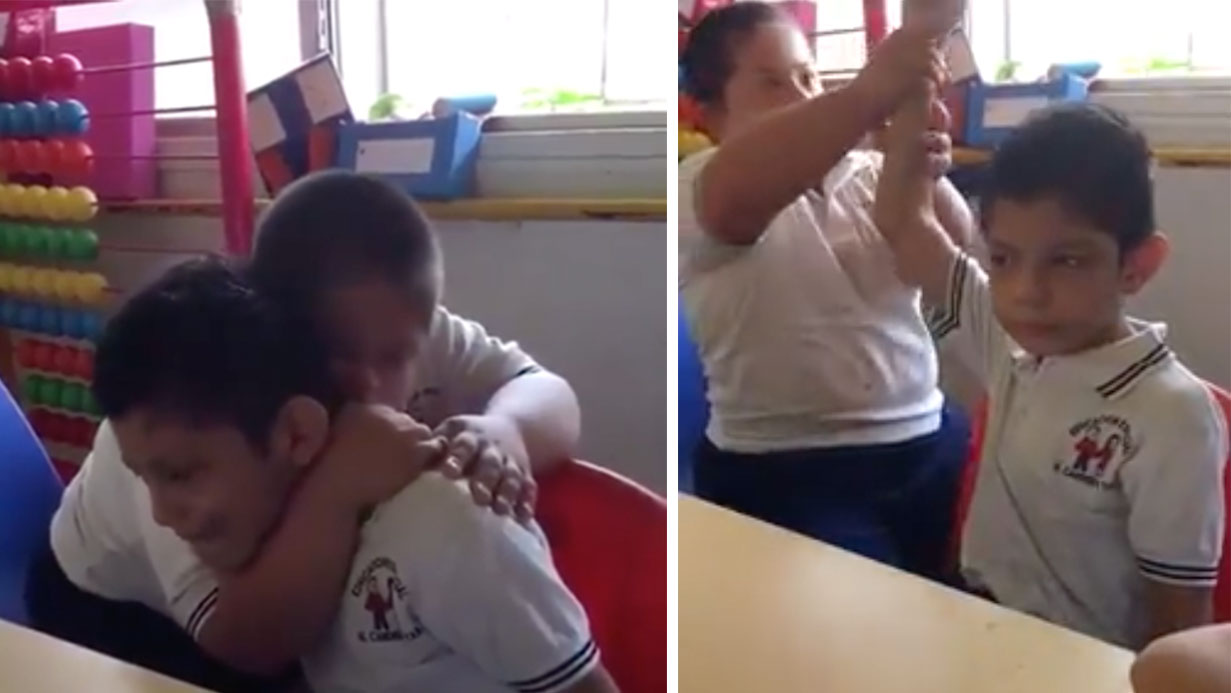 There is true good and kindness in the world, at least if you know where to look.
A good place to start is with kids.
Often unencumbered by bias, kids have a way of just being… well… nice. That was on full display recently at a school in Mexico via a post that has spread quickly across social media in the past few days. with over 22 million views as of this posting, chances are you may have already come across it in your feed.
In the clip, you can see one boy comforting his visibly upset classmate. The kind-hearted-kid attempting to cheer up his friend has down syndrome. His classmate, on the autism spectrum.
Many on the spectrum can face difficulties in dealing with social interactions, as well as communicating with peers. However, his classmate showed true empathy, likely unaware of how a simple touch could send things spiraling. Instead, he wiped the tears from his friend's face, embraced him with open arms and consoled him in the best way he knew how.
The faculty at the school was so moved that they captured it on video for the entire world to see.
Comments have since poured in on the original post, with many sharing their own experiences with autism and down syndrome.
My nephew has "Down" Syndrome. I put that in quotation marks because there is nothing downs about it.

I've never seen anybody w/ the ability to empathize like he does.

These kids truly have the most biggest hearts. They are so pure 😭❤️ pic.twitter.com/mkMaKl0zsK

— StanceGrounded (@_SJPeace_) December 3, 2019
I have a Down Syndrome brother who is now 61 years old. He has brought great joy to me, my family and anyone he comes into contact with! He has so much empathy and love for everyone-he's a mush really! ♥️♥️

— Mary Kirwan (@kirwan5085) December 3, 2019
According to the CDC, approximately one in every 700 newborns in the US is born with Down syndrome. The numbers for autism are much, much higher. It's now estimated that one in 59 children are located somewhere on the spectrum.
While these numbers are staggering, there is certainly hope in them as well. With so many being impacted by conditions we're still learning about, scientists, doctors and families alike are all working to find answers together. In fact, there's a decent chance that the person who finally helps us gain the most insight into autism could very well be autistic themselves. About half (44%) of those on the spectrum are reported to have higher than average intelligence.
While the two classmates were obviously in school to learn, they've both reminded us of an important lesson: Just be kind.