Visiting Soccer Fans Make It Rain Stuffed Animals for Sick Kids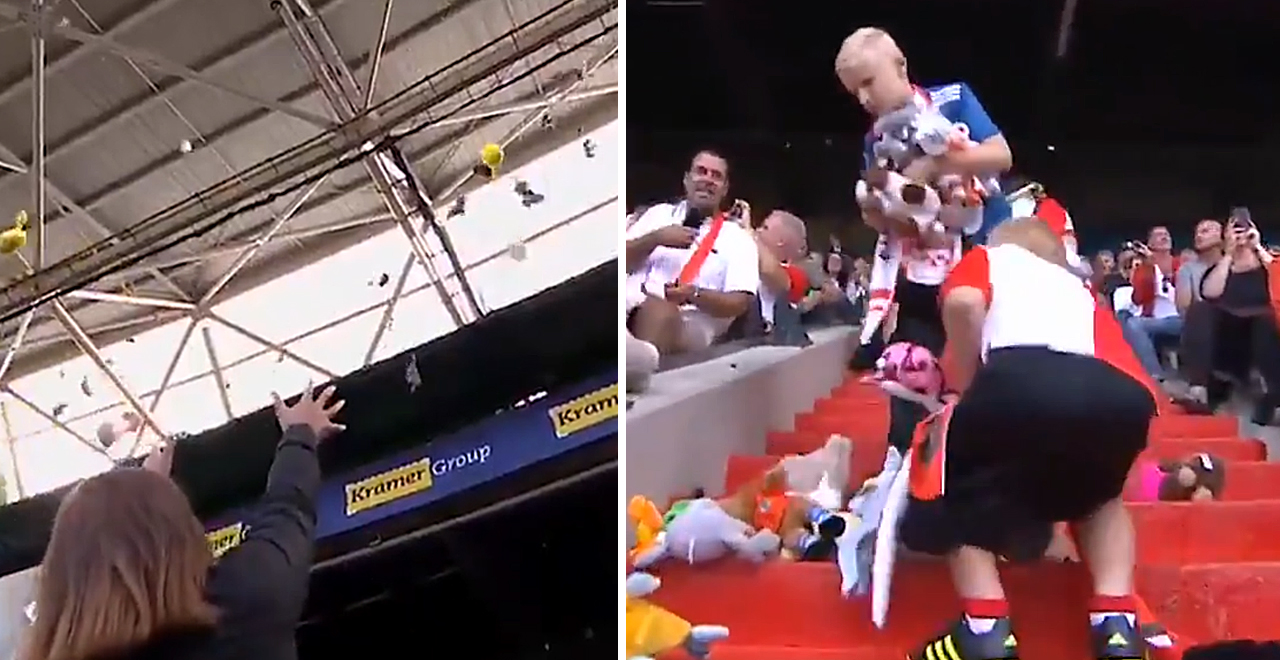 Soccer fans are often associated with antiquated hooliganism because of their extreme passions for the sport. Sure, there may be some wild scenes from time to time, but is it really that much crazier than some NFL fans? Nope. And soccer also carries some really cool traditions, like this one from the Dutch soccer league.
Fans of visiting ADO Den Haag showed some serious class during a match by showering the kids below, who were guests from a local children's hospital, with stuffed animals. The tradition goes back several years now and I'm not sure that description quite does it justice, because it really needs to be seen to be appreciated.
Fans of Dutch team ADO Den Haag showered children from a local hospital with cuddly toys during their match with Feyenoord ???? pic.twitter.com/ew0gjE7iZ1

— ESPN FC (@ESPNFC) September 15, 2019
Here's a different view, along with some words that I cannot understand, but would generally assume to be pretty positive.
Twaalfde minuut = knuffelregen! ????

Opnieuw een prachtig gebaar van de supporters van @ADODenHaag en Feyenoord. ❤️#feyado pic.twitter.com/n0p7sHq1QG

— Feyenoord Rotterdam (@Feyenoord) September 15, 2019
It's a tradition started by the club a few years ago and it has since spread to other teams.
It's raining teddy bears! ????

Excelsior fans threw hundreds of cuddly toys down to children from the Rotterdam Children's Hospital during their Eredivisie match at Feyenoord today. pic.twitter.com/HSAQMvcKz6

— ESPN FC (@ESPNFC) August 19, 2018
It seems like the kids from Rotterdam Children's hospital get to see a great soccer match and also get to leave with every stuffed animal in the country. It is a crazy amount of toys, but for the visiting fans, it's also a perfect marriage for sports fans of doing something good and also chucking something from high in the stadium.
The tradition has some extra gravitas as the recipients are part of the experience, collecting animals that are graciously rained upon them. But, if you don't want to travel overseas to throw a toy to a child, hockey is your next best option. Teddy bear tosses are big at most arenas during the holiday season, and while the kids aren't actually there, it's still cool to see the rink flooded with donations.
And if you aren't at a Dutch soccer game or a hockey game with a Teddy Bear Toss, all existing rules about NOT throwing things at children still apply.