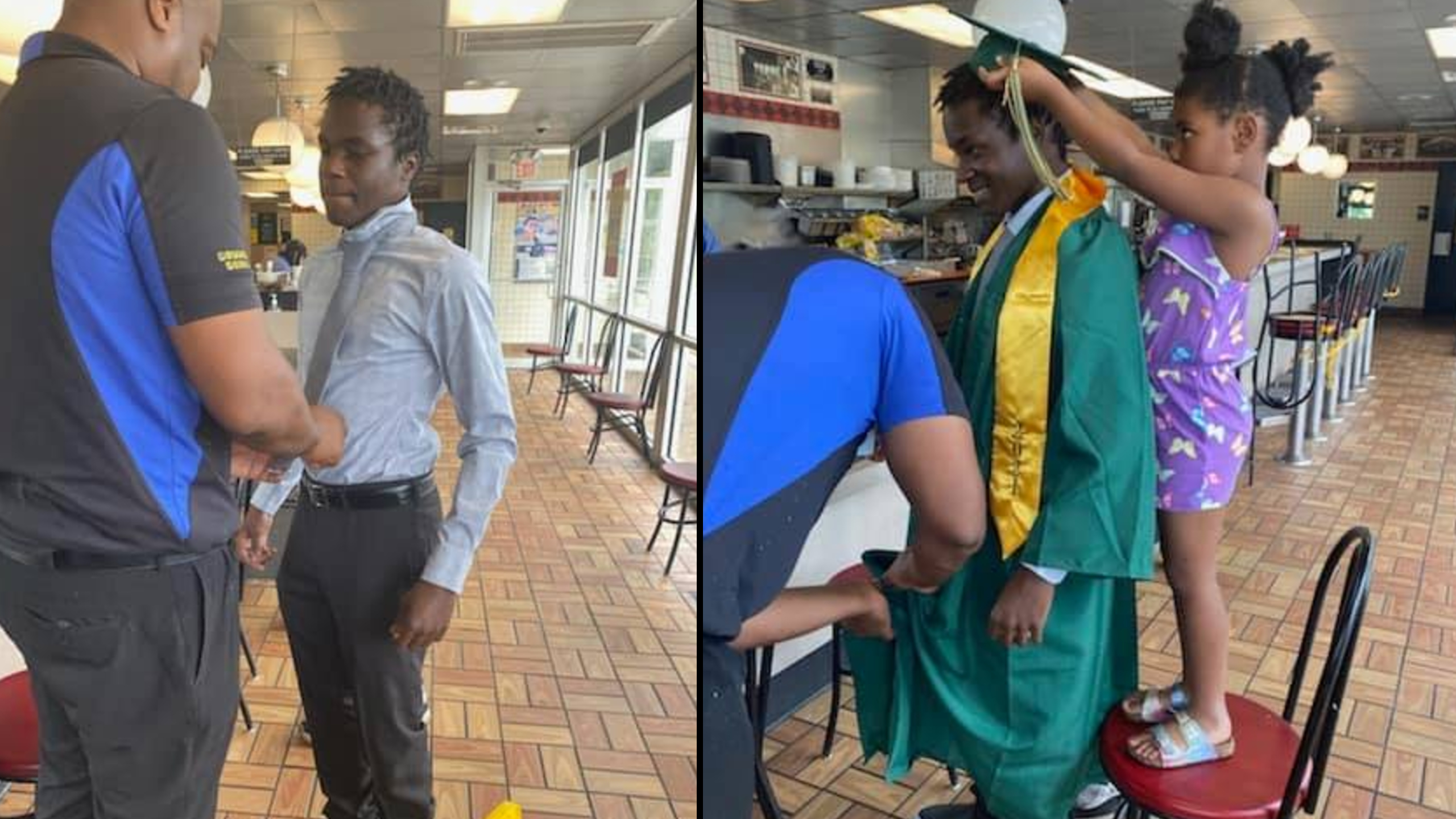 Credit: Facebook/CedHampton1
Not a lot of people like their bosses (unless they work at The Dad, then, of course, they are very competent and kind people!), but this Waffle House boss is a very different story. His employee asked for time off to attend his high school graduation, then showed up to work his shift instead. His boss would not have it, and in something out of a Disney+ movie, the entire staff rallied to get him ready in hours and get him across town to get his diploma.
The Birmingham senior, Timothy Harrison, changed his mind about going because he didn't have a ride, his cap, and gown, or tickets to the event. His boss, Cedric Hampton, had other plans. Hampton shared the incredibly touching story on Facebook, but basically, the entire staff stopped what they were doing to go overdrive to get this kid to his graduation.
They ran out to buy him some dress clothes, reached out to the school to see how they could get his cap and gown, and just turned the entire restaurant into his very own graduation prep. He thought he was going to work his shift, but his boss and co-workers had bigger plans for him. Harrison was emotional when he was fully dressed and ready to go.
"When I put on clothes, that was a different feeling. I don't even know the words," he said. "A million dollars? It was the best feeling."
His boss and coworkers felt proud to help him see it through, but Harrison's story didn't end there. His boss shared the pics on social media, and they went crazy-viral, and now Harrison got a full college scholarship from a nearby university.
"Now he can go to college and figure out what to do in his life and we're gonna help guide him," Hampton said. One gesture from his boss just completely changed Harrison's life and the directions it can take.
"To know I have a path to go somewhere? That's something new," said the recent graduate.
So the kid gets his scholarship, but if Waffle House HQ doesn't do something for that boss, they are sorely missing a golden opportunity. Really, that entire staff deserves a huge bonus, because you cannot ask for better press for Waffle House. It's hard to imagine working for a place with bosses and co-workers like that in 2021.
Because these people rule and did an incredible thing for the kid, it's also a good time to remind everyone what U.S. poet laureate (of food) Anthony Bourdain once said about the diner chain and its place in Americana.
Anthony Bourdain describing Waffle House is the single-most important description of America that has ever been articulated. pic.twitter.com/Up2mF7yisX

— Ryan Broderick (@broderick) June 8, 2018