"Wake Up. Kick Ass. Repeat," Says College Football Player Who Beat Cancer 4 Times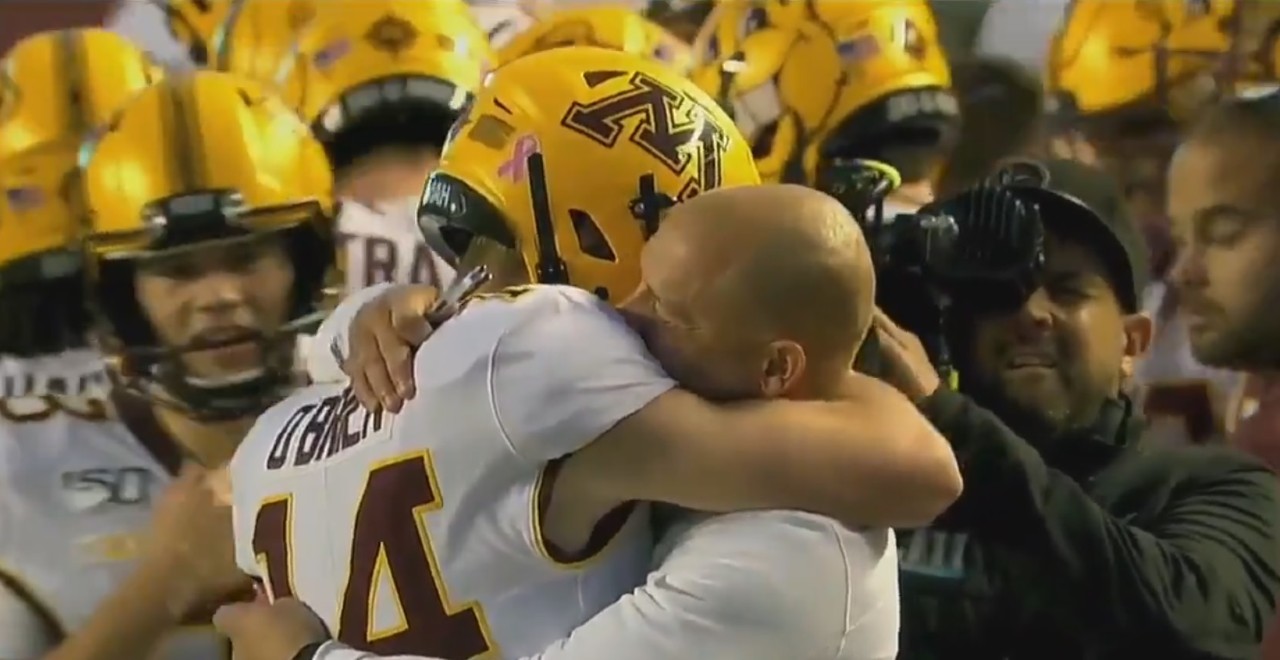 The winner of College Football's Disney Spirit Award this season was a sophomore at Minnesota who saw his first action as a holder midway through the season. When Casey O'Brien took the field for the Golden Gophers, it was one of the most emotional moments of the football season. And that is because O'Brien has beaten cancer four times since he was 13 and overcome more than a dozen surgeries. His motivation? A simple sign hung in his room that read "Wake Up. Kick Ass. Repeat."
"Wake up. Kick ass. Repeat."

Four-time cancer survivor Casey O'Brien shared some inspiring words after winning the Disney Spirit Award. pic.twitter.com/coNiaysn6C

— ESPN (@espn) December 13, 2019
The award is given to the most inspirational member of a program, which made O'Brien a natural fit. He told ESPN, afterward, of his diagnosis, "Those doctors had never met me before, and they didn't know how much I love football," he said.
His motivational sign is a simple, hand-painted sign featuring the five words that carried him through his trials. He's been cancer-free for more than two years now.
Bigger than sports 🙏

Four-time cancer survivor Casey O'Brien made his debut for Minnesota. pic.twitter.com/nKwiPfTKQv

— ESPN (@espn) October 19, 2019
"When you think courage, you think Casey O'Brien."

"Nobody can ever take away that he played college football in the Big Ten." pic.twitter.com/qZrVlJZ4s4

— Minnesota Football (@GopherFootball) October 19, 2019
O'Brien taking the field for Minnesota was an awesome moment of the college football season. His story is a moving one, and one ESPN did a great job capturing. And hopefully, his story can inspire others to Wake Up, Kick Ass, and Repeat.