Reddit's WallStreetBets Community Donates Over $380,000 To Help Save Gorillas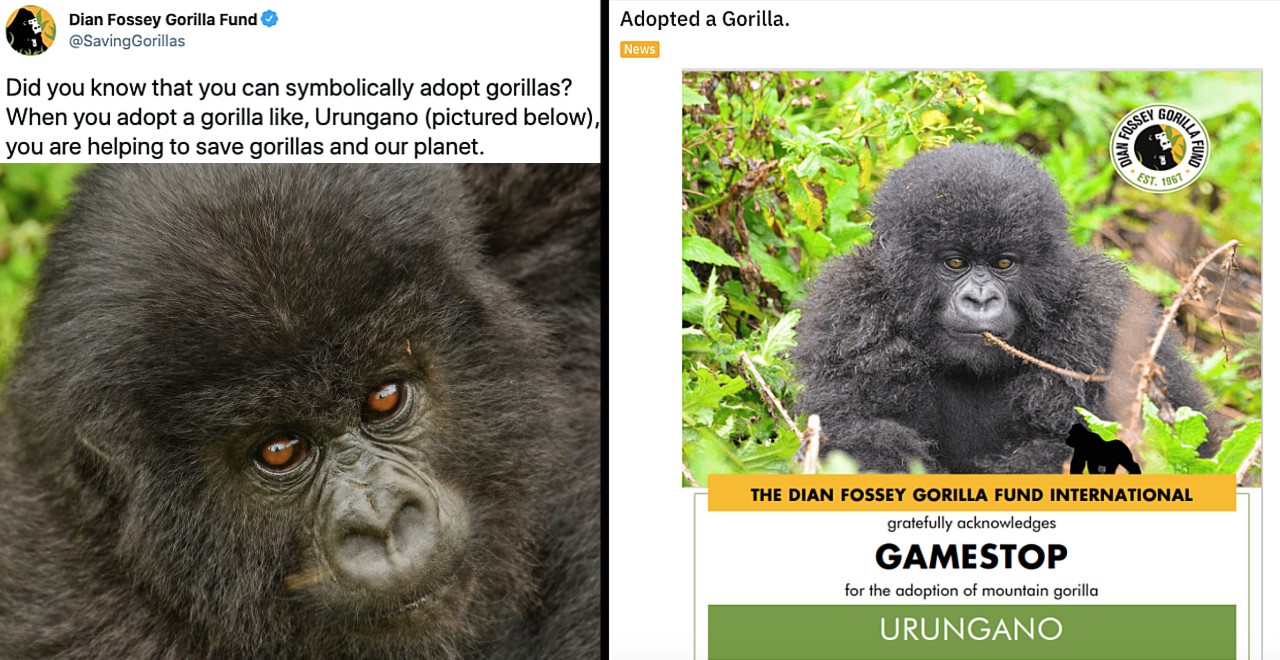 There's power in numbers, and in the age of the internet, people from around the world have the ability to band together for important causes. The Reddit community is a unique one, in the sense that it's divided into subreddits where people can engage freely about specific topics that interest them. One subreddit called WallStreetBets has been in the news a lot recently after a few legendary members harnessed the power of their multi-million member community to make a difference.
I'll be honest, I don't know much about stocks or GameStop. My knowledge of stocks ends at "buy low sell high," while my knowledge of GameStop centers around the time I sold them three games and didn't make enough money to buy a sandwich at Jimmy Johns next door. Regardless, I'll do my best to explain why this group of internet heroes have been gaining so much attention lately.
The traders of WallStreetBets bought up as many GameStop stocks as they could get their hands up, driving up the price astronomically. To short sellers, or people who sold the stock planning to buy it back when the price fell (they were quite literally baking on the GameStop stock falling), this was an enormous problem. Not only did they need to pay huge amounts of money to buy back the stocks they owed, but with WallStreetBets members refusing to sell, the prices continued to skyrocket.
It was an enormous win for the WallStreetBets community, proving that everyday people could go up against the pros of Wall Street. Throughout the process, Redditors used the phrase "apes together strong" as a sort of mantra. After the enormous success of their endeavor, they're giving back to the meme that continued to inspire them by donating to save gorillas.
After one user posted that they "adopted" a gorilla through the Dian Fossey Gorilla Fund International, other WallStreetBets members followed suit. So far, the group has donated over $380,000 dollars to gorilla conservation, adopting roughly 3,500 gorillas in just six days.
🚨WE HAVE NEWS 🚨 It's safe to say that the #investor community on @reddit is not traditionally who we think of as our supporter base. But they definitely surprised and overwhelmed us over the weekend. A THREAD. @CNN @CNBC @business @WSJ pic.twitter.com/JRB1Gj1Mub

— Dian Fossey Gorilla Fund (@SavingGorillas) March 15, 2021
"They've truly made a difference for our world and shown what can be accomplished when people come together," the foundation's president, Dr. Tara Stoinski, told BBC News. "When we save gorillas and we save forests, we save our world."
WOW 👀 We continue to be grateful for the support we have received this week! Thanks to WallStreet Bets and supporters from around the world we have now raised more than $383K!!!

— Dian Fossey Gorilla Fund (@SavingGorillas) March 18, 2021