WNBA Honors Gianna Bryant, Alyssa Altobelli and Payton Chester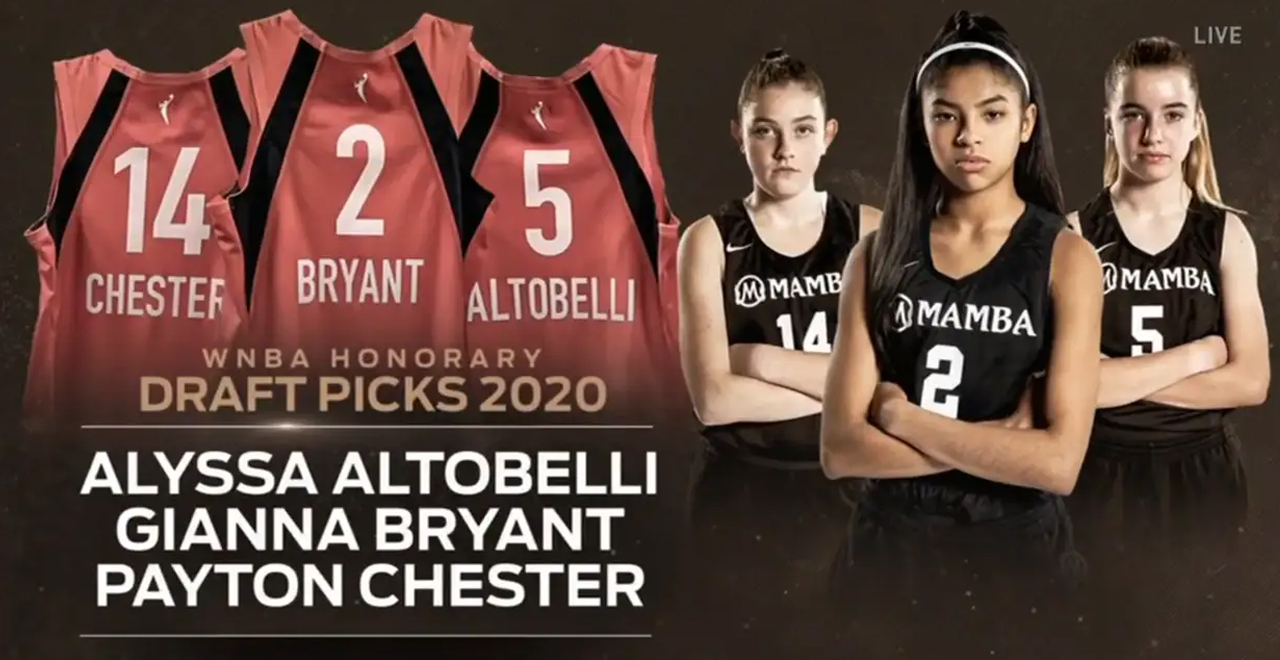 Last night, the NFL held its draft, making dreams come true for 32 young kids who will now have a chance to compete at the highest level of their sport. Many children grow up hoping to play for their favorite team, or for any team, in the sport they love, and watching them celebrate with their families – even if only via video, thanks to COVID-19 – is one of the highlights of the year.
The same was true for last week's WNBA draft, where many young women experienced the same heady emotions as they realized their dream to play professional basketball. Things were slightly bittersweet though, because of the recent loss of someone many expected to have her own dreams come true during a future WNBA draft: Gianna Bryant.
The daughter of NBA legend Kobe Byrant perished along with her father in a tragic helicopter crash earlier this year. Like her dad, Gianna was a competitor, and in the past few months and years, it had become more and more clear that Gianna hoped to follow in her father's footsteps and make a big splash in the basketball world.
She was planning to attend UCONN under mega-successful Geno Auriemma, and then take the Women's NBA by storm. Her dream was cut short, but on the league's draft night, they mounted a touching tribute to the young player, making her an honorary draft pick. The tribute included a heartfelt thank you from GiGi's mom, Vanessa Bryant.
"Thank you so much for honoring my Gigi and selecting her to be a honorary draft pick this year. It would have been a dream come true for her. She worked tirelessly every single day. She wanted to be one of the greatest athletes of all time just like her daddy."
"Work hard. Never settle. Use that Mamba Mentality."

Vanessa Bryant thanks the WNBA for honoring Gigi, and shares some wisdom for the 2020 draft class. pic.twitter.com/CwvyxqG0fi

— ESPN (@espn) April 17, 2020
The tribute to Gianna was part of a video played at the start of the draft, that began by honoring several late NBA commissioner David Stern, who helped launch the WNBA, and Kobe Bryant. They also memorialized the other young women on that helicopter with Kobe and Gianna who had basketball dreams of their own, Alyssa Altobelli and Payton Chester, with honorary draft picks as well.
The WNBA pays tribute to the lives of Alyssa Altobelli, Gianna Bryant and Payton Chester by selecting them as honorary draftees in the #WNBADraft 2020. pic.twitter.com/AqpZnc4xfo

— WNBA (@WNBA) April 17, 2020