World's Tallest and World's Smallest Get Together, Blow Minds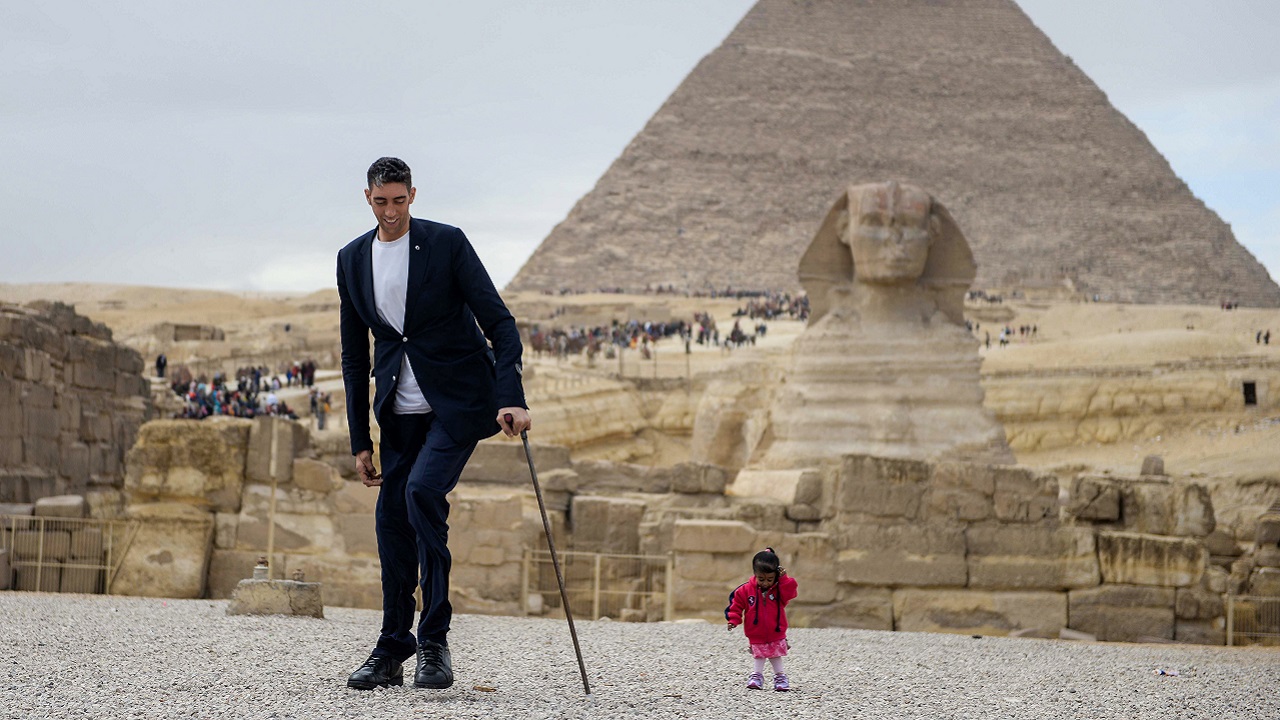 There are six feet between them
When I was a kid, the Guinness Book of World Records was an endless source of fascination. The obese twins riding tiny bikes. The guy with the world's longest fingernails. Michael Jackson (it had something to do with the success of Thriller; get off me, I grew up in the '80s!)
I don't know if that book still exists – do any books still exist? – but people are still setting records. Two of the current record-holders, the world's tallest man and the world's smallest woman, got together for a photo shoot with one of the seven wonders of the world, and the photos are crazy.
Sultan Kosen, from Turkey, and Jyoti Amge, from Nagpur, met up with each other in Egypt to take some mind-blowing photos in front of the pyramids. According to NDTV, Kosen stands at 8 feet and 2 inches tall, while Ms. Amge stands nearly 6 feet shorter, at 2 feet and 6 inches high.
Amge, 25, and Kosen, 36, met up on the banks of the Nile River in Giza City, in the shadow of the pyramids, which are about the only things that could take your eyes off of the incredibly mismatched duo.
The world's tallest man hung out with the world's shortest woman on Friday and the photos are fantastic (via AP) pic.twitter.com/c6E3LL9Nzf

— Travis (@travislylesnews) January 28, 2018
The photo shoot was part of a campaign to revive tourism in Egypt, and while that is yet to be seen, the photos have certainly done their job, garnering thousands of likes and retweets.
The world's tallest man and the world's shortest woman made a joint appearance at the Giza Pyramids in Egypt on Friday. Can you guess their height difference? pic.twitter.com/pj8oFfPQw7

— CBS News (@CBSNews) January 28, 2018
Because of a condition known as pituitary gigantism, Kosen is one of only ten people in history confirmed to cross the 8-foot barrier. The cane he uses to walk is probably taller than you. Meanwhile, Jyoti, who stars in TV's "American Horror Story" and has a form of dwarfism called achondroplasia, doesn't even reach up to Kosen's knees!
Seeing them together, side by side, is pretty damn surreal, and that's before you even consider the fact that there are enormous pyramids behind them. And we thought Thriller was impressive.