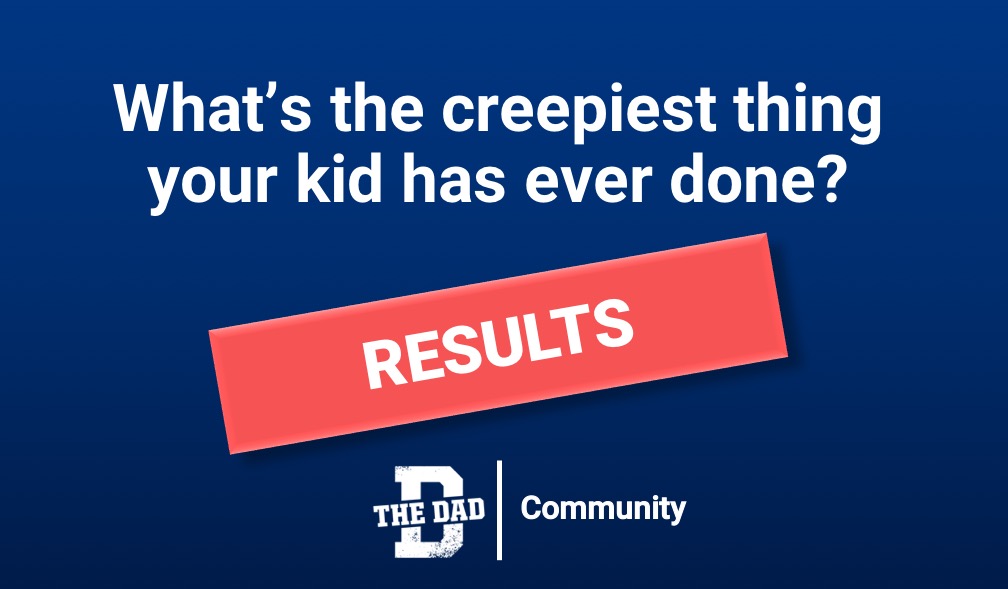 Sometimes kids are sweet, sometimes they're cute, and sometimes they say the darnedest things. Other times, they hover over you in the middle of the night, eyes glowing in the darkness, until you wake up your wife screaming. They wave at people no one else can see, whisper strange things to imaginary friends, stare blankly into space, and make you wonder if exorcisms are covered under your insurance plan. We asked you on Facebook to tell us the creepiest stuff your kids do, promising a free Dad t-shirt to the comment with the most likes. You and your creepy children did not disappoint. We laughed, we groaned at your Dad Jokes, and best of all, we got creeped the heck out.
10. [Vampire Voice] I Vant To Suck Your Bank Account Dry
This isn't creepy, but this is a site for dads, and I'll be damned if this isn't the most Dad AF thing I've ever read.
9. Kitchen Appliance Scare
Again…dad AF.
8. It Always Feels Like Somebody's Watchin' Me
This is adorable, but I understand how it could be alarming if you weren't expecting it.
7. The Discerning Palette
Someone put this kid in a wine tasting group. Wait. I mean, don't. Not yet.
6. Alium Invasion
I hope weird is an effective defense against alien invasion.
5. Kiddy Litter
This will only get creepier with age.
4. You're Making Me Squirrely
Uh, no thanks chief.
3. Snake Neck Closet Man
There were many tales of kids talking to someone who wasn't there, and Snake Neck Closet Man is the one that is keeping us all awake at night.
2. Culinary Frankenstein
Congratulations Darrell, you're our runner-up and you're raising a monster.
1. And The Winner Is... [drumroll]
Eric will soon have a Dad t-shirt in his possession. Speaking of possession, someone get this baby an exorcist.
They warned us we wouldn't sleep as parents, we just didn't know it would be because our kids are giving us nightmares. Thanks for playing, please accept our condolences about your haunted kids.