42-Yr-Old Zamboni Driver Subs in as Goalie and Wins First NHL Game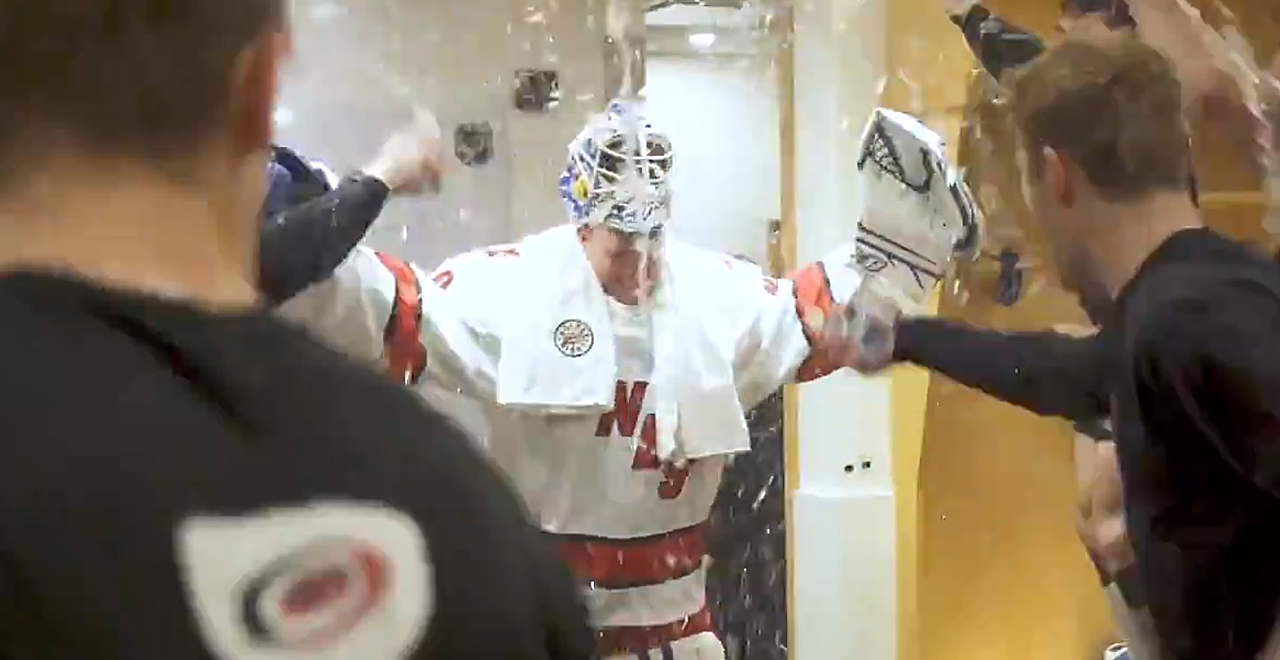 In an incredible sports moment destined for its own made-for-TV movie someday, the NHL's Carolina Hurricanes were forced to pull a Zamboni driver from the stands to step in as the emergency goalie – and he won the game.
Dave Ayres got to live out every sports fan's dream of becoming a professional athlete when the Hurricanes saw both their starting goaltender and backup goaltender go down with injuries during their game against the Toronto Maple Leafs.
Given the complexities of the position, and the equipment needed to play it, NHL teams can occasionally be left scrambling if one of their rostered goalies gets hurt and a player can't get called up from the minors in time to make the game. In that scenario, the NHL team usually has a player or two (typically with collegiate or minor-league experience) to call on to sit on the bench as an emergency backup. Rarely, if ever, do they actually get into the game. Unless you're the Carolina Hurricanes, who faced this exact scenario after BOTH their goalies got hurt.
Ayres is a Zamboni driver for Toronto's minor league affiliate, as well as an occasional practice goalie. So the Maple Leafs frequently have him come to home games, just on the extremely rare chance they need a backup goaltender. On this night, it was the visiting squad, Carolina, that had to call on his services, so Ayres got to live a childhood dream and put on an NHL jersey for the first time. And then midway through the game, he actually had to leave the bench and take over as the team's goalie.
Ayres, at age 42, became the oldest major league athlete to make his debut in decades (and the oldest in the NHL in nearly 100 years) when he took to the net for the Hurricanes. And it looked like his dream was going to turn into a nightmare, as he quickly gave up two goals on the first two shots he faced.
He then settled into a rhythm, and stopped the last eight shots he faced, and helped lead the Hurricanes to a 6-3 victory. Making him officially undefeated as an NHL player. It was one of those sports moments you will never forget, something Carolina's head coach noted immediately after the players welcomed Ayres back to the locker room.
A memory we'll all have forever pic.twitter.com/LUxqs8o3Wr

— Carolina Hurricanes (@Canes) February 23, 2020
Ayres said the Hurricanes players were great to him, telling him not to worry about giving up any goals and to just have fun out there and enjoy the moment. He said he told the team during the second intermission that he'd settle down a lot and be ready to help them bring home the win in the third.
And he did play pretty well in the third, making some key saves.
David Ayres says NO to Auston Matthews! 👏

(🎥: @Sportsnet) pic.twitter.com/tvXqX4Z3HI

— theScore (@theScore) February 23, 2020
Ayres' wife usually accompanies him to Toronto's home games, but for the first time, had to watch this one alone. And you could tell from her Twitter account exactly when her mood turned from celebratory for him appearing on the bench to the moment he had to enter the game.
That's my baby!!!!!! https://t.co/sw7UrCAoU6

— 🇨🇦Sarah Ayres🇨🇦 (@35Ayres) February 23, 2020
Scotia Bank Arena is a pretty lonely place when you're watching the game on your own.

— 🇨🇦Sarah Ayres🇨🇦 (@35Ayres) February 23, 2020
FUCK ME!!!!

— 🇨🇦Sarah Ayres🇨🇦 (@35Ayres) February 23, 2020
I am the happiest, proudest woman on the planet because my human got to live out his ultimate dream.
…I'm also surprised I still have a voice. https://t.co/qTglhZypG5

— 🇨🇦Sarah Ayres🇨🇦 (@35Ayres) February 23, 2020
Ayres' big moment immediately took over the sports world, as he got to live every sports fan's dream of stepping into a game and getting the win. North Carolina's governor was calling for him to be made an honorary citizen of the state. Raleigh's mayor echoed the sentiment. The Hurricanes even started selling his jersey-shirt online, with royalties being directed towards the Zamboni driver and a charity of his choice (he was a kidney transplant recipient years ago, so they are working on finding a charity along those lines).
Ayres called the game the thrill of his life. Carolina starting goalie Jason Reimer signed a stick for Ayres after the game, writing "Thanks for holding down the fort!" and summed up the amateur's appearance:
"He's a legend, an absolute legend."
Zamboni Driver ➡️ 1st Star pic.twitter.com/f2SbYnLl7F

— Carolina Hurricanes (@Canes) February 23, 2020