10 Funniest Dad Tweets of the Week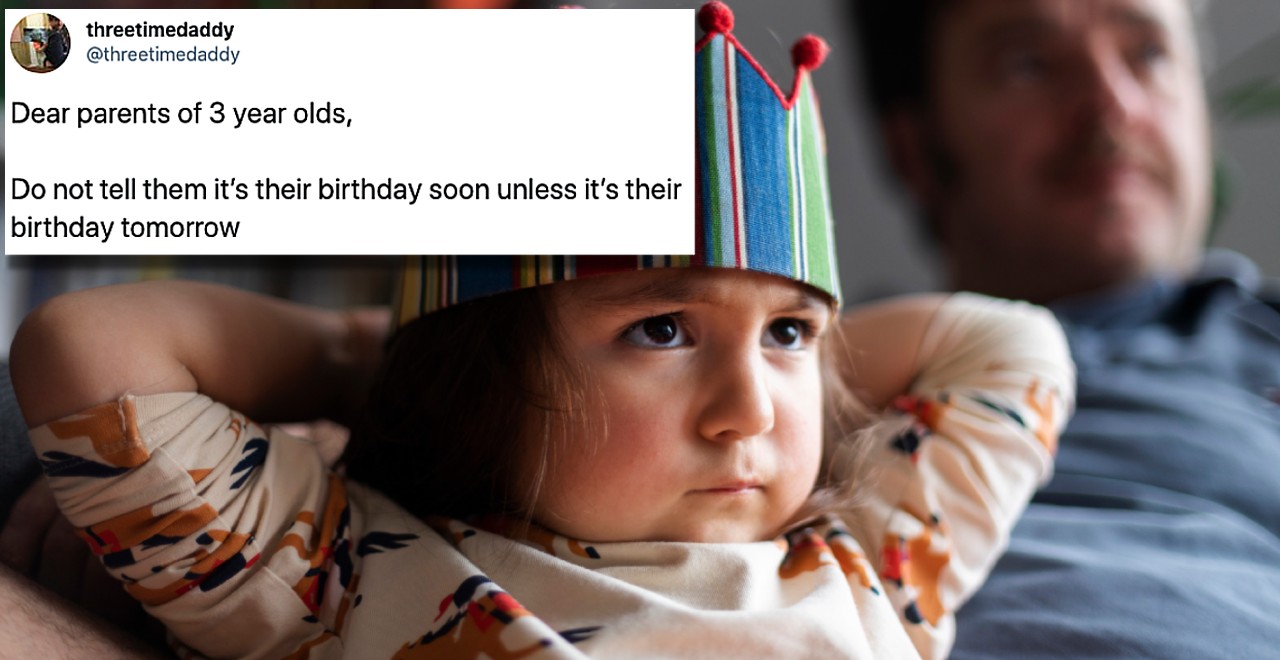 Each week, the dads of Twitter give us a heaping helping of highly-relatable laughs and dad jokes. Whether they're sharing funny puns, their kids' most hilarious quips, or questionable parenting moments, we simply cannot get enough. Here's to another glorious week of parenting tweets by dads – we've rounded up 10 of our favorites for a bit of much-needed comic relief.
February 26, 2021
It's both impressive and terrifying
Sitting at the table, my toddler attempts to shove even more trachea-sized pieces of food into her tiny mouth, as if to spit in the face of natural selection

— Average Dad (@Average_Dad1) February 22, 2021
Or as Dads call it, "home #2"
dads like to punish their kids by taking them to lowe's & home depot.

— Dadman Walking (@dadmann_walking) February 22, 2021
Well, let the month-long celebration begin
Dear parents of 3 year olds,

Do not tell them it's their birthday soon unless it's their birthday tomorrow

— threetimedaddy (@threetimedaddy) February 19, 2021
You have to take full advantage before they learn to tell time
Me: 10 minutes till bed time

Kid: can we have 15?

Me: sure, but I'm setting a timer

*sets timer for 8 minutes*

— No Pants Pineapple 🚫👖🍍 (@pantless_papple) February 20, 2021
Shop smarter, not more accurately
Listen, I want my kids to have the absolute best of everything in this world, but if I can save a few dollars buying them something that was actually designed for a dog their size I will.

— Henpecked Hal (@HenpeckedHal) February 22, 2021
There's no answer, but now I need to know
Have kids so you too can receive thought-provoking questions such as, "If Goofy & Pluto are both dogs then why does only Goofy talk??"

— A Bearer Of Dad News🇬🇾 (@HomeWithPeanut) February 24, 2021
They're not ready for Twister yet if they can't even handle Tornado
me: we should play Tornado
my kids: i think you mean Twist-
me: *throws a cow*

— Ordinary (@OrdinaryAlso) February 23, 2021
If someone let me watch TV like that, I wouldn't get down either
My darling child, please, do you need to watch television like this? Your father. He is so tired. pic.twitter.com/2vaNq6GRlK

— Eric Smith (@ericsmithrocks) February 23, 2021
It's a feature, not a glitch
I love how my 5-year-old can do anything unless it's something I specifically asked her to do.

— mark (@TheCatWhisprer) February 25, 2021
Close enough
Me: Say that again?

9: Babies come from the egg and whatever that is, the squirm, I guess.

Me: Yep, about sums it up. Good talk.

— NicholasG (@Dad_At_Law) February 22, 2021
February 18, 2021
How do all kids know to play by these rules?
The rules of literally every game my kids make up to play together:

1) Run around the house.

2) Be as loud as humanly possible.

3) Make sure somebody cries.

— James Breakwell, Exploding Unicorn (@XplodingUnicorn) February 15, 2021
With your cords combined, you could have a full (useless) set
Just found a box full of cords in my daughter's room so I guess she is ready to be a dad.

— Simon Holland (@simoncholland) February 16, 2021
They might as well learn early
Me: Go back to bed, school was cancelled because of icy road conditions.

Kids: Then why are you leaving?

Me: Work doesn't care if you die.

— Rodney Lacroix (@RodLacroix) February 16, 2021
Everyone wins
Took my kids sledding because it's the only way I can legally throw them down a hill

— Jonesy The Beautiful Idiot 🇨🇦 (@VikingJonesy) February 15, 2021
You don't get chocolate unless you know the cocoadword
My son found a chocolate wrapper this morning and started interrogating me about it. I realized my wife and I basically run an underground speakeasy from 8-11 every night and we're trying not to get caught by our two toddler landlords.

— Scott Reintgen (@Scott_Thought) February 15, 2021
Fake it until they're legally adults
If children knew how much their parents were winging it, the whole system would topple.

— dADDisms (@Beagz) February 13, 2021
No more Hell's Kitchen until they learn to make their own dinner
i'm tired of eating dinner with tiny mean ass food critics every night

— Dadman Walking (@dadmann_walking) February 16, 2021
Stop that right meow
my son has started acting like a cat for the sole purpose of annoying my dad and it's glorious

— Village Person (@SvnSxty) February 17, 2021
What's the mathy way of saying "all of it?"
PARENTING MATH PROBLEM:
One 4 year old attempts to fill a 10 ounce cup with water from the fridge. How many gallons are spilled in the process?

— Henpecked Hal (@HenpeckedHal) February 17, 2021
Daniel Tiger is about to get wrecked
This morning my son was playing and he had his Daniel Tiger toy fighting his Darth Vader toy and I was just awestruck by his imagination. His sense of wonder. His complete disregard for their disparate power levels cmon dude Daniel Tiger doesn't know shit about lightsaber combat

— jon drake (@DrakeGatsby) February 17, 2021
February 12, 2021
It's never too early to teach them to Google
no one told me when I became a parent that one day I'd have to be a walking webster's dictionary. i'm too dumb for this.

— Dadman Walking (@dadmann_walking) February 6, 2021
Maybe they just wanted your face to stay warm? Maybe
My 3-year-old just told me to keep the hoodie on my head because it's better for my face, if you're wondering what kids do for your self-esteem.

— A Bearer Of Dad News🇬🇾 (@HomeWithPeanut) February 10, 2021
Well, time to move
My daughter made this at school and it lives in my house now. pic.twitter.com/2HxUUKKxnu

— Richard Harland Smith (@RHarlandSmith) February 5, 2021
But with the righteous indignation of a 40-year-old
My daughter turned 5 today. She is currently having a meltdown bc she "still looks 4"

— *sigh*clops (@aotakeo) February 7, 2021
How many more of these until she becomes the dad?
Driving around with the family, talking about sick horses (don't ask) and my daughter quietly says, "better take them to the horsepital." Never been more proud of her.

— Jeff Lyons (@usedwigs) February 6, 2021
[Nervously reading "Gushers" ingredients]
Kids will go from laughing to crying to screaming at you all in the span of 30 seconds. If I didn't know better I'd think they were drunk all the time

— Average Dad (@Average_Dad1) February 8, 2021
Things like this need a "want to feel old?" content warning
KID: oh cool, this stylus has a line tracker
ME: t-that's a pen

— Bison (@FunnyBison) February 1, 2021
It's just part of the ritual at this point
There needs to be a scientific study on why kids complain about having to take a shower and then spend three hours in there.

— Rodney Lacroix (@RodLacroix) February 8, 2021
Next time you leave for the airport 4 hours early, remind them of this incident
My children wanted to play airplane rides and are very upset because I told them my flight is fully booked

— Vinod Chhaproo (@Chhapiness) February 8, 2021
Just occasional pauses for food and sleep
Once kids start talking they don't stop talking huh?

— JB's Dad (@Dadof1crazykid) February 8, 2021
They've been learning about this all month – how?
8yo: I learned that George Washington Carver used to plant cotton but it ruined the soil so he started planting penises.
Me: Peanuts.
8yo: Oh. … Okay. That makes a LOT more sense to me. Thanks Daddy.

— Elie Mystal (@ElieNYC) February 10, 2021
It's good to have goals
8-year-old: I know what I want to be when I grow up.

Me: What?

8: A construction worker.

Me: That's great.

8: Or a wizard.

— James Breakwell, Exploding Unicorn (@XplodingUnicorn) February 10, 2021