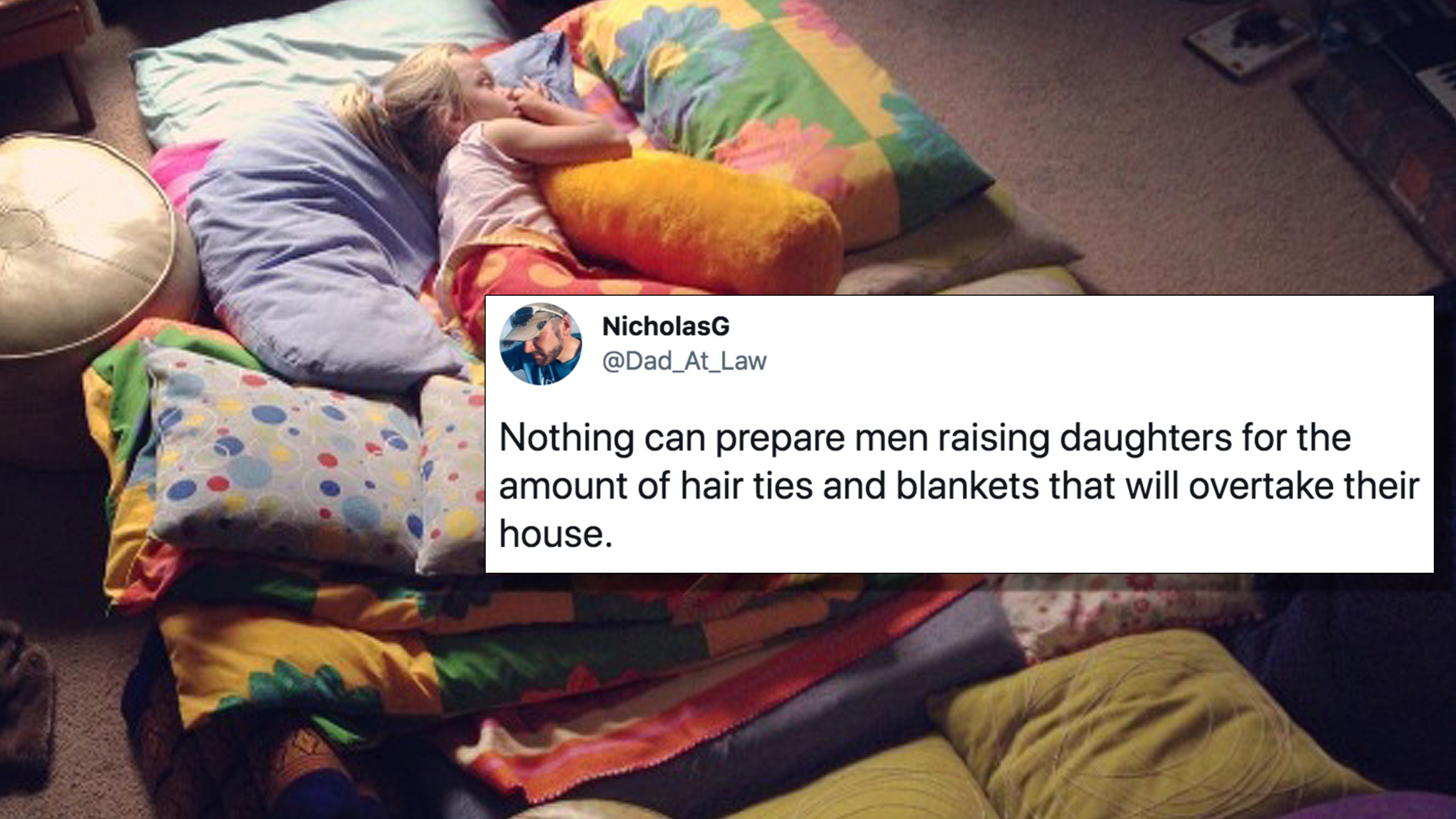 Credit: Getty/Jodie Griggs, Twitter/Dad_At_Law
Each week, the dads of Twitter give us a heaping helping of highly-relatable laughs and dad jokes. Whether they're sharing funny puns, their kids' most hilarious quips, or questionable parenting moments, we simply cannot get enough. Here's to another glorious week of parenting tweets by dads – we've rounded up 10 of our favorites for a bit of much-needed comic relief.
July 23, 2021
If you don't tell them, nobody will
I still yell "Get off the Internet! I need to use the phone!" at my kids so they know what I went through.

— Ozzy (@ozzyunc) July 17, 2021
Everybody wins. Or maybe nobody does
A big part of parenting is teaching your kids how to do things on their own, and then redoing them the correct way as soon as they aren't around.

— Rodney Lacroix (@RodLacroix) July 20, 2021
Well, she has had every night of her life to practice
The best actress award goes to my 8YO for her performance as a hungry and deprived child just before her bedtime

— Vinod Chhaproo (@Chhapiness) July 16, 2021
Is it some sort of currency that nobody told me about? If so, I'm rich
Nothing can prepare men raising daughters for the amount of hair ties and blankets that will overtake their house.

— NicholasG (@Dad_At_Law) July 21, 2021
Honestly, I think it's genius
8 doesn't want us to see him in his underwear anymore but instead of putting pajamas on he wears a blanket or just tells us "don't look at me" and i don't think he's going to be a problem solver.

— Dadman Walking (@dadmann_walking) July 19, 2021
The majority, preferably
[running a quick errand]

Me: You're in charge. Keep your sisters safe.

11-year-old: All of them?

Me: As many as you can.

— James Breakwell, Exploding Unicorn (@XplodingUnicorn) July 20, 2021
I hope he's taking notes
My son asked if queens were real. I said, "yes, there's one" & pointed to my wife. So don't tell me I don't know how to make up for forgetting about date night.

— A Bearer Of Dad News🇬🇾 (@HomeWithPeanut) July 22, 2021
Employee of the month lives in my house
Kids have 2 jobs:

-Be dirty
-Touch everything

— Jared Tullos (@JaredATullos) July 21, 2021
Best served standing in front of the sink
For breakfast this morning I had scrambled eggs, oatmeal, fresh fruit, a bagel, and a smoothie. Sounds pretty extravagant until you realize that it was the half-chewed scraps of everything I'd served my children.

— Henpecked Hal (@HenpeckedHal) July 20, 2021
I mean, hopefully neither
At the hotel pool my 6yo kept saying "No sex in the pool" and I stared at him dumbfounded until I finally realized he was pointing at my socks

— Richard Dean (@dad_on_my_feet) July 22, 2021
July 16, 2021
They want you to take the lotion!
I packed the body lotion from the hotel and my 6YO screamed, "I thought we were not that people"
Not sure if I feel proud or sad.

— Vinod Chhaproo (@Chhapiness) July 14, 2021
Same with "Welcome to the Jungle"
"On the Floor" by Jennifer Lopez is my favorite song about feeding toddlers new kinds of food.

— NicholasG (@Dad_At_Law) July 12, 2021
Congratulations on your newfound passion for dinosaurs
i accidentally used my kids toothpaste and now I lost my hearing, hate blue cups but love red ones and hate naps.

— Dadman Walking (@dadmann_walking) July 11, 2021
Good news, you get to do it again tomorrow
Parenting is such fucking hard work.

But you know what? At the end of the day?

You are fucking exhausted from all the fucking hard work.

— Jesse Thorn (@JesseThorn) July 11, 2021
You'll never actually get to use them, but they're yours and that's good enough
Welcome to parenthood. Buy your own pair of scissors and hide them forever.

— NicholasG (@Dad_At_Law) July 14, 2021
Blasphemy
I ran the air conditioner for two straight days without realizing a window was open, so needless to say my "dad card" has been revoked

— Richard Dean (@dad_on_my_feet) July 14, 2021
Wild, I have the same one
Guys, I have a new tattoo!

It's the word S U C K E R written across my forehead and only my kids can see it

— threetimedaddy (@threetimedaddy) July 14, 2021
Coffee, get this man more coffee
My 5 year old asked me if elephants were extinct. I said of course not, we saw them recently at the zoo. "I know," he said, "but that was weeks ago. Maybe they went extinct while we slept? Have you seen one today?" I had not seen one today. I conceded. This was my 6 AM.

— Henpecked Hal (@HenpeckedHal) July 14, 2021
A lot shorter than I remember the movie being, but just as stressful
Gollum: it runs but never walks, has a bed but never sleeps, what is it?

Me: my children, now give me the ring

— Crockett🍀 (@CrockettForReal) July 11, 2021
There are probably 300 magic crayons in my house, all of them under the couch
The unbelievable part of the book, "Harold and the Purple Crayon" is that he doesn't lose his crayon under a restaurant table 3 seconds after it's given to him.

— Rodney Lacroix (@RodLacroix) July 13, 2021