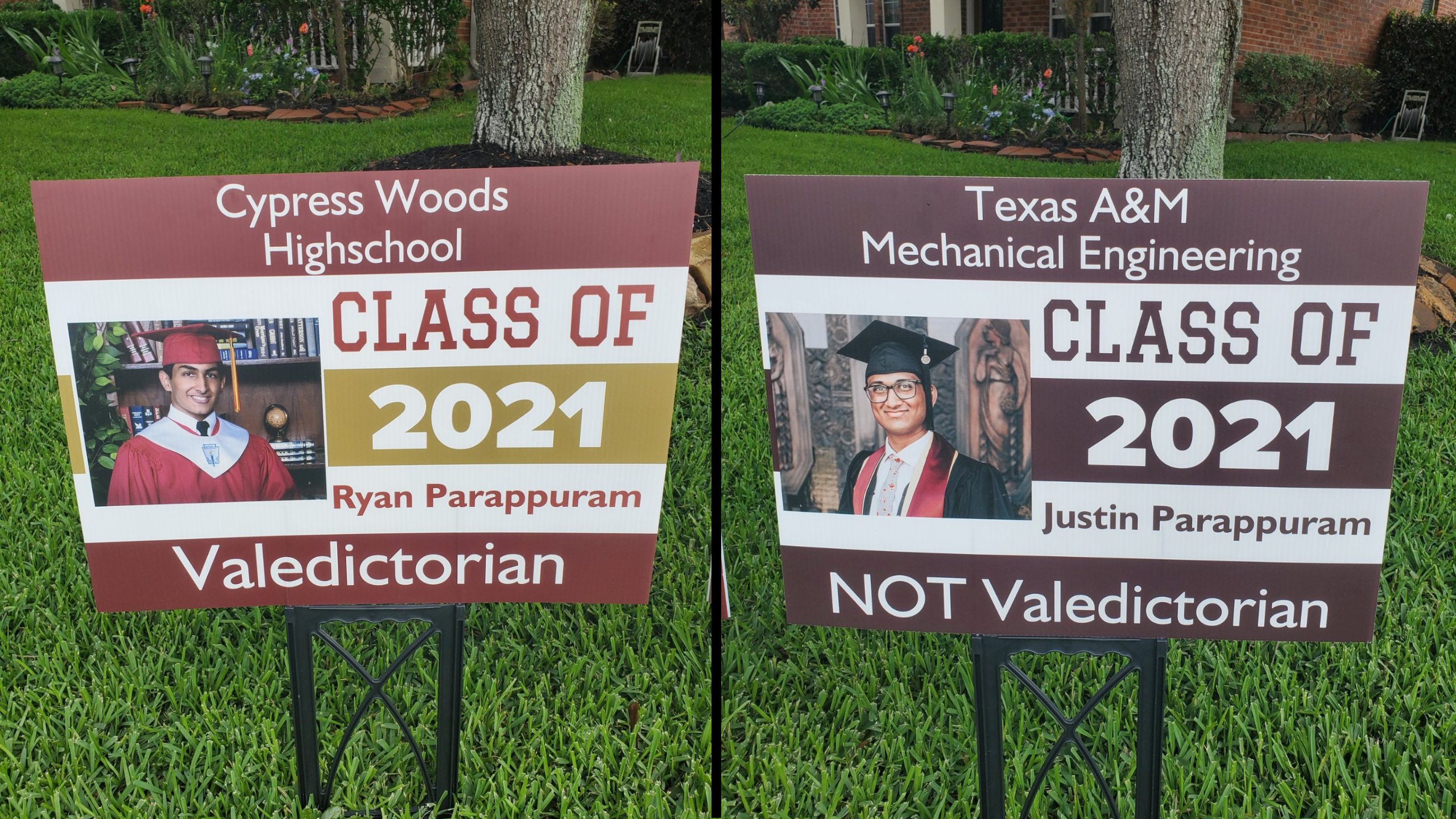 Credit: Twitter/j__para
Parents have favorite kids. What they don't do, typically, is admit it. And one Texas dad went viral for his less-than-subtle expression over which one of his graduating kids he might be slightly more proud of. The first sign was for his son Ryan, who graduated from high school as the class valedictorian.
The other sign was for his son Justin, who graduated from Texas A&M and, according to the sign, was NOT valedictorian. Like, he literally put it on the sign. Of course, it was the aggrieved Justin who shared it on social media, saying "my dad swears he doesn't have a favorite."
My dad swears he doesn't have a favorite pic.twitter.com/RjSDEdS7CG

— Justin 🤠 (@j__para) May 21, 2021
The signs have, predictably, gone viral, because they are hilarious. Fortunately, Texas A&M was quick to jump in, telling Justin they were proud of him, at least.
We're still proud of you, Justin.

— Texas A&M University (@TAMU) May 22, 2021
This is the kind of dad everyone should aspire to be. Yes, you celebrate BOTH of your graduating sons. And you just point out their accomplishments, or lack thereof in Justin's case, just so everyone knows the score.
There's nothing inaccurate in the signs, it's just facts. And it's a perfect dad troll. After the tweet went viral and got hundreds of thousands of likes, Justin popped back on to say his dad is proud of both of them and got Justin's consent before posting the pic.
"I love both my dad and brother, this was all in good fun!"
"I'm super proud of my brother, and I know he is proud of me, too," he continued. "My dad couldn't be more thrilled for the both of us and only printed this sign with my consent."