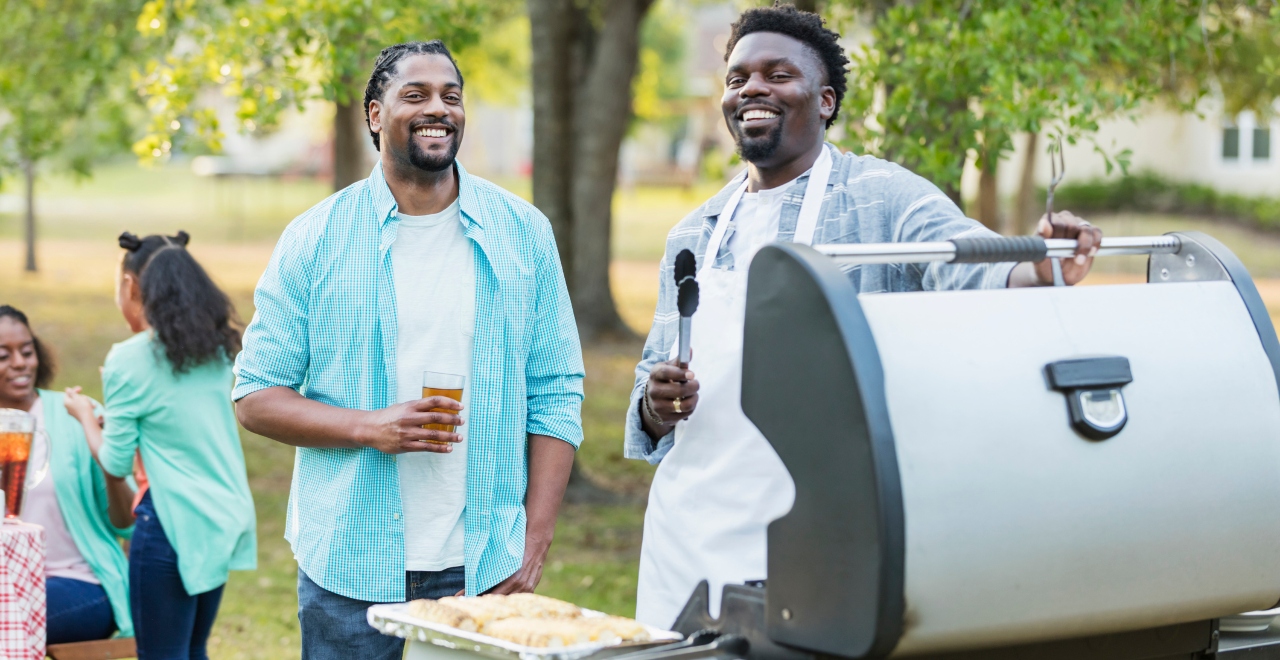 Credit: Getty/kali9
What're ya cookin' with — gas or charcoal? Do you have an Egg? What about a smoker? We've written a lot about grilling and barbecuing here. Probably because it's almost as dad-specific as dad jokes. And, really, what's not to love? Grilling brings with it a rush of both nostalgia and freedom. Whatever kind of grill or barbeque you're working with, firing it up just makes you feel… cool. (C'mon, you can admit it; we're all friends here.) It's your chance to show off your grill master skills, not to mention give your partner a break. Bonus: Your kids have long learned that "for safety reasons" they need to stay back from the grill. As long as you're within a three-to-five foot radius of the grill, clicking those dad-only grill tongs in your funny apron, no one is going to bother you. That doesn't mean it's not family time, though. After all, who are you going to bounce grilling puns off of if you don't have a captive audience, i.e. your unwitting family?
From your version of a throne, you can watch the chaos that is family life during grilling season. Fido is protecting the fam from the big, bad pool skimmer. *eye roll* The kids are soaking each other with the hose. *laugh* And your partner is happily boiling corn on the cob in the kitchen with the cool air conditioning blasting. *sigh* Could life get any better than this? Sure, but only with these truly amazing grilling puns and jokes at the ready.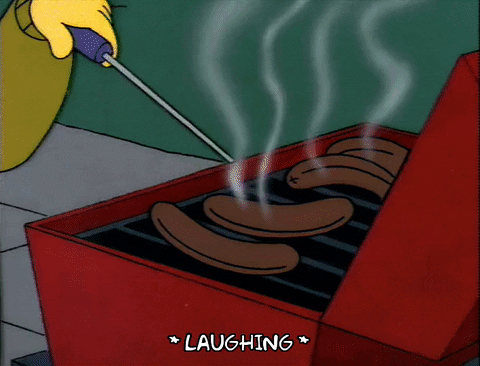 Best Grilling Puns
Accidentally burned dinner on the grill.
Missteaks were made.
Someone threw a grill at my face.
The attack made headlines.
I can't decide whether to grill chicken breasts or chicken thighs.
I guess I'll just wing it.
At the office barbecue, I grilled a medium-rare steak for my boss, and he said, "I like it well done!"
I said, "Thanks. That means a lot."
Before every barbecue, I tell myself I'll eat healthy and stick to the salads.
But then my plan takes a turn for the wurst.
Just finished cleaning my grill.
It was grate.
You can imagine my surprise when I saw James Bond making burgers in the park.
I guess he had a license to grill.
I was grilling yesterday, but the meat started smoking.
Steaks were high.
My friends invited me to barbecue night yesterday.
I said no, but now I'm regretting it. That was a missed steak.
One day when I was young, I watched my father grill burgers.
When they were done, he handed me one and told me it was a bison burger. He left and never came back.
When I'm cooking on the grill,
I like to sing "The Tong Song."
My dad just got a fancy new grill, and I'm worried he'll get hurt trying to use it.
The steaks have never been higher.
I hate when my mom grills brats for dinner.
She's the würst.
It took me two hours to grill a chicken the other day, and it still didn't tell me why it crossed the road.
My grammar may be poor, but my grilling is impeccable.
I'd steak my reputation on that.
A grill master wanted to load up the grill with more BBQ, but he was running low on hot coals.
So, he decided not to brisket.
My buddy is awesome at grilling steaks.
They are all very well done.
Best Grilling Jokes
What did the exasperated man serve at his barbecue?
Sheesh kabobs.
How can you tell if a hamburger was grilled in space?
It's a little meteor.
What do you call a row of dolls burning on a grill?
Barbie-Q.
What's Snoop Dogg's favorite part of grilling?
The sizzle.
What is the most important task of a grill master at a chop house?
To please their steakholders.
Why was the man at the cookout so happy?
He met the grill of his dreams.
If Bear Grylls could grill bears, how many bears could Bear Grylls grill?
As many bears as Bear Grylls' grill could bear.
What is a librarian's favorite thing to grill during the summer?
A shhhhh-kabob.
Why are cows scared of cars?
They're afraid they might end up on the grill.
You know how your mouth waters when someone's grilling?
Do vegans drool when someone is outside mowing their lawn?
What do you put on a lonely grilled cheese sandwich?
Provolone.
For sale: Muhammed Ali DVD set and George Foreman Grill.
Both boxed.
The cast of the Matrix was having a barbeque and grilling seafood.
Keanu Reeves tasted it and exclaimed, "What is this! It's like charcoal!"
The cook turned and said, "What if I told you that's why they call me Laurence Fishburne?"
What do you call a grilled cheese sandwich that gets right up in your face?
Too close for comfort food.
I got fired from my job today.
Apparently, when you work at a cremation company, you aren't supposed to answer the phone with "Hello, this is Joe's Crematorium. You kill 'em, we grill 'em!"
My friend was going to barbecue baby backs, but he stumbled into the grill.
Unfortunately, he broke his ribs.
What's the difference between a dad and a grill?
A grill runs out of gas.
What do you put on a lonely grilled cheese sandwich?

Provalone.

If you can't take the heat of my dad jokes,
Get out of my grill.