Credit: The Dad
Seeing dads preparing to travel is like seeing a tiger expertly stalking its prey in the alpine Himalayas. Traveling awakens an almost primal instinct in dads, and when they're in their element, nothing can bring them down. There's the dad standing in the middle of the airport with his folder of color-coded travel documents, reading his boarding pass for the 86th time. There's the dad packing his trunk like a high-stakes game of Tetris, who somehow remembered his travel grill but forgot to pack socks. According to the ~16,000 people (12,103 dads, 3,126 moms, and 470 dads at heart who didn't identify themselves) who responded to our survey, 'The Data: Dads Come to Their Census in 2021,' there are a heck of a lot of ways to travel.
Dad, data scientist, and Ph.D. Martin Flores analyzed our survey results, pouring over the responses to our 69 questions, helping us prove or dispel myths about fatherhood. Most of us like to be as prepared as possible when it comes to traveling, so in preparation for the holidays, we wanted to share some tried-and-true info about how dads actually travel. Not you, dads who get to the airport an hour or less before your flight leaves. We have a different article for you, and it's called "Seriously, What?" Nope, actually, that was it. That's all we have to say about that.
#1: Travel-related things dads admit to saying…
Dad-isms imprint in our DNA the second we become dads, but as it turns out, many make their way into the mom vernacular as well. These phrases are dad-isms, sure, but they're also parental poetry. When put together, these words are greater than the sum of their parts. But as every parent knows, it's impossible to feel their full power without a kid nearby, rolling their eyes.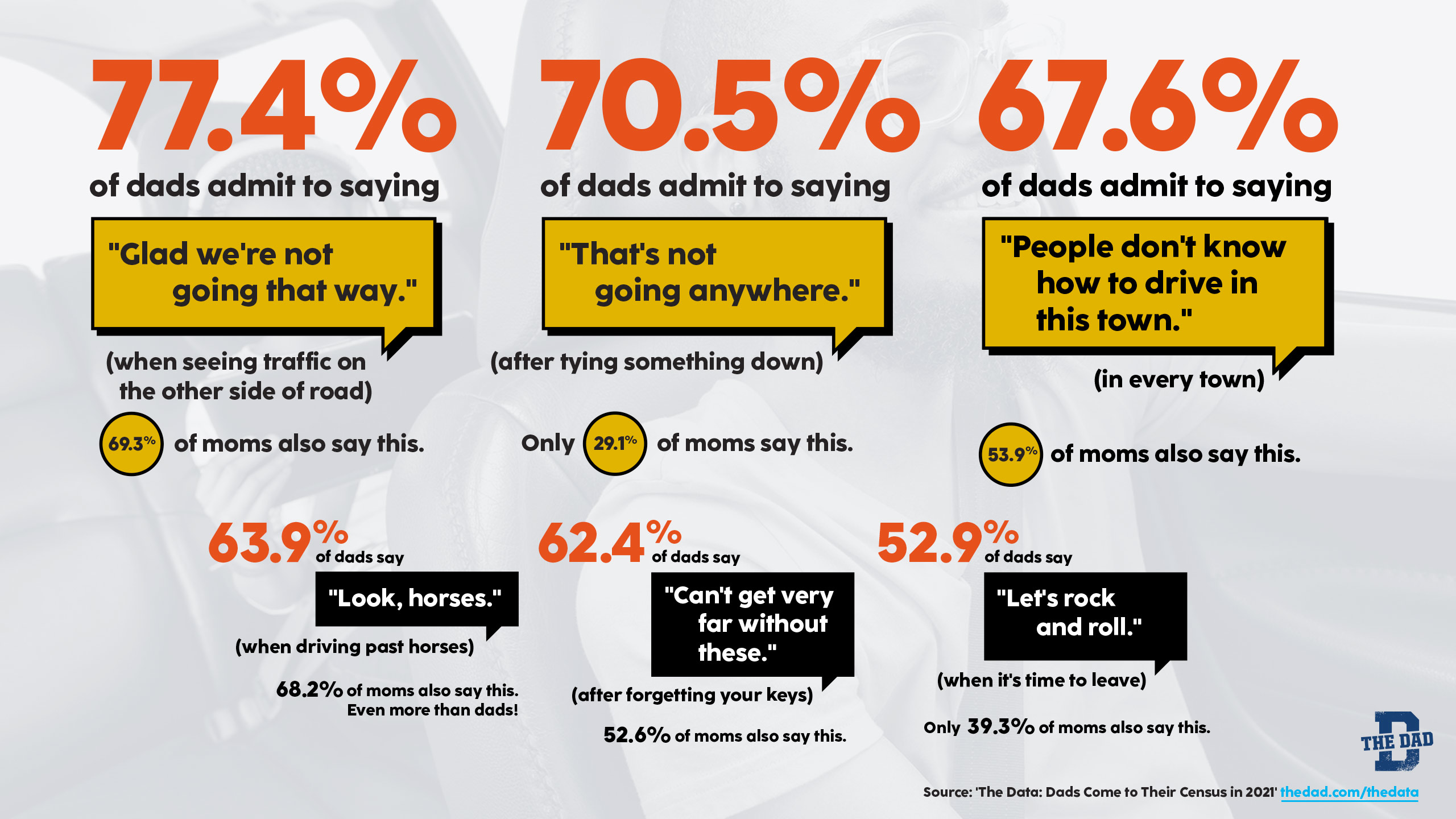 #2: How many hours early do dads arrive at the airport before a flight?
We're not mad, we're just disappointed. 15,653 of you responded to this extremely reasonable question. For most, arriving at the airport twoish hours before a flight gave you enough time to complete your pre-flight checklist. But 17% of you, that's 2,661 whole people, admit to arriving within an hour of your flight. You do realize that you'll miss your flight if even one of your kids goes from "fine" to "I REALLY HAVE TO PEE" faster than you can say "now boarding group C," right? I had to make a very large and unnecessary spreadsheet just to calm down after reading that.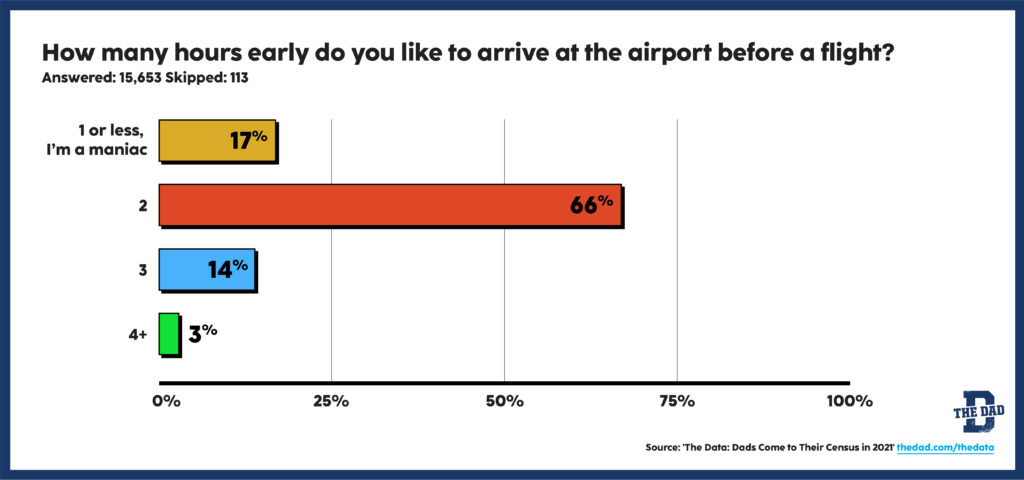 #3: How often do dads say "I'll turn this car around!"?
I'm going to make a very unscientific assumption here, and say that the same people who are chill enough (or wild enough) to arrive at the airport an hour early probably have that same unnerving level of chill on road trips. "I'll turn this car around" is a classic – nay, a rite of passage. Long ago, our dads threatened to turn their cars around when we turned the backseat into a tiny boxing ring. Now that we're in the driver's seat, we have a responsibility to make the very same threat when chaos erupts behind us. Or, you know, 54% of us do. Shout out to the dads who use it daily, keeping our average up.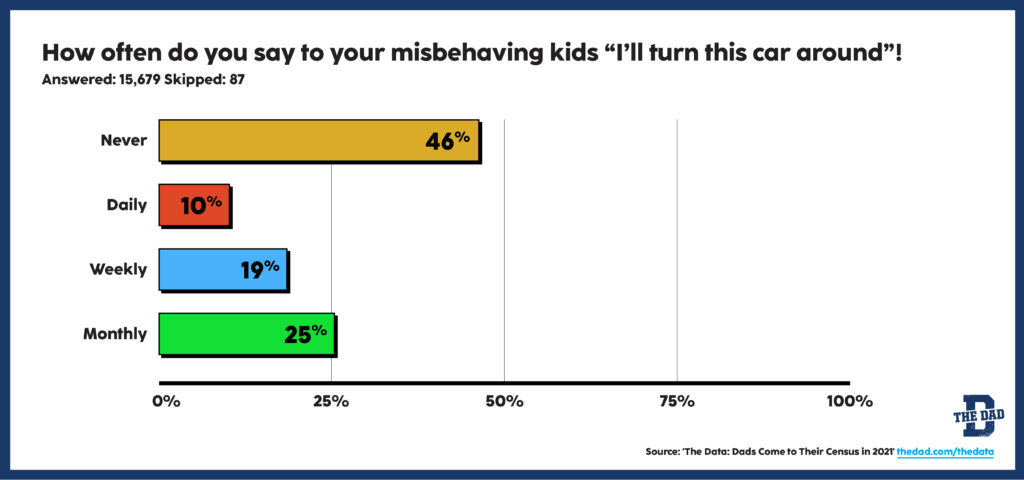 #4: How often do dads ACTUALLY turn the car around?
What's a threat without some followthrough? The true power of "I'll turn this car around" can only be felt if you ACTUALLY turn the car around sometimes. Imagine how people would drive if traffic tickets were just a myth, or how frequently your kids would wash their hands if you never asked to smell them. That's how society crumbles.

#5: How long do dads spend outside the car waiting for their kids to get out?
In my experience, the speed at which kids get out of the car depends entirely on what they've got going on in their extremely busy lives. Have to pee? They spring out of that seat like an angry Jack in the box. If they're in the middle of a game, It's impossible to know how long you'll stand outside of that car, throwing out a halfhearted "let's go" every 15 seconds for good measure. I once told my kids that whoever cleaned up their mess and made it out of the car first was the winner, which worked beautifully until they realized there was no prize. I still think of those two days fondly.
#6: Do kids think money grows on trees?
In terms of travel-related survey questions, this was unsurprisingly the most agreed-upon result. You don't even have to have kids to know that they fully believe money just appears when they need things. I still remember buying my very first car, after spending all of high school working and saving. I proudly drove my sweet (read: functional) new ride to my babysitting gig after hyping it up for weeks. When my 8-year-old charge peered through the window, his eyes grew wide. I'll never forget the very first thing he said to me that day, his voice dripping with disdain: "Why did you get that one?" Even as a 17-year-old, I knew beyond a shadow of a doubt that the answer to this question was the same for most kids.

We hope you enjoyed the results of our survey and wish you and your family happy trails during your holiday travels.
Remember, it's not about the destination, it's about the journey?