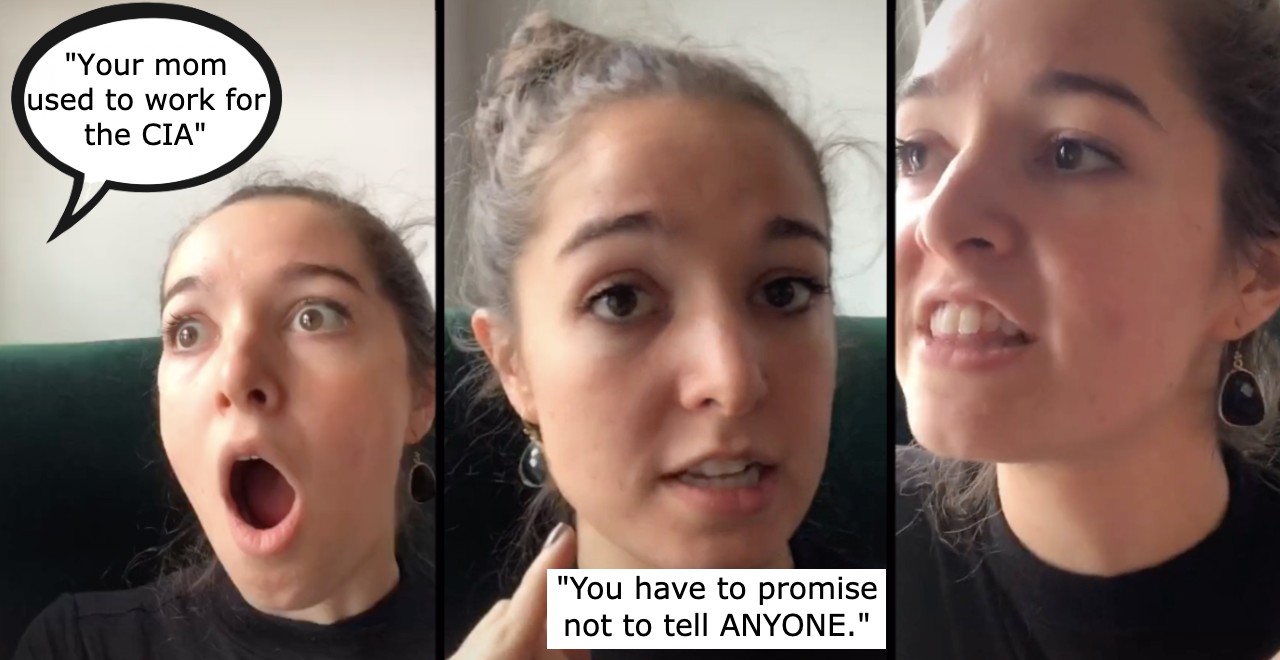 Credit: TikTok/ morallygreyismyfavcolor
Having kids reminds us how much fun it is to immerse ourselves in a make-believe world. As a kid, it's easy to get lost in stories and fantasies without the stressors of adulthood seeping in. Heck, half of the holidays we celebrate with our kids have some element of fantasy involved. Whether they're dressing up for Halloween or trying to catch Santa in the act, their fun relies on our commitment to the bit. As they grow up, kids begin to better differentiate between reality and fiction. That is, unless we forget to set the record straight until it's too late.
On TikTok, a user named Sydney responded to the question, "what's the biggest lie your parents ever told you?" and the story that unfolded left us in hysterics. It all started when Sydney was just six years old, a typical curious kid trying to figure out what her parents were like before she came along.
The conversation between 6-year-old Sydney and her dad took an intriguing turn after Sydney asked what her mom did for a living before she was born. Cryptically, Sydney's dad said that he couldn't answer that question. If people found out, he explained, her mom could "get in trouble."
Of course, a response like that only heightened Sydney's curiosity. She pressed until her dad gave in, which he did – but only after swearing her to secrecy. Her mom, he explained, had been in the CIA. WHAT?!
The entire Spy Kids franchise was built around what it's like having parents who do dangerous, secretive jobs to help protect the world as we know it. Sydney saw her mom in an entirely new light, but it was information she swore up and down she'd never share with anyone. "Momma didn't raise no snitch," Sydney half-joked.
She kept the secret as promised, never telling a soul. Yes, a 6-year-old managed not to blurt out a single detail to her teachers or friends or the guy who drives her favorite ice cream truck. It wasn't until six years later, after overhearing her mom talk about her old job at an ice cream shop, that the secret began to unravel. Sydney seized the opportunity to let her mom know she knew the truth, perhaps hoping to hear stories from her CIA days.
"Mom, it's OK. I know. I've always known," Sydney says. Her mom responds with confusion, but she presses on. "Mom, dad told me. You used to work for the CIA. I know. I haven't told anyone."
"What the f*ck are you talking about?" She asks Sydney before turning to her husband. "Why does our daughter think I worked for the CIA?"
"It was a joke," he responded. "Because you knew everything."
For six years, Sydney had kept her mom's "secret." And for six years, her dad had waited to hit them both with the hilarious and unintentionally life-changing punchline. Her mom hadn't worked for the CIA. In absolute peak-dad fashion, he'd told the ultimate dad joke that Sydney regarded as fact for half of her life. Someone get this man a medal.